Conor McGregor: Who Will UFC's First Dual Weight World Champion Fight Next?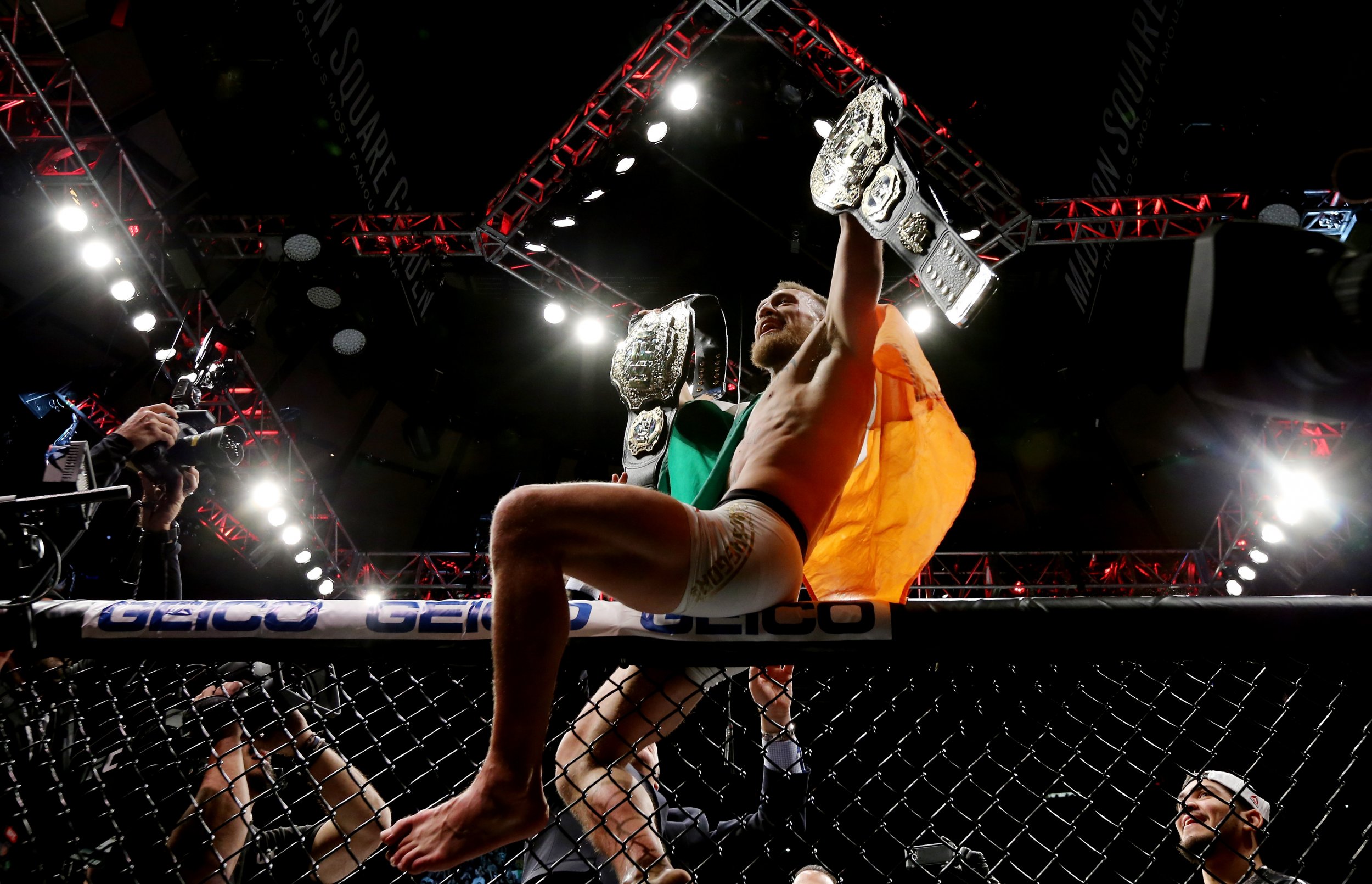 On a night when the UFC made history with the first ever Mixed Martial Arts (MMA) card in New York, Conor McGregor grabbed a slice of his own.
The controversial Irishman, as brash out of the cage as he is explosive in it, stopped lightweight champion Eddie Alvarez in the early hours of Sunday morning to add the UFC's lightweight title to his featherweight belt.
The question now, is where does McGregor go next? The path ahead is dizzy with possibilities, and hence unclear. Does he move down in weight? Will he give up one of the belts? And, most intriguing of all, could there be a return to 170 pounds? Newsweek analyzes his options.
Nate Diaz, Round Three
This would make sense on a couple of levels at least. Diaz and McGregor have split their series so far, one win apiece; the history of the fight game, whether boxing or mixed martial arts, is littered with great trilogies.
Diaz also has the considerable advantage, and benefit to the UFC, of being almost as much of a loudmouth as McGregor when it comes to selling a fight. The Irishman's personality tends to take over the build-up to his contests, as was the case against Alvarez.
UFC President Dana White will have to decide, however, whether there is enough public appetite to give Diaz a third shot at McGregor. The Californian is intensely watchable, in and out of the Octagon, but he is ranked low enough at welterweight for this to seem, at least in some respects, like a marketing exercise. A third go around may be one fight too far.
Khabib Nurmagomedov
The man from Dagestan is downright scary. Unbeaten in 24 career fights—a faintly ludicrous record in a sport where the very best can and do lose with reasonable regularity—he excels where McGregor is weaker, on the ground.
Against Michael Johnson at UFC 205, Nurmagomedov dominated Steve Johnson with wrestling skills, and even found time to taunt his opponent and jaw with White between rounds.
As the number two ranked lightweight, he is now the natural challenger for McGregor's newer belt. White extolled McGregor's virtues as a "fighting champion" after the Alvarez victory but the question hanging in the air is whether the UFC wants to feed its marquee name to someone so dangerous, and stylistically awkward, as Nurmagomedov. It would certainly be an absolutely fascinating contest, were it to happen.
Frankie Edgar
The UFC's number two ranked featherweight, Edgar was impressive against a bigger, more powerful man in Jeremy Stephens on the UFC 205 preliminary card.
Asked about the prospect of fighting McGregor, Edgar said he would be keen were the Dubliner to move back down and defend his belt at 145 pounds. It's not hard to think, though, that the naturally smaller Edgar would face even greater problems than Alvarez in trying to hold off McGregor's nasty combination of quick movement and punching power. Edgar would, at least, have to succeed where Alvarez failed and take McGregor to the floor, where his wrestling ability could show itself.
The fight is also a difficult sell for White, because Edgar is naturally quiet and reserved. Again, McGregor would have no one to bounce off. Edgar may be keen, but this one seems unlikely.
Tyron Woodley
Pause from laughing, for a second, at how ridiculous this sounds and allow an explanation. Woodley and McGregor have been seen backstage arguing with each other in recent weeks; either that tension is real, or the UFC is building up to a major announcement about the two. Or, in an ideal world for the company, both are true.
Woodley, as UFC welterweight champion, fights at 170 pounds but he is big for the weight. Anyone who witnessed how he knocked out Robbie Lawler, and wobbled Stephen Thompson several times, should have second thoughts about McGregor stepping into the Octagon with him.
Mind, both McGregor's fights with Diaz were at 170, so this would not be uncharted territory for him. The other problem, though, aside from getting hurt himself, would be his ability to trouble a much bigger man. Does he have the power to put a big welterweight in difficulty? Of all the prospects for the UFC's star attraction, this may be the most intriguing.
Conor McGregor: Who Will UFC's First Dual Weight World Champion Fight Next? | Sports