McGregor vs. Mayweather: Why A Barmy Idea Might Just Happen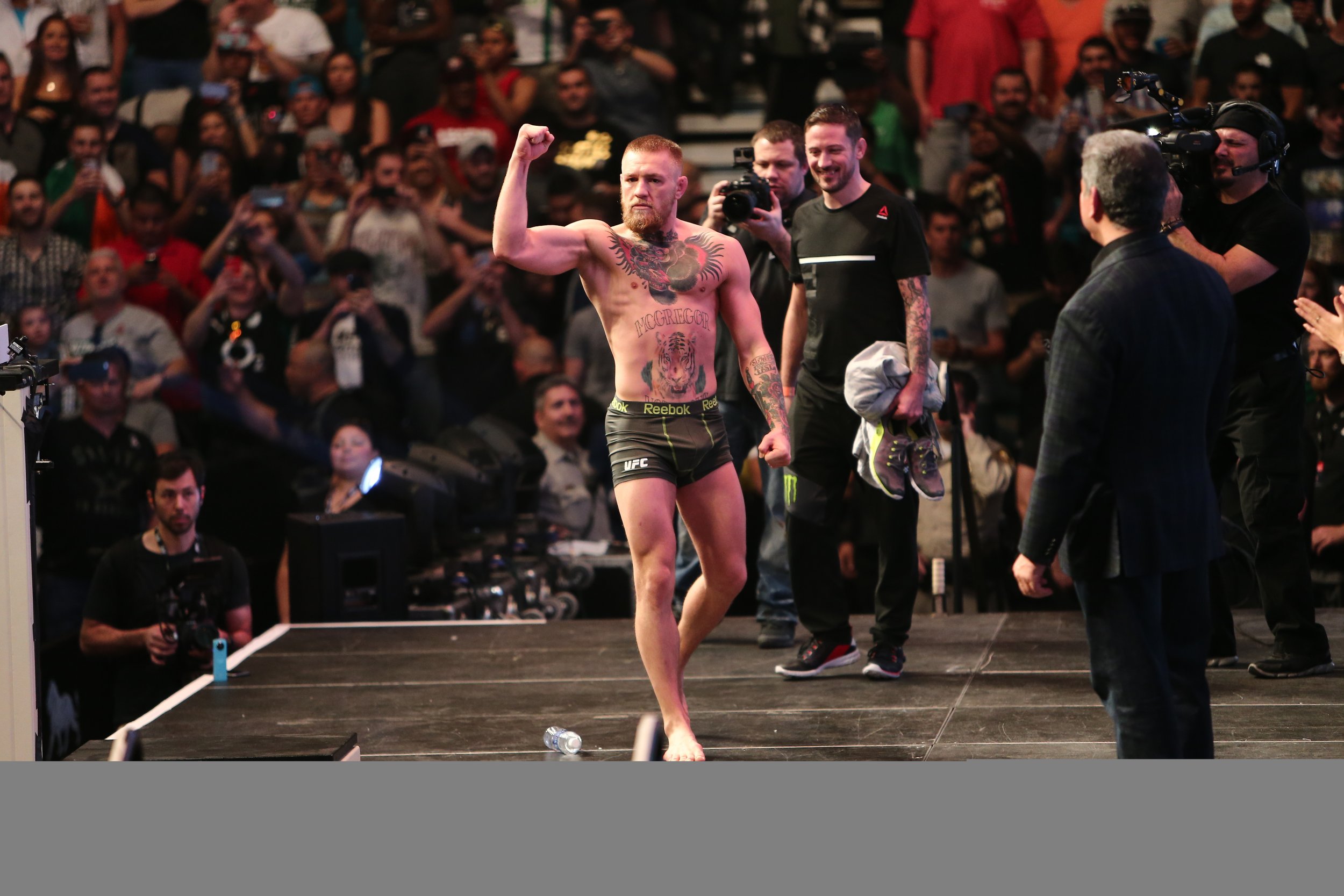 It seems an idea plucked, kicking and screaming, from the fetid bowels of an overactive imagination.
Floyd Mayweather Jr. vs. Conor McGregor? Boxing vs. MMA? Old-school combat vs its brash younger cousin? How on Dana White's earth is that going to work?
And yet the tumbleweed appears to be picking up speed. Mayweather — an arch-talker at the quietest of times — says the superfight first proposed, and revealed, by The Sun last week "may not be a rumor."
White himself, the UFC President, has scotched that report, describing it as "just a tabloid story." He says what he sees.
And yet on Sunday, McGregor—who got himself ejected from the UFC 200 card over a publicity dispute with White—posted a picture to Twitter of a mocked-up fight card featuring himself and Mayweather facing off.
Even for two sports as colourful as boxing and mixed martial arts, this seems a zany prospect. And yet there are a few compelling reasons why the American and the Irishman could come together in the strangest bout since Rocky took a plastering from Thunderlips.
Money
And lots of it. This, at least, is quite simple. Mayweather has built the later part of his career on his "Money" persona—a man who lives for lucre. And he has a reputation outside of the ring for spending to back that nickname up.
McGregor, too, has made a habit of boasting about his drawing power—in the wake of his argument with White, he loudly proclaimed how great an influence he was over the UFC's financial might.
Bring them together, then—perhaps under hybrid rules—and you will be guaranteed pay-per-view buys in the millions—or at least, multimillions of viewers on whatever platform the fight would be distributed by.
Timing
McGregor's UFC 200 rematch in Las Vegas with Nate Diaz is off, to be replaced in the main event by Jon 'Bones' Jones and Daniel Cormier, for the second time. Mayweather is idle—officially retired, still unbeaten, but with that itch that most if not all boxers have when they hang up the gloves—to prove themselves once again.
Timing is everything in the fight game, which leads to the possibility, apparently implausible and remote yet serious at the same time, that something like this might just come off. McGregor and Mayweather both have time on their hands, and idleness is a dangerous thing for a fighter.
The desire to be "the man"
Two extrovert personalities with the desire—already realized, on Mayweather's part—to go down as the greatest of their eras and perhaps all time. What better way for a self-confessed egotist to draw attention to himself than with an overblown event of epic razzamatazz.
Were Mayweather and McGregor to come to a deal, no one would come out of the bout itself a loser… more as a losing participant in a circus show. If that sounds like a pejorative, then remember that professional combat sports are as much about selling hype as they are about the physical confrontation itself. This is a chance to go down in history for something quite magnificently ridiculous.
The high likelihood, of course, is that this doesn't come off. For a start—who is going to promote it? What will the rules be? And how would the purse be split? But it's okay to dream of electric sheep, and a crazy sporting event, from time to time. Because with two explosive self-promoters, you just never know whether a kernel of truth might be lurking in the madness.