Conor McGregor Gets New $3.4M Lamborghini Yacht a Week After Poirier Defeat
Conor McGregor appears to be soothing his recent loss to Dustin Poirier with some retail therapy.
However, the multi-millionaire UFC fighter's new toy just happens to be a $3.4 million Lamborghini yacht.
The 33-year-old Irishman took to Instagram to show off his new purchase and shared a photo of the colossal boat to his 41.3 million followers with the caption: "My Lamborghini yacht is ready."
The yacht in question is the 19.2-meter Tecnomar for Lamborghini 63 which Boat International reports is influenced by the hybrid sports car Lamborghini Sián FKP 37.
Inspired by the iconic car, the yacht can reach a top speed of 69 miles per hour (60 knots) and boasts 4,000 horsepower.
It also features a private bedroom space in the lower quarters.
"The most significant innovative features at the heart of the concept are speed and the dynamism of lightweight engineering," The Italian Sea Group says of the lavish cruiser.
Lamborghini says that the motorboat is limited edition and aims to provide: "Performance, driving pleasure, attention to quality and details, emotion."
Stefano Domenicali, former chairman and CEO of Automobili Lamborghini said: "If I had to imagine a Lamborghini on water, this would be my vision. I'm delighted to celebrate this successful collaboration."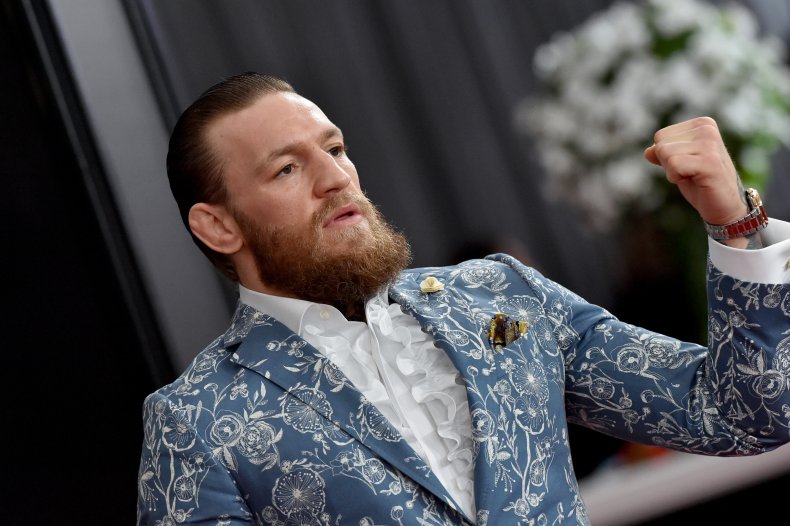 McGregor was defeated by American Dustin Poirier in the octagon earlier in July, in a match that saw him break his leg and end up being carried out on a stretcher.
"I was injured going into the fight," McGregor following the showdown, per The Daily Mail. "People were asking me when was the leg break—at what point did the leg break? Ask Dana White. Ask the UFC. Ask Dr. Davidson, the head doctor of the UFC.
"They knew. My leg—I had stress fractures in my leg going into that cage. There was debate about pulling the thing out because I was sparring without shin pads, and I was kicking."
Dana White later confirmed to MMA Junkie that McGregor suffers from ankle issues.
"He had asked if he could tape his ankles coming into this fight and he got clearance to do it from the Nevada State Athletic Commission and then he opted not to tape them," White explained. "I don't know why. He has chronic arthritis in his ankles."
He added: "It's going to take him a year to recover from this one before he can come back, so I don't know.
"We'll see. The fight game is a tough game and the kid has cemented a massive legacy for himself and made a lot of money. We'll see how the rest of his career plays out."