Who Is Conrad Black? Donald Trump Pardoned Ex-Media Mogul, Fraudster and Author of 'Donald J. Trump: A President Like No Other'
President Donald Trump on Wednesday granted a full pardon to Lord Conrad Black, a Canadian-born British peer and former media mogul who was convicted in the U.S. of fraud and obstruction of justice.
Black, 74, has held ownership in media titles all over the world, including the U.K.'s Daily Telegraph, Israel's The Jerusalem Post, Australia's Sydney Morning Herald and the U.S.'s Chicago Sun-Times, among many others. His net worth appeared to have peaked, according to The Sunday Times Rich List, in 2003 at £136 million, about $271 million in today's money.
Following his original conviction in 2007 for embezzling funds from Hollinger International, the investment firm he ran, and obstructing justice, Black spent three and a half years in a Florida prison. He was released in 2012 following a successful appeal against two of three fraud convictions and deported from the U.S. He now lives in Canada.
"When my assistant said there was a call from the White House, I picked up, said 'Hello' and started to ask if this was a prank (suspecting my friends in the British tabloid media), but the caller spoke politely over me: 'Please hold for the president,'" Black wrote in Canada's National Post about receiving news of his pardon from Trump.
Newsweek subscription offers >
"'Two seconds later probably the best-known voice in the world said 'Is that the great Lord Black?' I said 'Mr. President, you do me great honor telephoning me.' He could not have been more gracious and quickly got to his point: He was granting me a full pardon that would 'Expunge the bad rap you got.'"
The White House praised Black's history as a businessman and his authorship of books. Not mentioned by the White House was Black's 2018 title, Donald J. Trump: A President Like No Other.
"An entrepreneur and scholar, Lord Black has made tremendous contributions to business, as well as to political and historical thought," the White House statement said.
"Formerly the owner of the world's then-third largest newspaper, he is the author of several notable biographies and works of history. These include comprehensive biographies of Presidents Franklin D. Roosevelt and Richard M. Nixon, a complete history of Canada, and an impressive essay evaluating how the world would have been different had Japan not attacked Pearl Harbor.
Newsweek subscription offers >
"Lord Black's case has attracted broad support from many high-profile individuals who have vigorously vouched for his exceptional character. This impressive list includes former Secretary of State Dr. Henry A. Kissinger, Sir Elton John, Rush Limbaugh, the late William F. Buckley, Jr., and many additional notable individuals.
"Consistent with his distinguished reputation for helping others, while in prison, Lord Black served as a tutor for 150 students, helping them achieve their educational goals. In light of these facts, Mr. Black is entirely deserving of this Grant of Executive Clemency."
Writing in the National Post, Black attributed his fraud conviction to bad luck.
"My long ordeal with the U.S. justice system was never anything but a confluence of unlucky events, the belligerence of several corporate governance charlatans, and grandstanding local and American judges, all fanned by an unusually frenzied international media showing exceptional interest in the case because I was a media owner," Black wrote.
Black also said he and President Trump bemoaned the "antics" of American prosecutors both men have come into contact with, including special counsel Robert Mueller.
"'We've known each other a long time,' the president told me, 'but that wasn't any part of the reason. Nor has any of the supportive things you've said and written about me,'" Black wrote.
"I suggested that he knew 'better than anyone' the antics of some U.S. prosecutors. (I had had Robert Mueller as director of the FBI, which we caught installing illegal bugging devices in our home in New York and in many falsehoods; James Comey as deputy attorney-general, and Patrick Fitzgerald, now Comey's counsel, as U.S. attorney in Chicago. They were all, as my distinguished caller on Monday has described Comey, 'bad cops.')"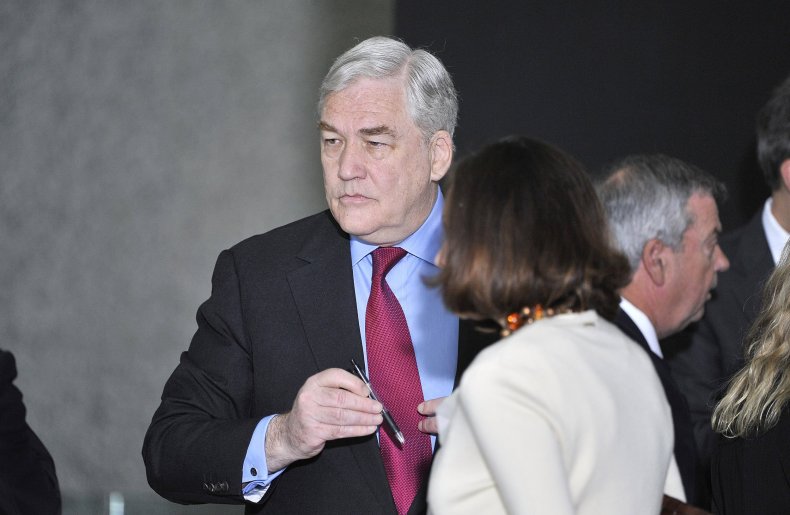 Who Is Conrad Black? Donald Trump Pardoned Ex-Media Mogul, Fraudster and Author of 'Donald J. Trump: A President Like No Other' | U.S.