A woman convicted of convincing her boyfriend to kill himself could see her jail sentence lessened due to good behavior.
Michelle Carter was sentenced to 15 months in prison after being convicted of involuntary manslaughter related to the death of her boyfriend Conrad Roy. Now her sentence could be reduced by two months -- from a May 2020 release to March 2020.
In an upcoming segment on Dr. Oz, Roy's mother, Lynn Roy, said she "doesn't think about" Carter when questioned if a shorter sentence is appropriate.
"It is what it is. You know, I don't think about her at all," Lynn Roy told Dr. Oz.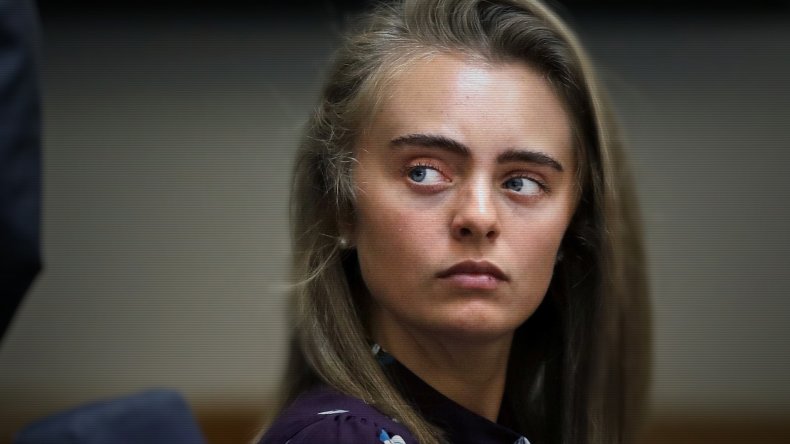 Carter's case is considered monumental in the American justice system since it helped to define legal standards in relation to texting and electronic communication in association with death.
Conrad Roy took his own life after a series of text messages from Carter that included notes like: "You're ready and prepared. All you have to do is turn the generator on and you bee [sic] free and happy. No more pushing it off, no more waiting," according to WFXT.
In speaking to Dr. Oz, Lynn Roy said Carter is guilty "of many things" and that Carter had opportunities to reach out to the family before Conrad's death and inform them that her son was considering suicide. "She had every means to call me, to message anyone in the family. She had my phone number two weeks before he passed," Roy said.
"I think she wanted him to die," she said. Roy added that she felt Carter wanted Conrad to die "for attention. I tried to think about it, reason. It's hard to fathom."
Carter's story has been featured on a handful of television broadcasts and in the HBO documentary, I Love You, Now Die.
Police reports from Conrad's death show Carter heard Conrad die by Carbon Monoxide inhalation. According to People, later that night, Carter texted Conrad's sister, Camdyn Roy, that Conrad had gone missing.
I Love You, Now Die focuses on the mental illnesses that could have been in play both in Conrad's life as well as in Carter's own actions. It also illustrates the possibility that Carter pushed Conrad to end his life for her own personal gain.
The 17-year-old hosted a charity baseball game in Conrad's name after his death, though his family and friends found it odd that she hosted it in her own town, where none of Conrad's loved ones lived.
Carter's most notorious text to Conrad on the day of his death told him to "get back in" his truck when he said he was too scared to continue. Carter's explanation of her texts was that she was attempting a reverse-psychology approach. Her defense lawyers also claimed the texts presented in Carter's trial were "cherry-picked" to make her look bad.
If you have thoughts of suicide, confidential help is available for free at the National Suicide Prevention Lifeline. Call 1-800-273-8255. The line is available 24 hours, every day.