Conrad Veidt Joker: How Batman Villain Was Inspired by Silent Film 'The Man Who Laughs'
The new Warner Bros. thriller Joker, directed by Todd Phillips and starring Joaquin Phoenix, explains how failed stand-up comedian Arthur Fleck became DC Comics superhero Batman's arch nemesis.
The Joker origin story has again prompted questions about the genesis of the character, who first appeared in DC Comics' Batman comic book series in 1940 and made his screen debut in the 1960s Batman live-action series.
Joker has dominated the global box office—scoring well over $90 million over the weekend—and gives the villain a new backstory. The character will celebrate his 80th anniversary next year, with a history that dates back some 12 years before his first appearance in the Batman #1 comic book.
Conrad Veidt and the Joker
The inspiration for the Joker's appearance was the character of Gwynplaine in The Man Who Laughs, a 1928 silent film directed by German filmmaker Paul Leni and based on the 1869 novel of the same name by Victor Hugo (best known for writing Les Miserables).
In the romantic drama, Gwynplaine, played by Conrad Veidt, is disfigured with a permanent grin on his face so that he will "laugh forever at his fool of a father," Lord Clancharlie (also played by Veidt), an enemy of King James II who is sentenced to death. Gwynplaine is given to a group of comprachicos, or child-sellers, who give the boy his ubiquitous look.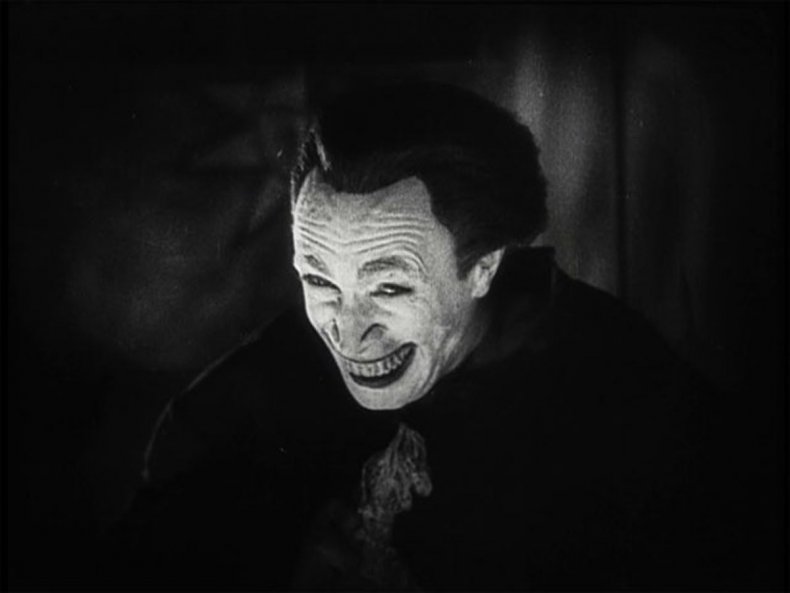 Bill Finger, Bob Kane, and Jerry Robinson, who created the Joker, all agreed the villain's permanent horrifying grin was inspired by Veidt's Gwyplaine in The Man Who Laughs, according to Hollywood Reporter. The Joker's swept-back hair in early Batman comic books may have also been inspired by the silent film character.
The subsequent film and television adaptations of the Batman comic books have reinterpreted the origins of the crazed clown's anarchism. For example, in 1989's Batman, directed by Tim Burton, Jack Nicholson's Joker gets his disfigured clown smile partly because of a ricocheting bullet wounding his face followed by botched plastic surgery.
But it's Heath Ledger's Oscar-winning take on the Joker in Christopher Nolan's The Dark Knight (2008) that bears the closest story to the character's inspiration, Gwynplaine. In that film, the Joker gives several stories to explain his Glasgow smile—a facial wound that leaves the victim with a permanent smile—including one of childhood trauma, similar to Gwynplaine.
In an early scene, the Joker says his father "was a drinker" and abusive to his mother and also him. In one domestic incident, the Joker says, his father put a blade in his mouth and said, "Why so serious?" and "Let's put a smile on that face" before disfiguring him.