Conservative Candidate Condemned For Past Remarks Saying Rape Victims Are 'Partially Responsible,' Should 'Keep Their Knickers On'
Britain's Conservative Party is facing criticism after allowing a candidate to run for Parliament in the December snap general election despite his past comments accusing rape victims of being "partially responsible" for their own assaults.
Both the BBC and Nick Conrad, who was, up until recently, a BBC Radio Norfolk talk show host, were forced to apologize more than four years ago when the Briton made comments air appearing to blame rape victims for being targeted.
At the time, Conrad suggested that women should be held responsible if they "tease" men who then refuse to take "no" for an answer, with the then radio show host asserting: "If you don't wish to give out the wrong signals, it's best probably to keep your knickers on," according to a 2014 report from The Guardian.

"I think women need to be more aware of a man's sexual desire; that when you're in that position that you are about to engage in sexual activity there's a huge amount of energy in the male body, there's a huge amount of will and intent, and it's very difficult for many men to say no when they are whipped up into a bit of a storm," Conrad said, during the on-air discussion, which centered around convicted rapist Ched Evans.
"It's the old adage about if you yank a dog's tale then don't be surprised when it bites you," Conrad said. "Or," he elaborated, "you can't keep snakes in the garden and think they'll only bite your neighbors."
The show host then disparaged the fact that "the onus has to be on the men and the men have to be condemned if a woman says no and they persist then that's absolutely abhorrent."
"But they then [feminists], in their fury against men and masculinity, they actually forget to stop and say if you tease, if you jump into bed naked with a man. if you give him all the signals, and then he acts upon them, then you are partially responsible," he said.
Conrad added: "What I'm trying to say is that women also have to understand that when a man's given certain signals, he'll wish to act upon them and if you don't wish to give out the wrong signals, it's best probably to keep your knickers on and not get into bed with him. Does that make sense?"
The then-show host's comments were quickly condemned, with the BBC asserting that its management had "made it clear to Nick that some of his comments were very ill-judged."
"He has apologized for any offence that may have been caused," the broadcaster added.
Four years later, however, Conrad's comments continue to haunt him, particularly as the BBC radio broadcaster has left his job to launch a bid to run for the Conservative party in Britain's upcoming general election on December 12.
The rural Norfolk seat the former broadcaster is running for is considered a safe bet for the Tories, with Conservatives having held it since it was first created in 2010.
Now, with current MP, Keith Simpson, stepping down, critics fear that Conrad is just months away from taking office.
"Congratulations to the Tories for selecting a man, Nick Conrad, who said maybe rape victims should 'keep their knickers on' as a parliamentary candidate," writer Hannah Jane Parkinson wrote in a tweet.
"It's a safe seat. So now all the women in that constituency (+ anyone who has been raped) almost certainly have a guy who said those things as their representative," she said.
Parkinson also noted that "it somehow gets worse," with Conrad also being accused of having "threatened and intimidated a woman who started a petition against him" around the time he made the on-air comments.
Kirsty Strickland, a columnist who started the petition in question, shared an account of the experience in a series of tweets published on Tuesday.
Conrad, she said, had falsely "claimed the BBC were going to report me to the police over my petition to have him sacked unless I took it down."
According to Strickland, the show host had sent "a series of late night messages" to her personal Facebook account, making "wild claims about how the BBC were monitoring me because of my petition and had scheduled a meeting to talk about police/legal action."
"He advised me to seek the advice of a lawyer," Strickland said.
A screenshot of the message, signed off by a "Nicholas Conrad" also appears to accuse the columnist of "inciting violence" against the show host and his family, including threats of "rape and pedophilia."
Strickland said that she tried to reach out to someone at BBC Norfolk to "find out if his claims were true" only to be "hung up on and belittled."
"I eventually spoke to the controller of the BBC, who told me there was no such police/legal action being discussed," Strickland said.
"He made the whole thing up to intimidate me into taking down my petition. He kept his job, but was instructed not to contact me ever again," she asserted. "The controller assured me there would be training put in place so that damaging rape myths like the bile Conrad spouted wouldn't occur again."
Newsweek has contacted Strickland for further comment.
Asked by Newsweek to confirm the incident and to find out whether Conrad did receive training following his on-air comments, a BBC spokesperson said: "He has resigned from the BBC," adding that the broadcaster had no further comment.
In a statement posted on Facebook, Conrad said he was "delighted to have been selected as the Prospective Parliamentary Candidate for Broadland," before thanking BBC Radio Norfolk listeners for their "terrific support over the years."
The backlash against Conrad's selection comes less than a day after Conservative minister Alun Cairnes was compelled to stand down, when it was suggested he knew about a key aide's role in derailing a rape trial. The trial collapsed after the aide disclosed his own sexual history with the complainant, potentially prejudicing the jurors, despite being warned not to do so. The accused rapist was convicted after a retrial.
Newsweek has contacted both Conrad and the Conservative Party for comment for this article.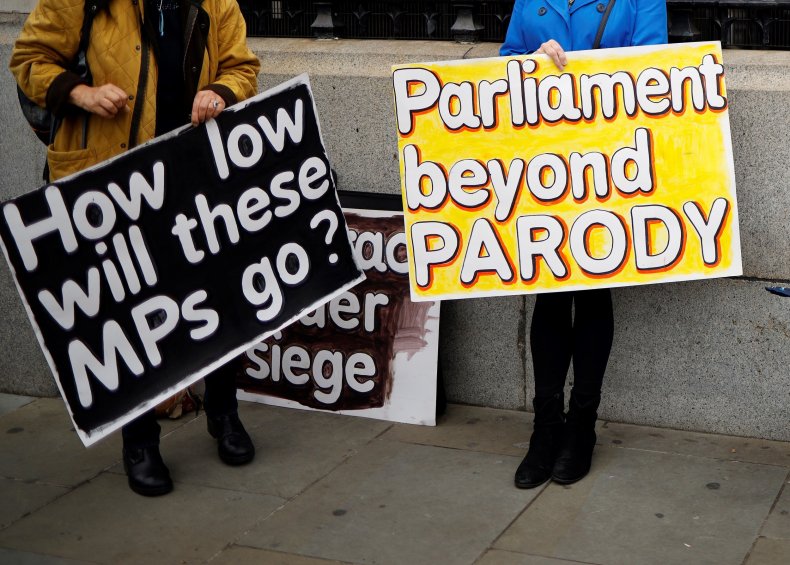 Conservative Candidate Condemned For Past Remarks Saying Rape Victims Are 'Partially Responsible,' Should 'Keep Their Knickers On' | World