The Conservative Case for a $15 Minimum Wage | Opinion
In 1965, corporate chief executives made 20 times as much as their company's typical worker, according to the Economic Policy Institute. Today, CEOs make on average 320 times as much as their employees. On the current federal minimum wage, workers earn less per hour in real dollars than their counterparts did 50 years ago.
The yawning chasm between these two classes has long been rationalized as the natural consequence of market economics. CEOs, so it goes, make more money because they create more value. But that's not the whole truth.
Lawrence Mishel, a distinguished fellow at EPI, points to evidence showing decades of wage stagnation—and soaring CEO salaries—were not inevitable. This is, instead, the consequence of policies that intentionally greased the wheels of greed. The abandonment "of full employment as a main objective of economic policymaking, declining union density, various labor market policies and business practices," Mishel writes, "have allowed CEOs and finance executives to capture ever larger shares of economic growth."
Lawmakers and lobbyists have deliberately guided the "Invisible Hand" to pad the pockets of the very few at the expense of the many. The former receive acclaim as captains of industry while the latter subsidize their bailouts and are told to bootstrap themselves.
All of this is worth bearing in mind with the Raise the Wage Act's introduction to the U.S. House of Representatives in January. The bill would mark the first federal minimum wage increase in over a decade, gradually raising the bar from $7.25 to $15 an hour by 2025. And while it is far from a panacea, it should not be dismissed out of hand by the usual suspects—Republicans. Indeed, there may be a sea change afoot with a new, more populist constituency that feels burned by bad policies that transfer wealth upward.
Last year, 60.8 percent of Floridians voted to increase the minimum wage to $15 per hour by 2026. Now consider that Donald Trump received 51.2 percent of the vote in Florida to Joe Biden's 47.8 percent. In other words, in the crown jewel of "Trump country," the $15 minimum wage was more popular than either presidential candidate.
Central to the conservative ideology that informs GOP policymaking and Republican voting is trickle-down economics, which insists that policymakers can enable the market to increase wages through tax cuts and deregulation. But the 2017 Tax Cuts and Jobs Act shows that very few droplets make it down to a parched Main Street.
By 2018, the 400 wealthiest people paid a lower tax rate than the working class, according to a study by economists Emmanuel Saez and Gabriel Zucman at the University of California, Berkeley. Rather than using the excess cash to provide higher wages, corporations spent trillions on a stock-buyback spree. And instead of building more factories and creating more well-paying jobs, Bloomberg estimates that "12,552 more jobs left the U.S. in the first three-and-a-half years of the Trump presidency than did in the equivalent period of the presidential term immediately before." In other words, corporations off-shored more jobs during Trump's first term than Obama's because the TCJA incentivized the process. The previous administration also launched a full spectrum war against labor, such as allowing businesses to ban workers from using company email for union and other organizing purposes.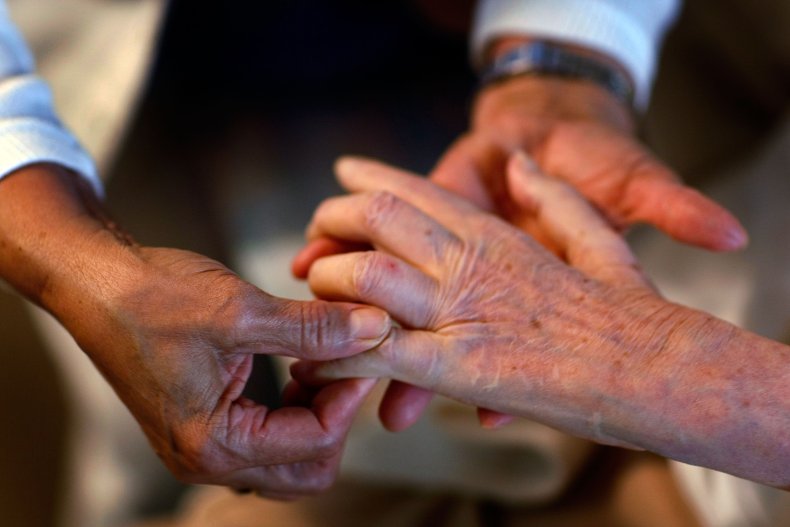 Ironically, the rise in real median pay touted by Trump for low-wage workers during his tenure is at least in part attributable to minimum wage increases in 26 states from 2013 to 2018. According to an analysis of Labor Department data by the National Employment Law Project, in states where the minimum wage increased, the real, inflation-adjusted median hourly pay rose 3.8 percent. The study shows that real median pay fell by half a percentage point in the 24 states without a minimum wage raise. "That trend appeared to continue in Trump's administration," writes economics reporter Paul Davidson. "From May 2017 to May 2018, the latest data available, real wages rose 2.4 percent for the bottom fifth of workers in states with minimum wage increases versus 0.26 percent for such workers in states that kept their pay floors unchanged."
The strange effect of pro-corporate policies by the Trump administration and state minimum wage increases was a left-behind middle.
From 2016 to 2019, on the one hand, workers in the top 20 percent enjoyed five times the gains of workers in the bottom quintile and roughly 3.5 times the middle 60 percent's gains. On the other hand, the gains for workers in the bottom 20 percent significantly surpassed those of middle-class workers. "Middle-class incomes grew at a rate of 2.7 percent from 2016 through 2018, compared to a 5.8 percent growth rate from 2014 through 2016 when accounting for inflation," Newsweek reported, picking up on the trend.
What this exposed was the larger problem with the "free market" approach: It presupposes the universal validity of economic theorems—if you slash taxes and regulations, wealth trickles down—and that companies will invest in people rather than feast themselves on stock buybacks while workers eke out a life half lived.
It's a problem that a $15 federal minimum wage would do a lot to address. But isn't a $15 minimum wage by 2025 too much, too fast, as some on the Right have suggested? EPI analysts Ben Zipperer and John Schmitt suggest these fears are exaggerated. "In 2019, only about 5 percent of the workforce earned less than $9.00 per hour," they write. "Any multiyear schedule of increases can therefore substantially raise the minimum wage right out of the gate without imposing an undue burden on low-wage businesses."
There are, moreover, benefits that even traditional detractors may appreciate—namely, the socially conservative implications.
For starters, together with worksite enforcement, a higher minimum wage could be a protective buffer for particularly vulnerable native workers. A 2019 study published in the peer-reviewed academic journal Labour Economics found "that the impact of immigration on natives' labor market outcomes is more negative in states where the effective minimum wage is relatively low." In contrast, the authors argue, "sufficiently high minimum wages tend to protect native workers from any adverse wage or unemployment effects of immigration."
Moreover, the price of low wages is a more costly public support system. An increased minimum wage, EPI researchers argue, could result in expenditures on major government programs like the Supplemental Nutrition Assistance Program, decreasing by $5.2 billion to $10.3 billion annually while increasing annual Federal Insurance Contributions Act revenue by $7.0 billion to $13.9 billion. Conversely, in states without a $15 minimum wage, public support programs for underpaid workers and their families comprise 42 percent of total spending on Medicaid, Temporary Assistance for Needy Families, food stamps and other social welfare programs, costing federal and state taxpayers more than $107 billion a year.
Even more important perhaps is the large body of academic scholarship that shows minimum wage increases have improved infant health, reduced child abuse, decreased teenage pregnancy and increased consumer spending.
Raising the federal minimum wage to $15 is not a cure-all, as many advocates claim. Nor is it a doomsday device. But it would fix some of the big problems on both sides of the political aisle.
The Left wants a higher minimum wage but turns a blind eye to the adverse effects of immigration on workers, fetishizing foreign nationals while leaving behind their neighbors; the Right claims to care about everyday people's plight while shamelessly doing the bidding of ruthless corporations. Lauding low unemployment belies the fact that nearly half of Americans between the ages 18 to 64 slave away in low-wage, often dead-end jobs.
The horizon of a better future will show itself when we decide to leave ideology at the door. A $15 federal minimum wage is a good place to start.
Pedro L. Gonzalez is assistant editor of American Greatness and a contributor at Chronicles: A Magazine of American Culture.
The views expressed in this article are the writer's own.