Charlie Kirk has fired back at Twitter after the social media site on Tuesday suspended his account for a tweet addressing the Assistant Secretary of Health and Human Services Rachel Levine as a male.
Kirk--Turning Point USA founder and conservative commentator—is one of multiple accounts that have been suspended or flagged for offensive content referring to Levine as a man after the pediatrician and four-star admiral was named one of USA Today's 12 "Women of the Year" last week. Levine, a biological male, identifies as a transgender woman.
While Newsweek reached out to Twitter, the social networking service told other outlets it suspended the account because users "may not promote violence against, threaten, or harass other people on the basis of race, ethnicity, national origin, sexual orientation, gender, gender identity, religious affiliation, age, disability, or serious disease." Twitter has since taken down Kirk's tweet.
"I will NEVER apologize for speaking the truth and any term of service that demands users ignore, forget, or disregard what's objectively true is un-American and wrong," Kirk told Newsweek. "You may disagree with my stance on this issue, but now you can't even go on Twitter and disagree with me because they have disappeared what I said. It's this type of censorship that will ultimately destroy Twitter as a viable platform for speech, if that hasn't already happened. Competitors are popping up everywhere."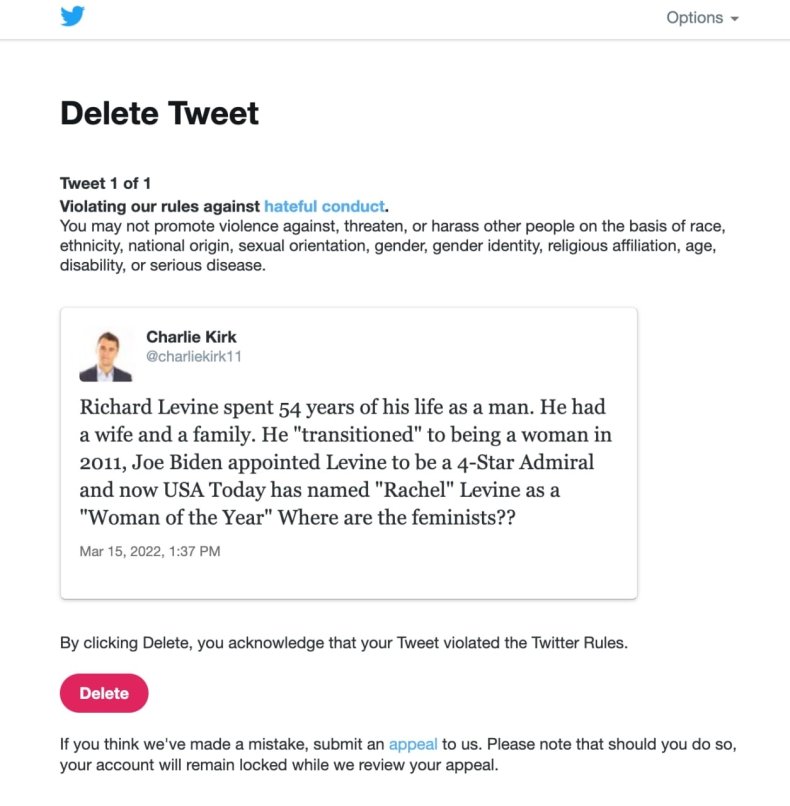 Kirk's TPUSA is a 501(c)3 non-profit whose mission is to identify, educate, train and organize students to promote freedom. The organization has over 2000 college and high school chapters. Kirk is also over the projects Schoolboard Watchlist and Professor Watchlist, with the latter's purpose to expose and document college professors who advance leftist propaganda and discriminate against conservative students.
Besides Kirk, the satirical site The Babylon Bee was suspended pending deletion after it turned around and named Levine "Man of the Year," in defense of women, it said. Its CEO Seth Dillon said the outlet would not remove the tweet.
Additionally, Congressional Representatives Marjorie Taylor Greene and Jim Banks have had their accounts suspended after pointing out Levine's biological sex.
Twitter temporarily limited the account of the conservative outlet the Christian Post and flagged the tweet of Texas Attorney General Ken Paxton after Paxton claimed Levine was a man. He also congratulated collegiate swimmer Emma Weyant who lost to transgender NCAA winner Lia Thomas.
It was when he took office that President Biden made good on his promise for increasing diversity hires that he selected Levine as the 17th Assistant Secretary for Health for the U.S. Department of Health and Human Services.