Conservative Group Attacks Gavin Newsom with Artwork Claiming He's a 'Vaccine Supremacist'
A secret cabal of street artists has plastered an affluent beach community in Los Angeles with posters that portray California Governor Gavin Newsom as a sort of vaccine Nazi who demands obedience from his citizenry.
The artwork was hung in dozens of spots in Pacific Palisades one week before Californians are set to vote on whether Newsom should be recalled and, if he is, polls indicate that radio host Larry Elder would likely replace him.
The artwork features a cartoonish image of Newsom sporting an Adolph Hitler-type mustache with a syringe in one hand and the text, "Obey!" in large letters. In one corner is a swastika made of hypodermic needles. Posters, which look like paid-for ads but are not, were near the UCLA campus on Tuesday, at a Whole Foods grocery, multiple banks and near the homes of several Hollywood celebrities, including Ben Affleck, Matt Damon, Tom Hanks, J.J. Abrams and Steven Spielberg, the latter a large donor to Newsom's campaign.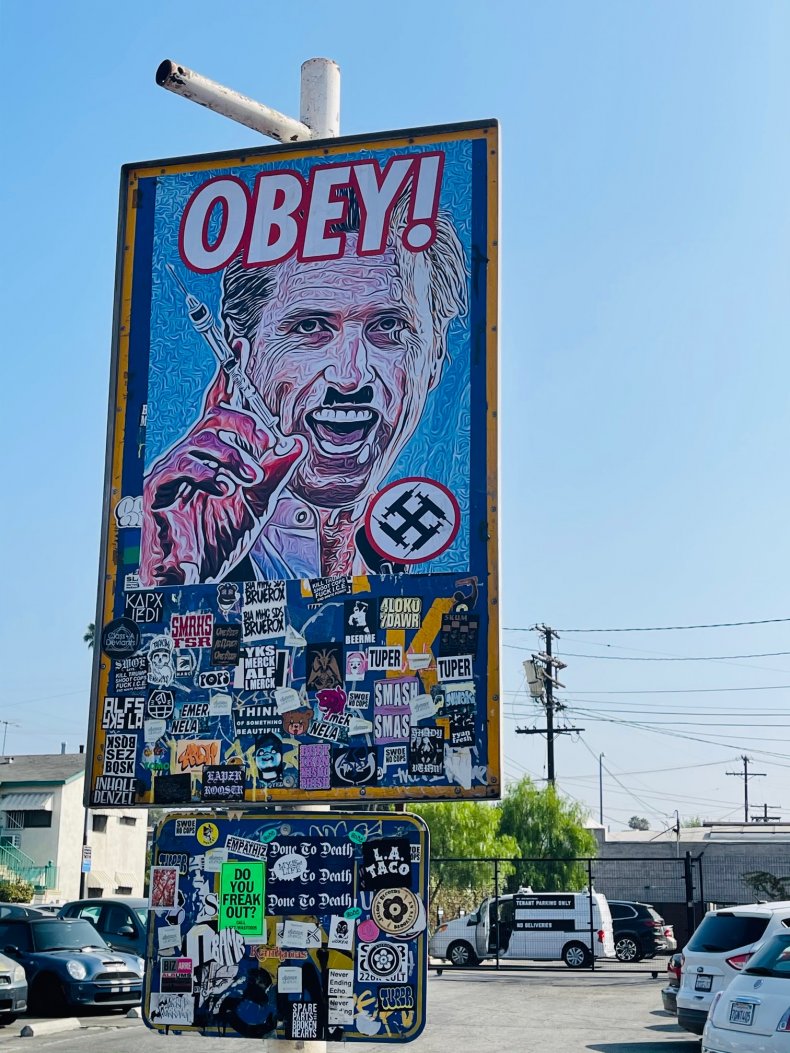 While the bulk of the few dozen posters that could be spotted on Tuesday were in Pacific Palisades, a larger one measuring about 4 feet tall was displayed in Pasadena.
The artists behind Tuesday's action collectively go by the name The Faction, and they told Newsweek that they deem Newsom a coronavirus "vaccine supremacist" who "rules by fiat, demanding a faithful following of his edicts while ignoring the law, actual science and judicial order."
Under Newsom, California was among the first states to mandate vaccines for health-care workers and for teachers and other staff at public schools, while Elder has said he'll repeal all mask and vaccine mandates if elected governor.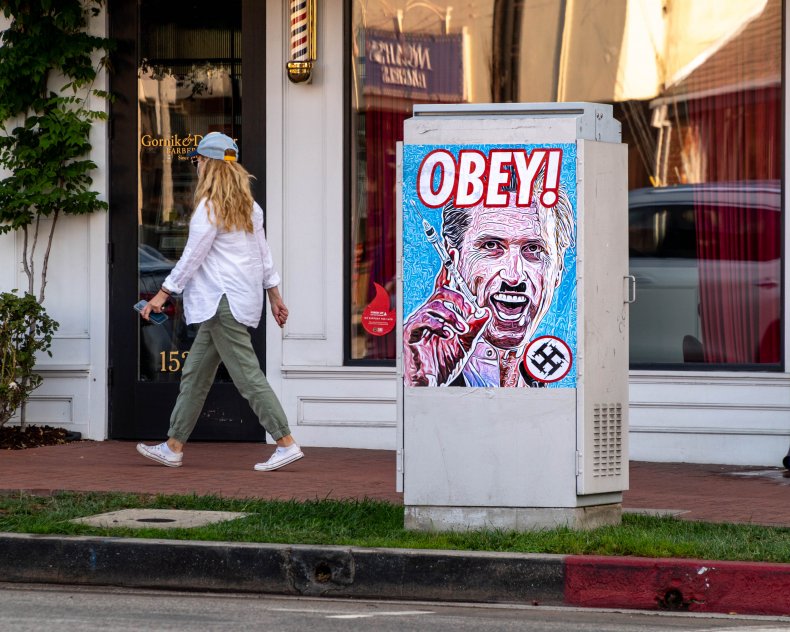 The Faction has struck various parts of Southern California on several occasions, always lampooning liberals with posters, faux billboards and phony advertisements. A month prior to the most recent presidential election, for example, the group hijacked a giant billboard on the Sunset Strip to claim "Joe Biden is Swamp Thing," a reference to former President Donald Trump's promise to "drain the swamp" of career politicians in Washington.
Two years earlier, after vandals used a pick ax to destroy Trump's star on the Hollywood Walk of Fame, The Faction worked in the dead of night to replace it, and added a few dozen more of them.
The Faction sometimes collaborates with a street artist who uses the pseudonym "Sabo" and who has hung dozens of posters in California that look like authentic ads for Elder—one featuring him and Newsom as boxers with the latter exclaiming, "Rules for thee but not for me."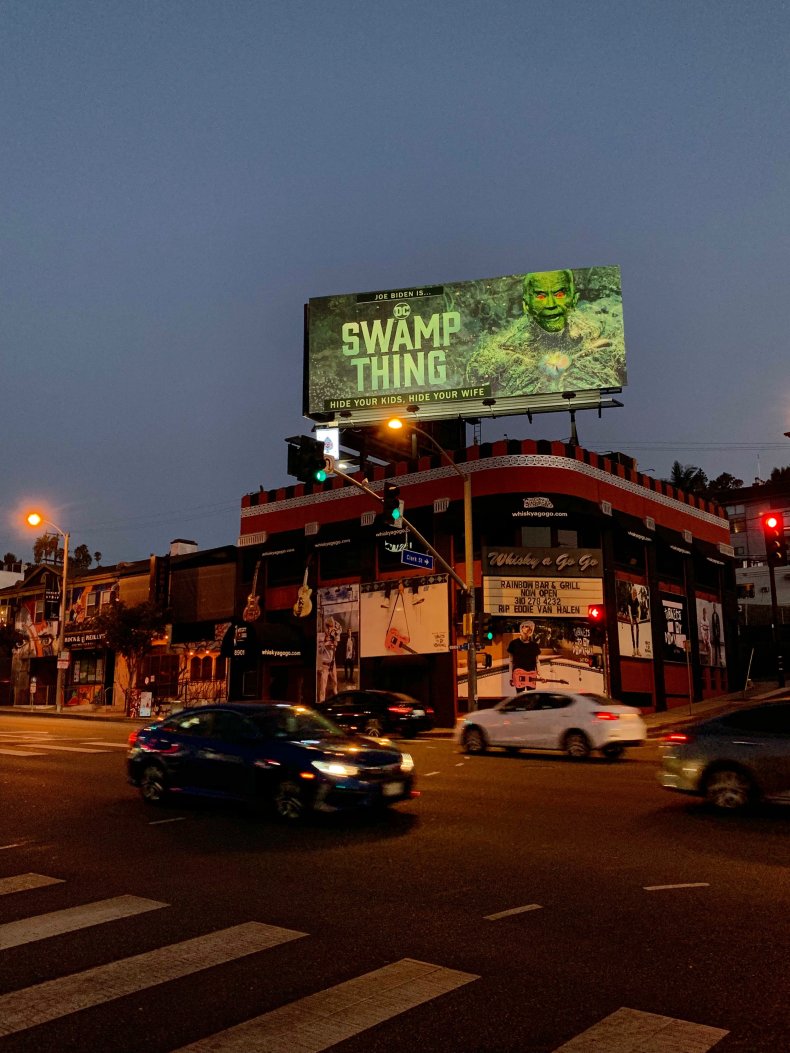 But in this case, The Faction and Sabo are working separately and the former isn't promoting Elder or any of the dozens of other gubernatorial candidates vying for Newsom's job. They're simply trying to ridicule Newsom over his pandemic policies that they say have "destroyed lives and small businesses."
Other targets of The Faction in recent years include CNN, Representative Maxine Waters, TV personalities Bill Maher and John Oliver and actor Jussie Smollett, whom authorities accuse of falsely claiming he was the victim of a racist attack.
In 2017, The Faction teamed with Sabo and made news worldwide with fake bus-stop ads that showed disgraced movie mogul Harvey Weinstein posing next to actress Meryl Streep with a red strip over her eyes that read, "She knew."