Conservative Group Club for Growth to Target Joe Biden's Past Comments on Race in Ads During Democratic Debate
While the upcoming Democratic debates will feature a cast of 20 presidential hopefuls trying to stand out from the pack, a prominent conservative group will be targeting just one candidate: the party's current front-runner, former Vice President Joe Biden.
Club for Growth confirmed to Reuters on Saturday that it intends to run TV advertisements opposing Biden. These ads will specifically address concerns about comments the long-time politician has made about racial matters.
"Joe Biden's past statements and positions on race issues present a serious challenge to his candidacy for the Democratic presidential nomination according to our polling," explained Club for Growth President David McIntosh in a statement to Reuters.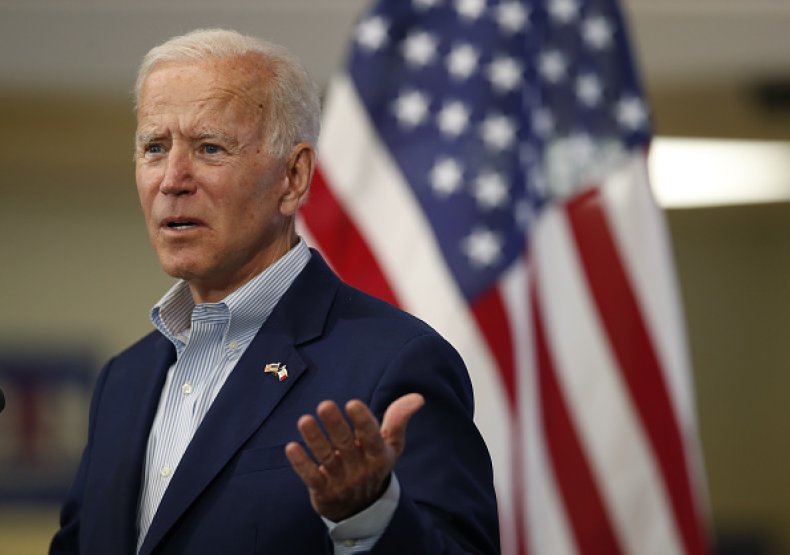 The group, which has an explicitly pro-Republican bent, did not say which particular comments from five-decade career the ads would spotlight. Newsweek has reached out to Club for Growth for additional information and will update if we receive a response.
While Biden recently claimed "There's not a racist bone in my body. I've been involved in civil rights my whole career," the candidate's record has been called into question in recent months, even has he has continued to lead all early polling for the Democratic nomination.
A Politico report in May spotlighted how Biden spent nearly half a decade in the 1970s opposing school desegregation efforts by "pushing legislation to thwart the implementation of busing schemes" intended to have some school children from predominantly black communities bussed to other neighborhoods in predominantly white areas.
Then-Senator Biden backed a 1976 bill that would have prohibited the use of federal funds to transport students beyond the school closest to their homes, noted Politico. The next year, he co-sponsored successful legislation that went even further in limiting the federal government's ability to encourage desegregation.
The Atlantic recently pointed to potentially troubling comments Biden made in a 1970 interview when he was just a rising star in the Delaware political scene. In the interview, the centrist Biden appeared to argue that his more liberal colleagues were overly forgiving of black perpetrators of violence while being overly harsh toward "rednecks."
"I have some friends on the far left, and they can justify to me the murder of a white deaf mute for a nickel by five colored guys. They say the black men had been oppressed and so on. But they can't justify some Alabama farmers tar and feathering an old colored woman," said Biden, according to the Atlantic. "I suspect the ACLU would leap to defend the five black guys... But no one would go down to help the 'rednecks.' They are both products of an environment. The truth is somewhere between the two poles. And rednecks are usually people with very real concerns, people who lack the education and skills to express themselves quietly and articulately."
Biden's old comments and legislative efforts have been brought back into the spotlight after the former vice president's recent, heavily criticized, attempt to explain his ability at being able to work across established political divides.
Speaking at a fundraiser earlier this week, Biden claimed that the Senate once used "some civility" and "got things done." He boasted about his successful efforts during his time in the upper chamber, working with Democratic Senators Herman Talmadge of Georgia and James Eastland of Mississippi, both of whom were vehemently opposed to the civil rights movement.
"I was in a caucus with James O. Eastland. He never called me 'boy,' he always called me 'son,'" Biden said. "Well guess what? At least there was some civility. We got things done. We didn't agree on much of anything."
He continued: "But today, you look at the other side and you're the enemy. Not the opposition, the enemy. We don't talk to each other anymore."
These comments — along with Biden's past friendly relationships with openly racist lawmakers like the late Senator Strom Thurmond — drew attacks from some of his fellow 2020 candidates.
"Vice President Biden's relationships with proud segregationists are not the model for how we make America a safer and more inclusive place for black people, and for everyone," Senator Cory Booker wrote in a statement released Wednesday. The 2020 Democrat added that he is "disappointed" that Biden has yet to issue an apology for "the pain his words are dredging up for man Americans."
Biden did not apologize for his comments, and in fact, he demanded an apology from Booker.
"Apologize for what?" Biden told CNN. "Cory should apologize. He knows better. There's not a racist bone in my body. I've been involved in civil rights my whole career."
Biden has been leading all early polling of the vast field of two dozen Democratic candidates. Club for Growth said its own internal polling found that 46 percent of black voters were supporting the former VP, which is one of the reasons the group chose to target Biden.
"This poll and the coming ad are designed to help voters and observers of the 2020 Democratic presidential primary understand the field as well as the strengths and weaknesses of the frontrunner, former Vice President Joe Biden," said McIntosh.