When Moms for Liberty rented office space in a Melbourne, Florida, strip mall to use as its headquarters last year, it kept the name of the previous tenant's business on its signage to hide its true identity, explains Tina Descovich, co-founder of the conservative group that says it fights for parental rights in schools. "It sounds funny, but it's for our own safety," says Descovich.
That the organization even needs a "headquarters" is a testament to its fast growth, as it consisted of Descovich, co-founder Tiffany Justice and a handful of like-minded mothers two years ago, though it recently surpassed 80,000 moms who operate from 177 chapters in 34 states. The goal is to have 3,000 chapters nationwide where one or more Moms for Liberty show up regularly at school board meetings donning t-shirts with slogans such as, "We do not co-parent with the government." Their intent is to battle against what they say is a "woke" leftist movement in schools, and they'll do so by influencing curriculum, text and library books, coronavirus protocols, legislation and election outcomes.
The secrecy of their headquarters is also proof of their success because it comes with controversy and more than their share of passionate opposition. Expect that to continue as the group gains not only members but clout in a mid-term election year. Example: on March 14, Florida Gov. Ron DeSantis, noting the number of Republican-backed bills passed that restrict what teachers can tell elementary school kids about race and sex, proclaimed 2022 "the year of the parent," a line he borrowed from Moms for Liberty, which had been uttering the phrase for months. In December, USA Today called Moms for Liberty "the political group of the moment," while in October The Washington Post compared it to the Tea Party and the Moral Majority, conservative movements that boasted tens of millions of supporters in their heydays.
The first high-profile battle the group fought was over mask-wearing in schools; despite the CDC's recommendation, Moms for Liberty objected to the mandatory masking of children. While their position spurred some rational debate, it also brought out the worst in some detractors, according to a slew of profane emails the group received, then turned over to law enforcement. Newsweek reviewed several that threatened sexual assault, kidnapping and murder while calling members of Moms for Liberty "racists," "white supremacists" and much more."We have received material that we are reviewing to determine the intent and possible violation of statute," Brevard County Sheriff's Office spokesman Tod Goodyear told Newsweek about the emails. One such email, emailed to Moms for Liberty recently, read: "Tiffany we know where you live and your kids will not be safe." The author of the message did not respond to Newsweek's request for comment.
If there is legislation that its members think will hand more power to parents while lessening that of unions, school boards and bureaucrats, Moms for Liberty will likely support it, as well as the candidates who are its champions, regardless of what can be very powerful opposition. Case in point is HB1557, what activists and many in the media have dubbed the "Don't Say Gay Bill" that says instruction about "sexual orientation or gender identity may not occur in kindergarten through grade 3." When the Florida House of Representatives passed the bill on Feb. 24, Descovich, Justice and 200 other Moms for Liberty were there to celebrate — with a security detail in tow (the event was peaceful, outside of a man swiping a roll of stickers reading, "Stop Woke Indoctrination," then bragging online about the theft).
Among those who object to the bill is the Walt Disney Co, which employs 57,000 Floridians at its theme parks in Orlando and said after DeSantis signed HB1557 on March 28 that "our goal as a company is for this law to be repealed by the legislature or struck down in the courts." Moms for Liberty had already moved a conference it planned in Orlando because of Disney's position on the bill, but Justice is now calling for an outright boycott of the company. "We bring our kids to Disney World, but if they do not stand up for parental rights, we won't bring them there anymore," she tells Newsweek. "We should boycott them. I truly believe that." Disney did not respond to Newsweek's request for comment.
In several states, Moms for Liberty supports "school choice," whereby parents use vouchers to send their children to schools of their choosing, regardless of the ZIP Code in which they reside, a plan objected to by teachers' unions nationwide. In Florida, the group is currently supporting about eight bills it says "reinforces the fundamental rights of parents within the education system" and that "end discrimination based on race, color, sex or national origin."
But it's the notion among some chapters that certain books be banned that is getting the bulk of attention right now. Just as some on the left have their list of books children shouldn't read because of outdated cultural references — To Kill a Mockingbird by Harper Lee, certain titles by Dr. Seuss and Mark Twain — the right has titles it wants kept away from kids until they are older. Many are objectionable because they have pro-LGBTQ themes, some because they are deemed pornographic because of sexually explicit details, and some because they believe they malign people —usually whites and sometimes Hispanics and Asians — as racists because of their skin color or origin.
The latter is the case with Moms for Liberty in Williamson County, Tennessee, where some members objected to Martin Luther King Jr. and the March on Washington by Frances E. Ruffin, Separate is Never Equal by Duncan Tonatiuh and two books about Ruby Bridges, the first Black child to attend an all-white school in segregated Louisiana in 1960. According to a June 30 letter from the chair of the Moms for Liberty chapter in Williamson to the Tennessee Department of Education, such books teach second-graders that people of color continue to be oppressed by an "angry, vicious, scary, mean, loud, violent ... white population and teaches that the racial injustice of the 1960s exists today."
Earlier this year, the Williamson chapter successfully convinced elementary schools to remove from their curriculum Walk Two Moons by Sharon Creech because it robbed children "of their innocence" with cursing, details about "miscarriage, hysterectomy/stillborn" and drawings of "stick figures hanging."
"Sadly, right now, some are working to impose a dangerous agenda," National Education Association President Becky Pringle told Newsweek when asked about Moms for Liberty. "They are working to ban books that deal with MLK's March on Washington and the civil rights movement as they try to whitewash our history. They want to target and punish educators for teaching the age-appropriate lessons about America."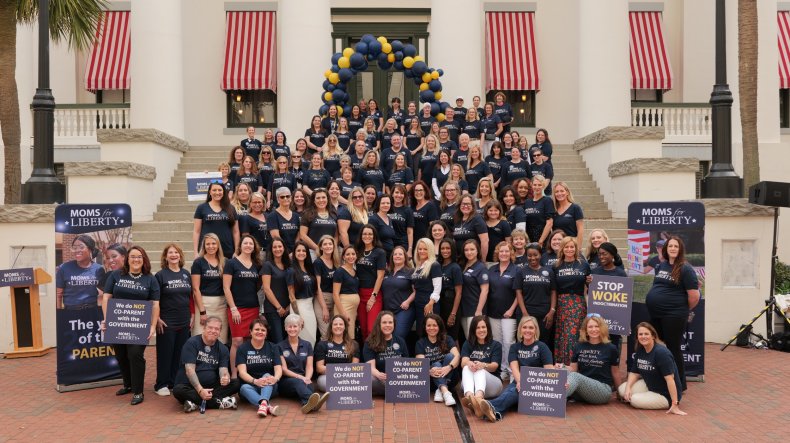 Moms for Liberty is also spurring opposition from liberal groups such as Red Wine & Blue and Support Our Schools, the latter of which was founded in December "not as a response to Moms for Liberty the group, but definitely a response to what they believe," co-founder Angela Wynn tells Newsweek.
Wynn acknowledges that liberals have supported the banning of books just as conservatives, but says, "The difference is my organization believes books should be carefully curated by professionals." She adds: "We approve of parents' involvement, but we don't send children to school to learn what their parents want them to learn, but what society needs them to learn ... History lessons shouldn't be based on whether or not they might upset a white student."
Robin Steenman, who heads the Williamson chapter of Moms for Liberty, said she joined the group to battle Critical Race Theory, the notion that racism is embedded in American institutions and thus "systemic." While schools, administrators and boards nationwide typically say they do not teach CRT, conservatives claim many teach the tenants without using the name. Such is the case with many elementary school English courses where writing exercises purporting to be about grammar, punctuation and spelling are steeped in rhetoric about American bigotry, according to Steenman.
"Teachers are scripted to focus their students on inflammatory images of racism while teaching the kids to read and write," says Steenman. She says that an extraordinary focus on race "is emotionally toxic to a child of any skin color," and adds that she has never sought to "ban" any books, just to delay their introductions until students are "age appropriate."
Moms for Liberty also got on the wrong side of Facebook, quite the inconvenience, considering it's a valuable recruitment tool. According to Justice, 22 chapters had their Facebook pages shut down — including one on the day it launched — for reasons such as posting the days and times of school board meetings, encouraging people to run for office and accurately describing the content of certain books, all of which Facebook said violated its "standards."
"On October 8, 2021, the NEA wrote to you and other 'Tech Leaders' falsely accusing parent groups of being 'radicalized,'" Justice and Descovich wrote January 24 in an open letter to Mark Zuckerberg, CEO of Facebook parent Meta Platforms. "In an era where 'parental rights' have been slandered as a dog whistle for 'radical extremism,' the NEA's intent seems clear. They want to use any tool at their disposal to push parents out of education. And, unfortunately, it appears that your staff has determined to act as an enforcement agent on their behalf."
The letter worked: Within days, Facebook restored all of the Moms for Liberty pages.
Descovich and Justice founded Moms For Liberty after serving four years on a school board, each in a different county, and learned of each other through TV and radio appearances. "We were always the lone wolves on both of our school boards," Justice recalls.
Before losing her reelection bid in 2020, Descovich recalls listening to "parents who'd speak against mandatory masking and quarantining and be heckled. They'd pour their souls out and union members would literally laugh at them at board meetings. So I had some soul-searching to do."
Justice, meanwhile, didn't bother running for reelection. "Parents needed to get involved in a different way. We needed to build an army," she says.
After the two connected in person later that year, they created Moms for Liberty, its assets consisting of a Facebook page and $500 worth of t-shirts they'd sell for 50 percent profit in order to fund their operations. They drummed up publicity by calling radio shows hosted by the likes of Glenn Beck and other conservative stars; thus, in two years, they sold about $300,000 worth of t-shirts, their most popular reading: "We do not co-parent with the government." Despite what they describe as their humble, grassroots beginnings, there is no shortage of critics who accuse the group of being funded by "dark money."
"Some person who used to be relevant called us 'astroturf.' I didn't even know what she meant. I had to look it up," says Justice. "We were accused of being funded by big-money donors like the Koch brothers. I didn't know what these people were talking about."
While the two moms say it was all t-shirt sales and small donors in the beginning, they recently got some bigger donations from more prominent sources, though they're happy to keep them a secret for as long as they're legally able to so.
"We're a force," says Descovich. "We plan to have a huge impact, and not just in 2022, which we've coined 'the year of the parent.' Our goal is for a chapter in every county in the country. More than 3,000 of them."
Says Wynn, of Support Our Schools: "We're not trying to take them down. We believe there's room for improvement in education, but we don't want to regress, and that's what groups like Moms for Liberty are doing: They're trying to throw us back into the 1950s."