Conservative Group Urges Trump Supporters to Pray That God Will Mess With Biden During Debate
Two Christians leaders of a far-right evangelical movement told their followers to pray before and during the first presidential debate that Democratic Presidential nominee Joe Biden be "confused" and moderator Chris Wallace be kept "in line."
On Monday night, Frank Amedia and Mark Gonzales issued the prayer request, first reported on by Right Wing Watch, in a video published through their pro-Trump "prophetic" network POTUS Shield. The two men asked their fellow "prayer warriors" to begin praying for an hour before the debate and throughout the event.
"We're gonna have to be praying that confusion comes to the enemy's camp," Gonzales said, "in the cause and the questioning and all the things that are happening—if it's not God's agenda, we want it exposed."
At another point, Amedia told viewers that he and Gonzales had the authority to pray for confusion on Biden so that his "already rehearsed" responses would come out as "babble" and Republican President Donald Trump's "tag-lines" would be effectively delivered.
Gonzales emphasized that in doing so, the prayers would give "ammunition" to God, the church, the body of Christ and the conservative movement in America. He also said the prayers would help expose lies of the "liberal media" while revealing Trump as the "most" anti-abortion president ever and the "friendliest" to both the church and Israel.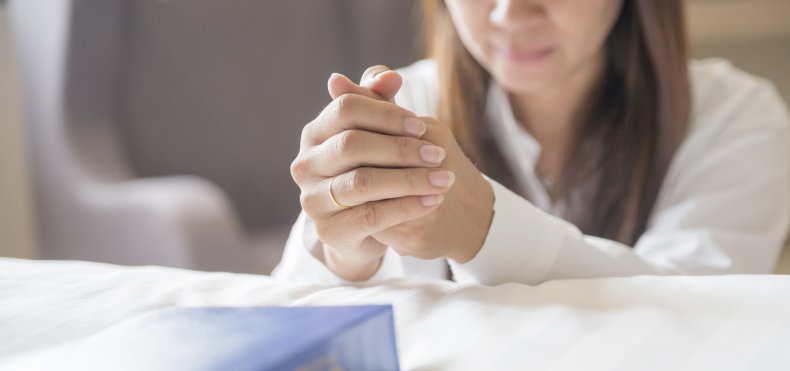 Gonzales then mentioned Wallace by name, adding, "[He] is going to be doing the questioning. And sometimes he cannot be such a friend, he can actually become a foe."
As the men entered a prayer, Amedia concluded by speaking of Wallace.
"You're going to be glorified, God, in this nation and over our president and this debate on Tuesday," Amedia said. "You're going to arrest even Chris Wallace, God, if he tries to get out of line, you're going to line him back up, because he's gonna realize somebody [who is] greater than him is in control of what's happening on Tuesday, in Jesus name, amen."
According to Right Wing Watch, Amedia has previously claimed himself as an "oracle of God" who claimed to have previously foretold Trump's creation of the military Space Force and the three U.S. Supreme Court vacancies that Trump has filled.
He also said that Biden "blasphemed" God in August when Biden said there'd be "no miracle" to suddenly save the U.S. from the COVID-19 pandemic as Trump pledged.
The leaders of POTUS Shield are reportedly aligned with the New Apostolic Reformation, a Pentecostal movement that believes that modern-day prophets and apostles are empowered by God to remake world governance to follow Biblical law and herald the apocalyptic return of Jesus Christ.
Evangelical Christian voters were integral to Trump's presidential 2016 victory, but July polling from Pew Research has showed declining support for Trump among Christian groups, including white evangelicals.
Nevertheless, 82 percent white evangelical Protestants said they would vote for or lean towards voting for Trump on Election Day, as would 55 percent of all Christians, 55 percent.
Newsweek reached out to POTUS Shield for comment.