Conservative Media Outlets Call on GOP to Dump Donald Trump After Midterms
A number of conservative media outlets have called on the Republican Party to leave former President Donald Trump behind as the midterm elections ended in disappointment for the GOP.
"It's time for Donald Trump to go," Charles Cooke wrote in a Wednesday op-ed for National Review.
"Trump is a loser," Cooke said. "He squeaked past the most unpopular woman in America in 2016, he presided over a blue wave in 2018, he lost to a barely breathing Joe Biden in 2020, and he hand-picked a bevy of losing Republican nominees in 2022."
Trump endorsed hundred candidates in this year's midterms, but those in key swing states failed to win their races in a trend that has cast doubt over Trump's role as the GOP kingmaker. Despite those defeats, many expect Trump to still announce his official bid for 2024 within the next week.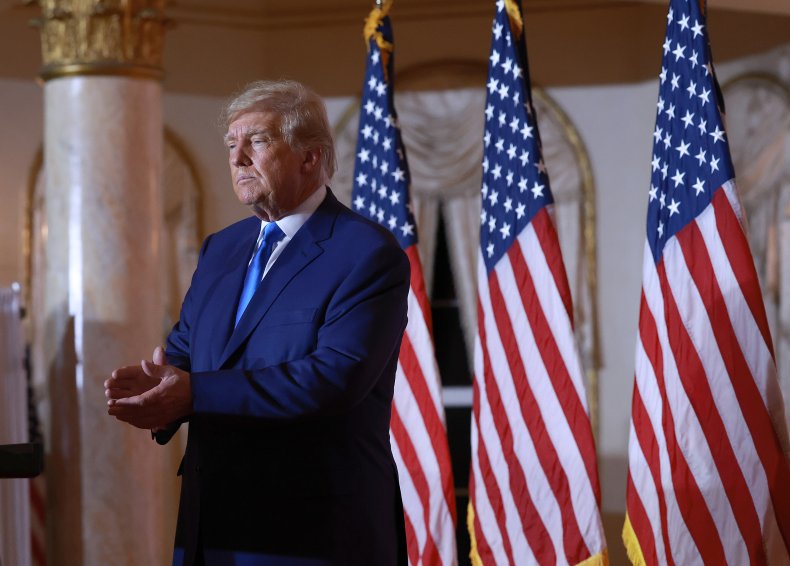 However, some outlets are urging Republicans to embrace alternatives like Florida Governor Ron DeSantis, who unlike others in his party, scored a resounding victory in his state on Tuesday.
Cooke, in his National Review op-ed, called DeSantis a "winner" who defied the odds of the blue wave in 2018, when he was first elected to the governorship, and criticized Trump for "classic establishment gate-keeping" over the warnings he's sent to DeSantis about running against him in 2024.
As Republican odds soured over the course of Election Night, even Fox News, a network that had previously been one of Trump's favorites, seemed to question the former president's future within the party, repeatedly turning back to DeSantis' midterm win each time another GOP loss was decided.
Fox News' Marc Thiessen on Tuesday slammed Republicans for failing to ride into Congress on a red wave despite the nation's skyrocketing inflation, rising crime rate and President Joe Biden's unfavorable ratings.
"They looked at all of that and looked at the Republican Party alternative and said 'no thanks.' The Republican Party needs to do a real deep introspection look in the mirror because this is an absolute disaster," Thiessen said, calling the results of the election "a searing indictment of the Republican Party."
The Washington Examiner also argued that voters are moving away from Trump, blaming the former president for the disappointment of the midterms and urging Republicans to pay attention as the 2024 presidential race is set to begin.
"As terrible results rolled in overnight, Trump reportedly resorted to screaming about bad GOP candidates," the Examiner wrote in a Wednesday editorial. "But they were his people. This is his fault. Without Trump to run against, Biden and the Democrats would probably have been roundly rebuked by voters."
Political scientist Steven Schier previously told Newsweek that the poor performance of Trump's endorsed candidates is likely to send the GOP into chaos.
"In the short term, between now and 2024, it's nothing but trouble to the party internally, between [Make America Great Again] and [Republicans in Name Only]," Schier said.