Conservative MPs Criticised for Sharing Misleading Video of Labour Leader Keir Starmer on Grooming Gangs
Conservative MPs have been criticized for sharing a misleading video of Keir Starmer that purported to show the Labour leader explaining why he "did not prosecute grooming gangs" when he was head of the Crown Prosecution Service (the principle public body for conducting prosecution in England and Wales).
Health minister Nadine Dorries and Lucy Allan MP, both quote tweeted a video this morning.
The tweet, from the account @NJamesWorld, who in his Twitter biography describes himself as "British and proud, saying it how it is", states: "Keir Starmer explains why he didn't prosecute grooming gangs when he was head if the Crown Prosecution Service.
"1. The children didn't report the abuse straight away. 2. The abused children had been in trouble. 3. The children had used drugs and alcohol (given to them by the rapists).
A longer version of the same video shows that what Starmer was actually doing was citing examples of why the past approach and guidelines were flawed and why he implemented a new approach as the director of public prosecutions.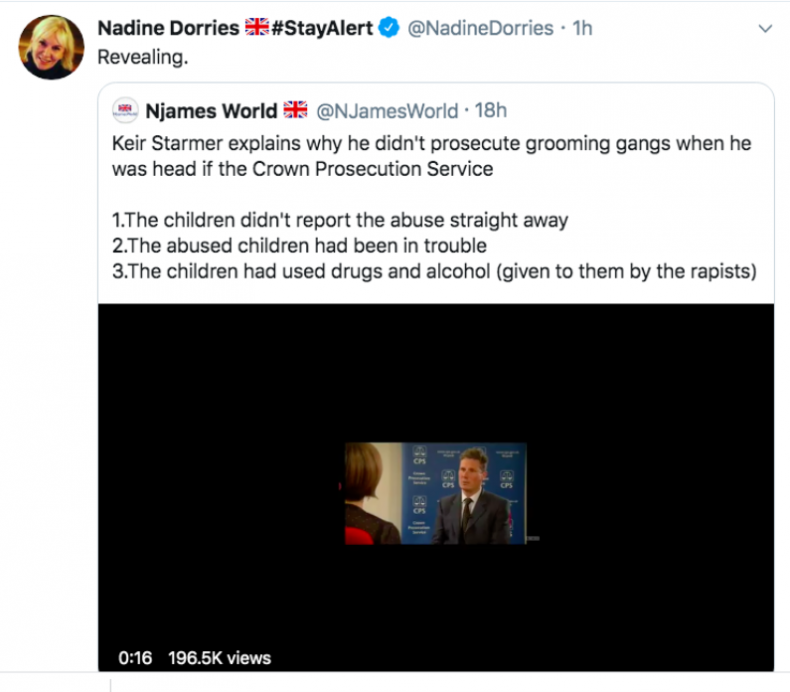 However, the edited video made it look as though Starmer was endorsing the examples rather than criticizing them.
Dorries had quoted the tweet with the edited clip and wrote "revealing" while Allan wrote: "This...suggests a total failure to understand grooming, a dismissive attitude towards CSE (Child Sexual Exploitation) victims and a belief that the victims brought it on themselves."
Allan then wrote on Twitter: "There was a total failure by the authorities to understand #CSE #grooming, a dismissive attitude towards victims, and a belief that victims brought it on themselves."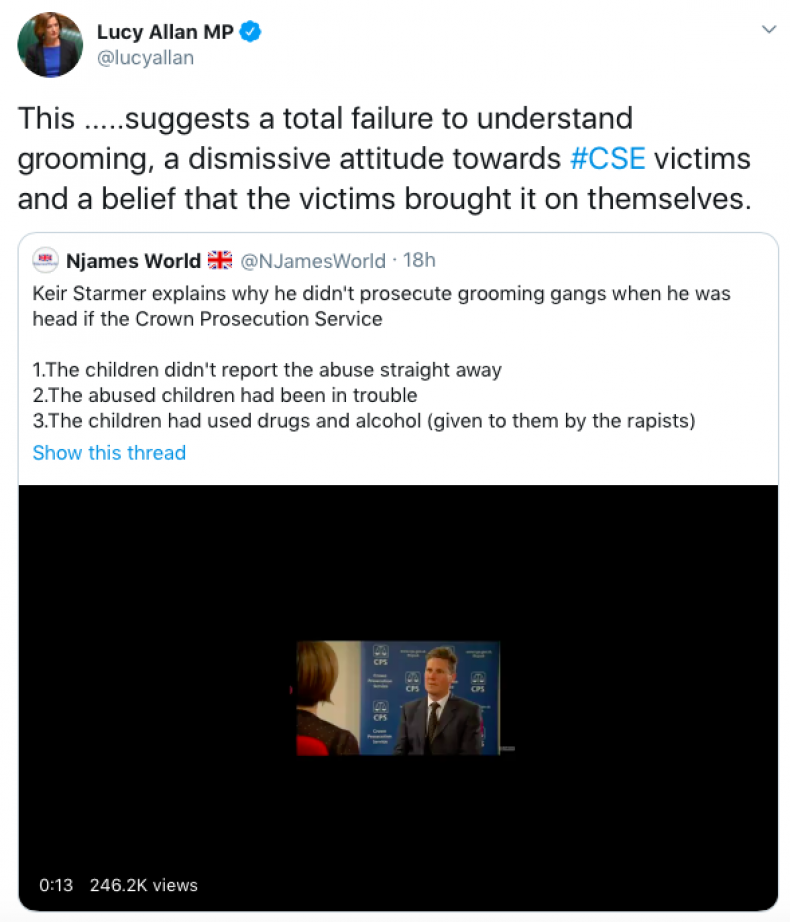 Both have since deleted their tweets.
A third MP Maria Caulfield, an assistant government whip, is believed to have shared the video but has since deleted her entire account.
A more full quote from that interview explains what was being said by Keir Starmer:
"Particularly in the field of child sexual abuse, but this is also true in sexual offences more generally, some of the assumptions were about what 'real' victims do: a real victim goes straight to the police; a real victim will give a coherent and consistent account, in chronological order; a real victim would never go back to the perpetrator; a real victim wouldn't dress in a particular way, or drink or take drugs. Over time, those tests or assumptions have ended up ringfencing some of the most vulnerable victims from criminal justice protection," Starmer said.
Labour MP Wes Streeting wrote on Twitter in reply to Dorries: "What's revealing is that:
"1. You've spread fake news and indulged a smear being promoted by the far right.
"2. You had time to do this despite being a Minister in the Department of Health during a public health crisis.
"It's either malevolence or stupidity. Probably both."
Allan, Dorries, Caulfield and Starmer have all been contacted for comment.