Conservative Operatives Jacob Wohl and Jack Burkman Face Felony Charges For Robocall Scheme
Two conservative political operatives are facing felony charges in Michigan for allegedly conspiring to use deceptive robocalls to suppress the vote in November's election.
Michigan Attorney General Dana Nessel announced felony charges against Jack Burkman, 54, a conservative lobbyist and podcast host, and Jacob Wohl, 22, a former hedge fund manager and right-wing conspiracy theorist, on Thursday. The pair were allegedly responsible for thousands of robocalls that were made in urban areas with significant minority populations, which tend to vote Democratic.
The calls were said to urge potential voters to "beware of vote by mail" while falsely claiming that voting would enter information into a police database or allow them to be easily tracked down by debt collectors. Voters were urged to avoid being "finessed into giving your private information to the man" by not participating in the election.
"Any effort to interfere with, intimidate or intentionally mislead Michigan voters will be met with swift and severe consequences," Nessel said in a statement. "This effort specifically targeted minority voters in an attempt to deter them from voting in the November election."
An estimated 85,000 pre-recorded calls were made, including in states outside Michigan, according to Nessel. Burkman and Wohl do not live in Michigan but instead come from Virginia and California, respectively.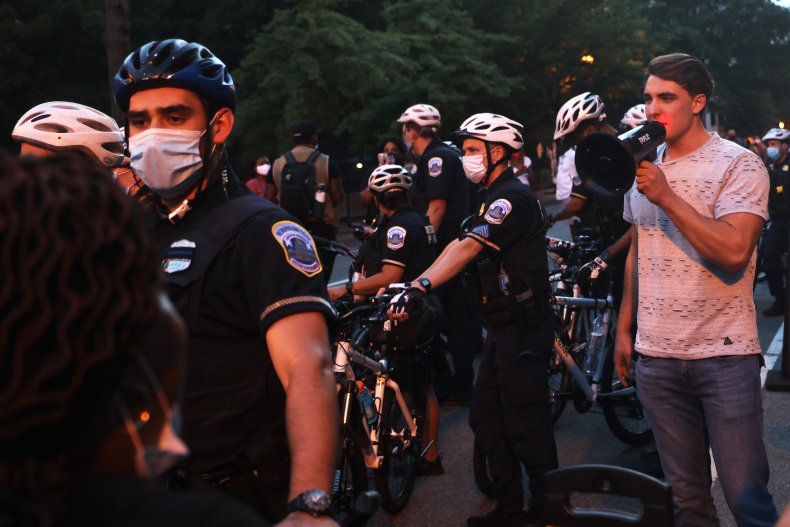 In addition to threats about law enforcement and debt collection, the calls also falsely claimed that the Centers for Disease Control and Prevention would use voter information to force "mandatory vaccines."
"We're all well aware of the frustrations caused by the millions of nuisance robocalls flooding our cell phones and landlines each day, but this particular message poses grave consequences for our democracy and the principles upon which it was built," said Nessel.
"Michigan voters are entitled to a full, free and fair election in November and my office will not hesitate to pursue those who jeopardize that," she added.
Burkman and Wohl each face felony counts of intimidating voters, conspiracy to commit an election law violation, using a computer to intimidate voters in an election and using a computer to commit the crime of conspiracy. If they are convicted, the charges carry a combined total of up to 24 years in jail.
Wohl has faced multiple complaints and legal challenges related to his allegedly fraudulent finance activities, including two felony charges filed against him in California last year. He allegedly spread conspiracy theories and misinformation against Democrats on Twitter before the platform banned him for making multiple fake accounts.
Burkman runs the lobbying firm JM Burkman & Associates and hosted the podcast Beyond the Curtain. He was a prominent proponent of right-wing conspiracy theories surrounding the 2016 murder of Seth Rich, before joining with Wohl in recent years to promote more conspiracies aimed at Democrats and others viewed as opponents of President Donald Trump.
The men allegedly attempted to fabricate false allegations against former Democratic candidate Pete Buttigieg in 2019. Additional hoaxes and attempts to smear prominent Democrats include false allegations against Sen. Elizabeth Warren and Sen. Kamala Harris.
Last month, they reportedly hired actors to stage a fake FBI raid on Wohl's Arlington, Virginia home, temporarily fooling The Washington Post.
Neither man is believed to currently be in Michigan and prosecutors say they may work with local law enforcement "to secure the appearance of each defendant" for a pending arraignment if they do not make voluntary appearances.
Newsweek reached out to Nessel's office, who had no additional comment.
Update 10/1, 7:45 p.m.: This article has been updated to reflect that the office of Michigan Attorney General Dana Nessel had no additional comment.