Conservative Pastor Says Jesus Would Have 'Beat The Crap' Out of John Bolton
A conservative evangelical pastor has lamented not physically assaulting former National Security Adviser John Bolton when he had the chance, while insisting that Jesus Christ would have "beat the crap out of" Bolton for disobeying President Donald Trump.
Rodney Howard-Browne, who has previously visited the White House to "lay hands" on Trump, lashed out at Bolton over recent news that the former ambassador's upcoming book may confirm the existence of a quid pro quo between Trump and the Ukraine—the central issue in Trump's impeachment trial. The preacher suggested on Twitter that Bolton was a traitor deserving of physical punishment for not remaining loyal to Trump.
"You are a slime ball of the highest order," tweeted Howard-Browne on Wednesday, apparently addressing Bolton. "I should have knocked your sorry butt through the door of the Oval Office into the rose garden when I saw you. I would have gladly been arrested ... what a Benedict Arnold ... I am glad you were fired!!!"
Bolton was also accused of being a "globalist sellout" who is "disloyal to the President and loyal to the deep state." Howard-Browne has long been a proponent of conspiracy theories concerning a supposed "deep state" desperate to launch attacks against Trump, who he has compared to the Sylvester Stallone action hero character Rambo.
The preacher also claimed that Jesus Christ would have launched a violent attack on Bolton over the alleged betrayal.
"WWJD: He would have made a whip and beat the crap out of him!!!!" Howard-Browne tweeted.
Florida-based Howard-Browne was originally from South Africa but emigrated to the U.S. decades ago and has since gained a loyal following as the leader of Revival Ministries International. He has been called "God's bartender" and is known for flamboyant antics during church services, which include leading congregants as they apparently mimic drunkenness and make sounds resembling animal noises.
Followers are also said to "literally roll in the aisles" as Howard-Browne leads them into what he calls "holy laughter." Critics have described him as a "stage hypnotist" who is leading a "cult."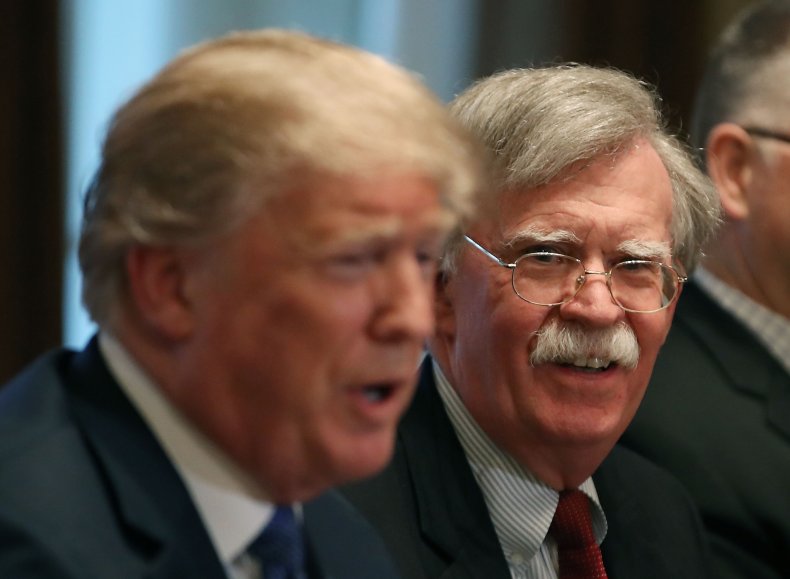 Bolton's book, The Room Where It Happened: A White House Memoir, is set to be released on March 17. It is expected to confirm the central impeachment allegation against Trump, that the president was involved in an attempted "quid pro quo" scheme to pressure Ukraine into launching an investigation of his political rival, former Vice President Joe Biden.
The White House sent a legal threat to Bolton's lawyer Wednesday, attempting to stop the book's publication based on a claim that the manuscript contains classified information.
Bolton's revelations have led many observers to conclude that the likelihood of witnesses being allowed at the Senate trial has increased substantially. Republicans have been hoping to disallow witnesses, but it is unclear if they have enough votes to stop them. Bolton has indicated that he would testify if called to the trial.
The trial continued Wednesday with a question and answer period, after opening arguments in defense of Trump concluded Tuesday. A vote on witnesses is expected by Friday.