Conservative Pastor Says Kamala Harris Is Driven by the 'Antichrist Spirit'
Conservative Texas pastor Robert Henderson said politicians like Vice President-elect Kamala Harris are driven by the "Antichrist spirit," according to a video from Right Wing Watch.
Henderson referred to Psalm 2 of the Bible and likened political figures to the "kings of the earth" mentioned in the passage, who try to break from God.
"The Antichrist spirit says the kings, the rulers, the politicians—they want to do one thing, that are driven by this Antichrist spirit. The Bible says they want to break the bonds of the Lord in pieces and cast away their cords," Henderson said. "In other words, they want to become freed from the influence of who God is."
He added, "This is what is happening in our nation today."
Henderson, a longtime supporter of President Donald Trump and pastor at the Radiant Church in Waco, did refer to Harris as the vice president-elect.
"We have a vice president-elect that wants to legalize prostitution," he said. "And that's just one little-bitty piece. That is against God and his standards, the knowledge of God."
Harris has previously supported efforts to decriminalize sex work, but she has not advocated for its legalization. Decriminalization involves the removal of prostitution-specific laws, while legalization would allow the government to control sex work and decide when it would be legal.
In an interview with the Root last year, Harris called for sex work to be decriminalized.
Speaking about her position as a former San Francisco district attorney, Harris said, "I was advocating then that we have to stop arresting these prostitutes and instead go after the johns and the pimps, because we were criminalizing the women but not the men who associated with it and making money off of it and profiting off of it."
Her remarks have come under sharp scrutiny by conservative Christians, including Henderson, and were used during the presidential election to support claims she supports the legalization of sex work.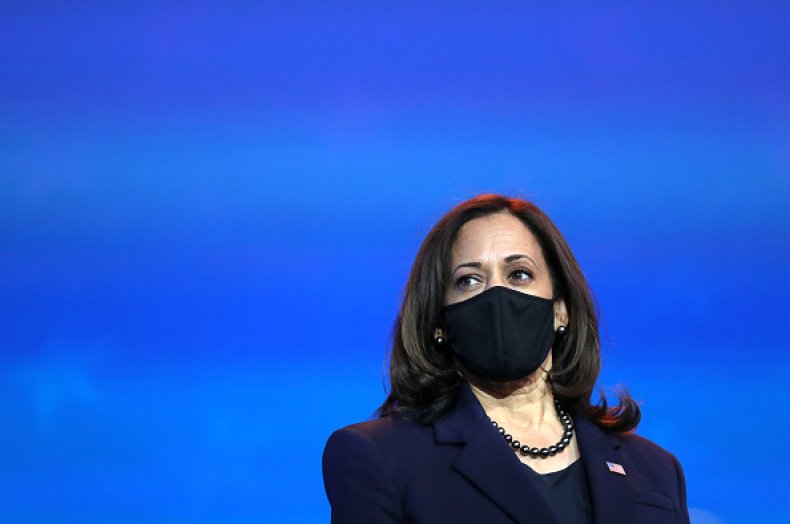 Despite Henderson's general remarks about the "Antichrist spirit" driving politicians, he has shown an interest in politics. In January, the pastor claimed that Trump asked him to serve as his "running mate" in a dream.
"I knew he wasn't asking me to be his vice president," Henderson said during an interview with televangelist Jim Bakker. "But I knew that God was asking me to run in the spirit with him."
Henderson has been known to target Democrats in highly controversial statements. In September, he took credit for the death of Supreme Court Justice Ruth Bader Ginsburg, saying he had prayed for it to happen.
Newsweek reached out to Henderson for further comment but did not hear back before publication.