Trump-Supporting Pastor Says Newly Elected Congress Will 'Look Like an Islamic Republic'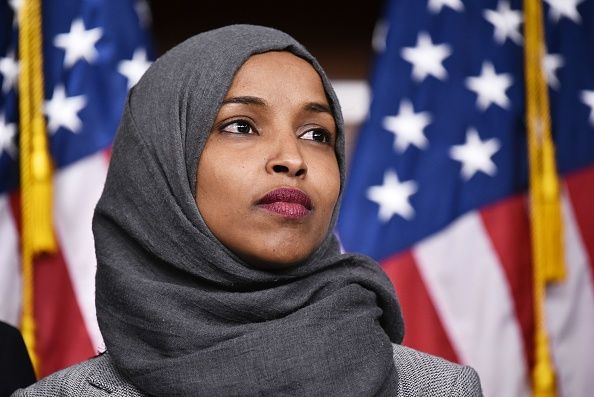 After a number of historic victories this midterm election, including the first Muslim and Native American women elected to Congress, one conservative pastor laments Capitol Hill's increasing diversity.
"The floor of Congress is now going to look like an Islamic republic," E.W. Jackson said on the radio show Urban Family Talk on Wednesday. "We are a Judeo-Christian country. We are nation rooted and grounded in Christianity and that's that. And anybody that doesn't like that, go live somewhere else."
The pastor continued, adding: "It's very simple. Just go live somewhere else. Don't try to change our country into some sort of Islamic republic or try to base our country on Sharia law."
Jackson's remarks came in response to reports that Democrats were attempting to change legislation that bans the wearing of headscarves and hijabs on the floor of the House of Representatives. The proposal was made to accommodate incoming lawmaker Ilhan Omar of Minnesota, one of the first Muslim women to serve Congress in U.S. history along with Representative-elect Rashida Tlaib of Michigan.
"No one puts a scarf on my head but me," Omar wrote on Twitter shortly after the midterm elections in November. "It's my choice—one protected by the first amendment. And this is not the last ban I'm going to work to lift."
The proposed rule change was co-authored by Nancy Pelosi, the current House Minority Leader and likely the next speaker of the chamber when Democrats take back the majority in January. Along with the changes to the ban on headscarves, Democrats are also proposing rule changes to ban LGBTQ discrimination and the creation of an independent office to promote diversity when it comes to hiring House staffers.
Jackson, a former Marine, is the founder of the Called Church in Virginia and the nonprofit foundation Staying True to America's National Destiny, whose mission is to bring the country together to "preserve our Judeo-Christian values and heritage."
Earlier this year, Jackson ran for a Senate seat in Virginia but lost the Republican primary. He was also the GOP nominee for lieutenant governor of the Southern state in 2013 but lost the election.
Jackson claimed during the show that he is not Islamophobic, but then went on to call Islam a "threat to humanity."
"Now don't get me wrong, I believe in the freedom of religion, I believe in the First Amendment, but I'll tell you what, I'm not voting for a Muslim to serve in any office," Jackson said. "Me, personally, I'm not doing it. I'm not doing it. Period."