Conservative Porn Star Brandi Love Banned From Turning Point USA Event
Brandi Love, a porn star who identifies as a conservative, was initially welcomed as a VIP at a Florida event by right-wing group Turning Point USA this weekend, but then was abruptly banned from the event by Christian conservatives.
The Tampa event by Turning Point USA (TPUSA), an organization that advocates for conservative values on high school and college campuses, started on Saturday and is scheduled to run until Tuesday. Love initially showed up at the Tampa Convention Center this weekend, posting an enthusiastic photo of herself to Twitter with the caption, "It's good to be around so many young conservatives. Gives me some hope!"
Then she was asked to leave the event, but not because of any "backlash" from conservative attendees that was previously reported.
TPUSA explained their actions in a letter to Newsweek on Sunday night.
"Turning Point USA did not block Ms. Love from its student event because of "backlash," said Andrew Kolvet, a spokesperson for TPUSA. "TPUSA did so in keeping with its standard operating procedures to not involve porn brands, influencers, or personalities that post or publish sexually explicit and pornographic content. A few concerned parents rightly alerted us to the extremely pornographic nature of her social media post, and event leadership immediately took the appropriate steps in keeping with the best interest of the minors present at the event.
"Furthermore, Ms. Love purchased an adult VIP ticket. She was not invited nor was her attendance somehow requested by the organization. The bottom line is that it is simply not appropriate for a porn star to be actively posting images at an event with 15- and 16-year-olds present in conjunction with graphic pornography. TPUSA makes no apology for this, a position which should not be controversial, especially when minors are involved. Parents deserve this type of assurance and TPUSA intends on giving them that confidence. Any "controversy" is purely contrived."
Christian conservatives and others who appeared to be white nationalists on social media began slamming the organization's decision to welcome an adult film star to the "Student Action Summit." Some complained that her presence clashed with conservative values, while others pointed out that minors were in attendance.
"Imagine sending your kids to this conference think[ing] they're gonna learn about Christian Conservative values, and they come home with photos with pornstars," former Kansas State student Jaden McNeil wrote on Telegram, Salon reported. On top of online harassment, some attendees began to approach Love and criticize her for being part of the summit.
Several hours later, Love received a notification that she was no longer invited to be part of the conservative event. "We regret to inform you that your SAS 2021 invitation has been revoked," an email from the right-wing organization said, according to an image posted to Twitter by the adult entertainer. "This decision is final. This revocation does not impact application to future events, and we hope that you will consider applying again in the future."
"Can't make this sh** up lol!! I just watched [Turning Point USA founder] Charlie Kirk, [political commentator] Dan Bongino, [GOP Senator] Rick Scott and [libertarian columnist] Kat Timpf speak about freedom, censorship, how inclusive the 'movement' is ...etc...," Love tweeted with the image of the email.
"And then they had me thrown out of the Turning Point USA conference," she wrote. "The Republican Party is broken."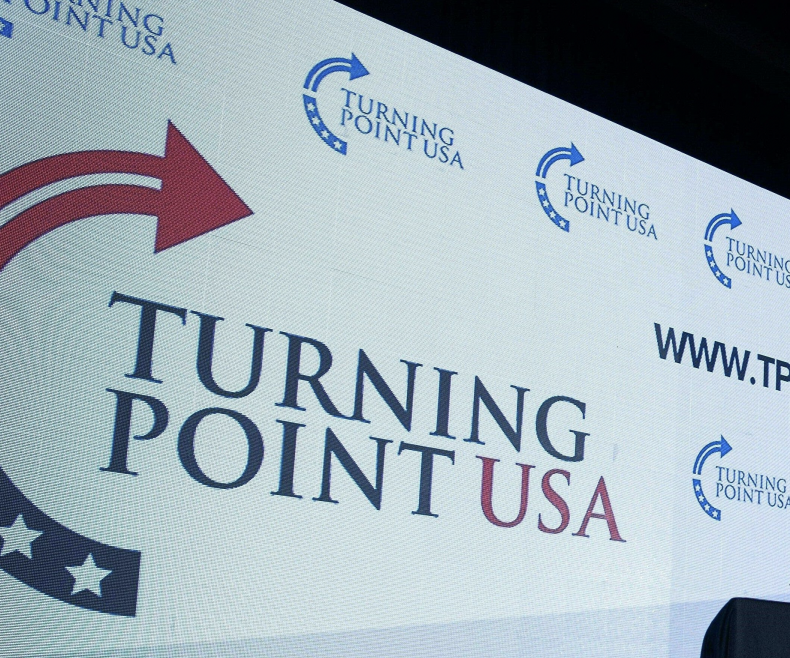 The adult entertainment star went on to defend her presence at the event, arguing that she was not there to represent the porn industry. "I was not there representing my profession. I was there as a citizen to be around other conservatives," she tweeted.
"The entire opening was about Liberty, anti-cancel culture, inclusion etc. and then they unfortunately practiced the opposite," Love added.
The porn star went on to respond to various trolls, mocking their attacks and suggesting their views were hypocritical. In response to several people who suggested her life choices were wrong, she tweeted, "I asked God this morning, He said I'm a Constitutional Conservative & that I'm #SavedByGrace."
Kolvet, a Turning Point USA spokesperson, wrote to Newsweek on Sunday:
"The Student Action Summit is a youth conference with 15- and 16-year-olds in attendance. As a matter of policy, TPUSA does not allow adult entertainers, influencers, or brands to participate in its events designed for minors. This was not a decision intended to be unkind to anyone, but in the interest of the student attendees in attendance, and their thousands of concerned parents."
Love, in addition to her work in the adult entertainment industry, writes for the conservative online magazine The Federalist. Ben Domenech, a co-founder of The Federalist, defended Love and criticized Turning Point USA.
"I'm disappointed that @TPUSA kicked out @brandi_love for no reason whatsoever. She's a Florida conservative businesswoman who loves America. The right has an opportunity to be the big tent party. Don't be a bunch of prudes," he wrote.