If conservative talk show host Larry Elder has his way, the "Sage of South Central" will be the next governor of California.
After Elder indicated earlier this month he was considering joining the recall race against Gavin Newsom, on Monday he made the news official on his radio show.
Elder said months ago he was approached by Dennis Prager to run. Elder said he thanked him but said "Hell, no. I think this state is un-governable."
But then Elder said more people that he respected suggested he run.
"The more I thought about it and the more egregious the behavior of Gavin Newsom was as he sits there with the very people that drafted the coronavirus outline at The French Laundry ... it's egregious...
"Maybe just maybe I can do something about it," said Elder, noting that Newsom has no spending limits but he does and supporters can donate at his website at ElectElder.com.
Calling Newsom "an arrogant Democratic governor," Elder said in a tweet of a video earlier Monday, "If I enter this race one of the big reasons is the way this man handled the coronavirus, imposing the most severe lockdowns of any of the 50 states, often ignoring science, science that said in-school learning would be perfectly okay under precautions."
In the tweet, Elder noted the story of a single mom he talked to over the weekend whose 17-year-old son, who is one of the top wrestlers in California, had to stop practicing his sport under California's COVID-19 restrictions. Because of this, the youngster experienced severe depression and suicidal thoughts.
"This did not have to happen. This arrogant governor has got to go and maybe just maybe I'm the man to replace him."
He also noted the state's skyrocketing crime rate, and he attributed part of that to the early release of 20,000 prisoners by Newsom. That's as California prepares to release 76,000 more inmates, including violent and repeat felons, as the state aims to further trim the population of what once was the nation's largest state correctional system.
Elder also said he's also running because of "this attack on America as systemically racist."
Elder will join supporters on Tuesday, July 13 at the L.A. County Registrar of Voters office in Norwalk, Calif., to celebrate his official announcement scheduled for around 10 a.m. Those wanting to join the celebration are to meet at the Calvary Chapel in Chino Hills at 8 a.m. that morning. Signs of support and patriotic flags are encouraged.
Elder, 69, who considers himself a libertarian, has a nationally syndicated radio show on the Salem Radio Network. He also makes regular appearances on Fox News, is an author of non-fiction books, has a nationally syndicated column and is a filmmaker. His recent documentary Uncle Tom was initially sold through the SalemNOW platform and later through ITunes, Amazon and Amazon Prime.
Born in Los Angeles, Elder grew up in the Pico-Union and South Central areas of the city. The son of a sergeant in the U.S. Marine Corps during World War II, Elder was deeply impacted by his father who he has said was "intimidating but we never doubted his love or his commitment to his family." In 2003, he and his brother Kirk accepted a Congressional Gold Medal on their father's behalf.
After graduating from Crenshaw High School, Elder earned a Bachelor of Arts in political science from Brown University and went on to earn a Juris Doctor from University of Michigan Law School in 1977. His show The Larry Elder Show began as a local program on LA station KABC in 1993. It eventually became nationally syndicated, first through ABC Radio Networks and since 2015 through Salem Media Group. He's long been known as "the Sage of South Central" with his signature calling card "We've got a country to save."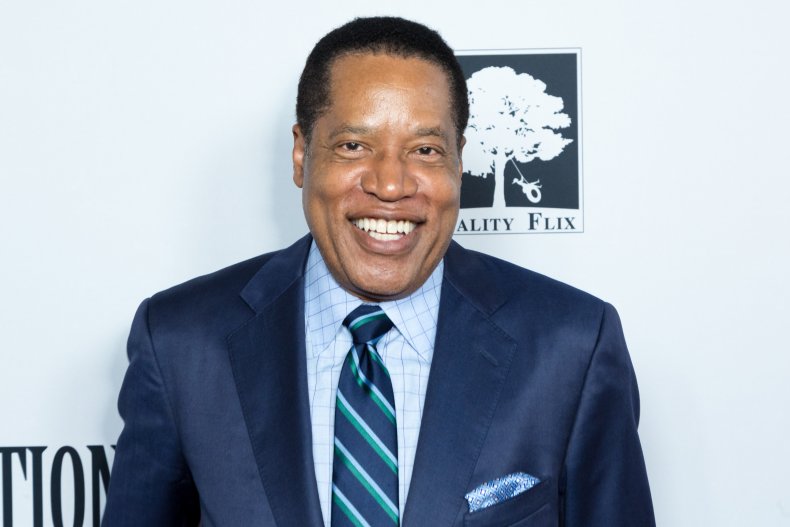 Elder joins a long list of candidates running against Newsom on September 14 after a campaign seeking to remove him from office successfully collected more than 1.7 million signatures.
The election consists of two parts with voters first being asked if they want to recall the current governor and then his removal if 50 percent of voters agree. Following that, Californians will be asked to choose his replacement. So far, more than 70 candidates have already filed preliminary paperwork with the Secretary of State's office. During Governor Gray Davis' recall in 2003, there were more than 130 candidates.
This time around the list includes the 2018 Republican candidate John Cox, who then lost to Newsom. Cox, who launched his campaign earlier this year said as far as he's concerned, the more people pointing out Newsom's failures, the better.
"At the end of the day voters will choose the person they think has the toughness and experience managing an organization for success. That's me, but I welcome the voices calling for change," Cox told Newsweek.
One candidate that has made big news with his announcement he's running is former Olympic athlete and Keeping Up With the Kardashiansstar Caitlyn Jenner, who is transgender and a lifelong Republican who has noted her desire to be a "disrupter" like former President Donald Trump. On numerous occasions and in interviews, she has noted the steep decline of California under the one-party rule and leadership of the Democrats.
Also running is former mayor of San Diego Kevin Faulconer, former GOP member of the House of Representatives Doug Ose, Libertarian businessman and Riverside County Supervisor Jeff Hewitt, retired homicide detective and fiancé of Real Housewives of Orange County reality star Vicki Gunvalson, and 29-year old real estate executive and YouTube star Kevin Paffrath.
Republican and tech businessman Sam Galluci, the former acting director of National Intelligence (DNI) Ric Grenell, Billboard model Angelyne, and former pornographic actor Mary Carey have also announced their intention to run.
During his Monday broadcast, Elder emphasized that he'll need help from his listeners and supporters in the form of fund-raising.
"Assuming I get millions of dollars from folks inside and outside the state, I can make this thing a horse race," he said.
During his show on Monday, Elder noted the last time he ran for any office was for fifth grade class president.