Conservative Rasmussen Reports Shows Biden Leading Trump in Swing States Ohio and Pennsylvania
Rasmussen Reports, a conservative polling company that Donald Trump has often cited during his time in office, shows that Democratic nominee Joe Biden leads the president in the key swing states of Ohio and Pennsylvania.
In the 2016 election, Ohio and Pennsylvania—along with Florida, Michigan and Wisconsin—flipped red for Trump after supporting Barack Obama in 2008 and 2012. Democrats have been focused on regaining these swing states in hopes of propelling Biden to victory in the Electoral College.
The new Rasmussen polling, which was published Tuesday, shows Trump trailing Biden by 2 percentage points in Ohio and 5 percentage points in Pennsylvania. Biden is backed by 48 percent of Ohio's likely voters, while Trump is supported by just 46 percent. However, 4 percent of Ohioans are undecided, while 2 percent plan to support a different candidate.
In Pennsylvania, 50 percent of likely voters support Biden, while just 45 percent support the president. An additional 2 percent favor a different candidate, and 4 percent remain undecided.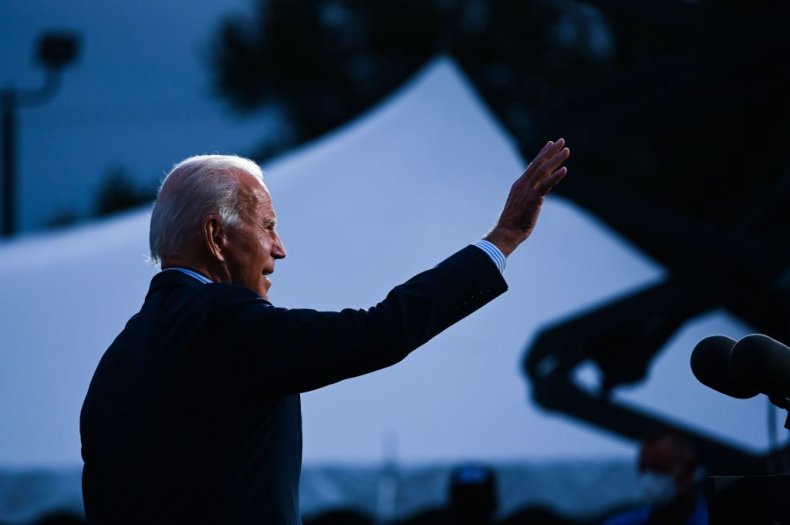 Trump won Ohio by a significant margin in 2016, receiving about 8 percent more of the vote than Democratic nominee Hillary Clinton got. The results were much closer in Pennsylvania, with Trump narrowly beating Clinton with just 0.7 percent more of the vote. In Ohio, Trump won nearly 52 percent of the vote, but he won less than 49 percent in Pennsylvania.
Most recent polls out of Pennsylvania show Biden ahead of Trump by several points. A recent October poll by CNBC/Change Research showed the Democratic nominee with the support of 49 percent of likely voters, compared with 47 percent who back Trump—a lead of 2 percentage points. Another October poll, by USA Today/Suffolk, showed Trump trailing Biden by 7 percentage points—or 42 percent for the president and 49 percent for the former vice president.
Polls out of Ohio have been more mixed, showing a very close race. An October survey by Quinnipiac University shows Biden ahead by just 1 percentage point, with the backing of 48 percent of likely voters as opposed to 47 percent for Trump. A New York Times/Siena poll this month found Biden ahead by 1 percentage point as well. Just 45 percent of likely Ohio voters supported his candidacy, while 44 percent supported Trump.
All recent national polls show Biden leading Trump by a significant margin, suggesting that the Democratic nominee is very likely to win the popular vote. The current Real Clear Politics polling average has Biden ahead by 8.5 percentage points, and the FiveThirtyEight polling average shows him ahead by 10.2 percentage points.
Meanwhile, although Biden leads in most key battleground states, the contests are close. Recent polls indicate he is favored to win in Arizona, Michigan, North Carolina and Wisconsin. The race is very close in Florida, but Biden has the advantage, with an average lead of just over 1 percentage point in the state, according to Real Clear Politics.