Conservative Supporters Cheer as Trump Attacks 'Fake News'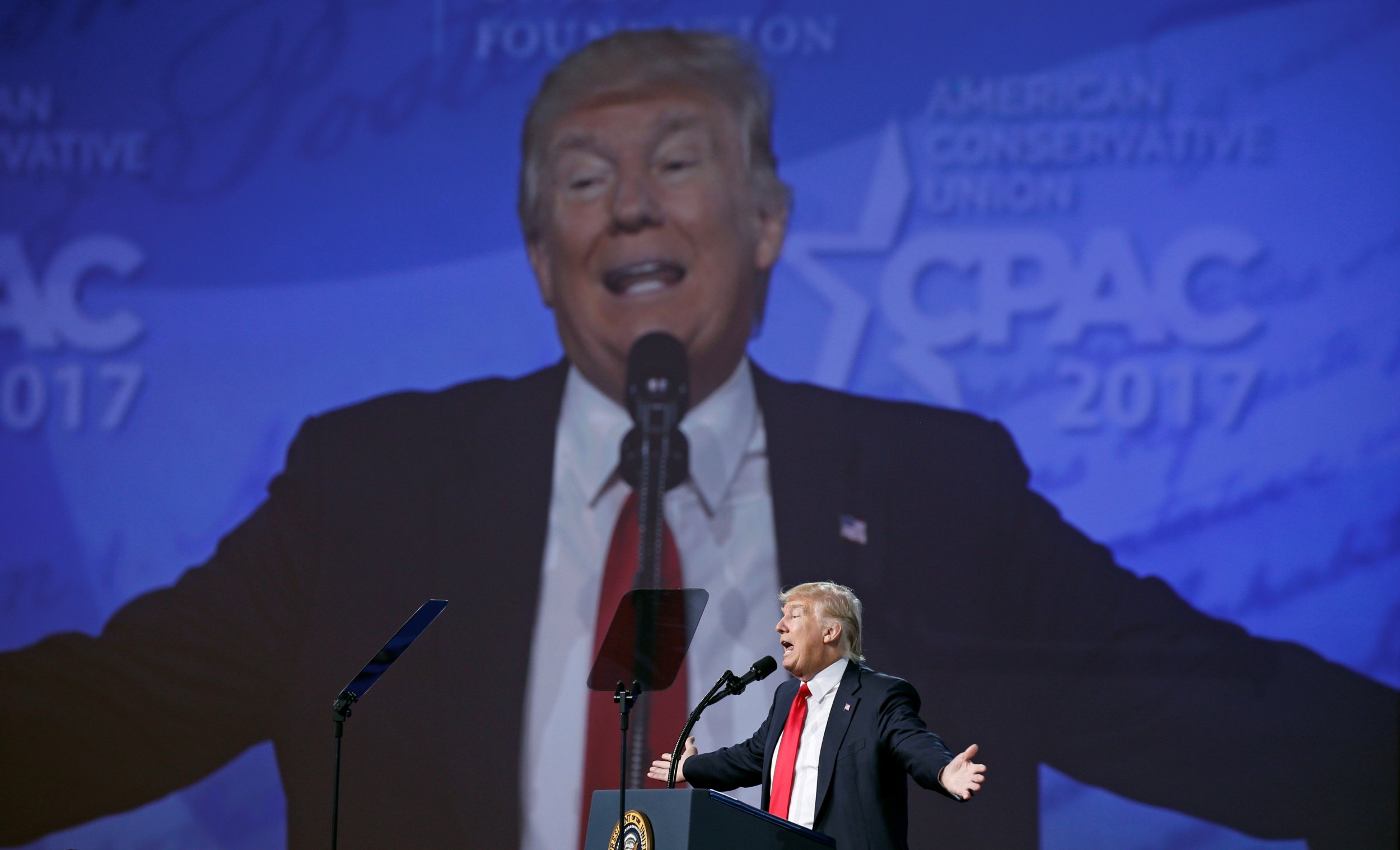 In a rousing 50-minute speech to a convention of conservative activists, President Donald Trump on Friday continued his lambasting of what he calls "fake news" and vowed to fulfill his sweeping legislative agenda, including deregulation efforts, cracking down on illegal immigration and remaking the architecture of international trade deals.
Related: At CPAC, Priebus and Bannon offer red meat, ominous hints
Speaking before the Conservative Political Action Conference (CPAC) in Oxon Hill, Maryland, a few miles from the nation's capital, Trump decried his press coverage, insisting that the mainstream media is "very smart, very cunning and very dishonest." He also claimed he had no beef with the First Amendment, declaring, "I'm against the people who make up stories and make up sources…. Nobody loves the First Amendment more than me."
The president generally refrained from naming specific outlets, although he praised a recent story about himself by Reuters and decried the "Clinton News Network," a reference to CNN. He also said the media should "put the name of their sources" in stories. Journalists have long offered to obscure the identities of their sources when the information derived is deemed valuable enough to merit such obfuscation.
Trump said somewhat ominously that "the fake news doesn't tell the truth, and we're going to do something about it." He didn't make clear exactly what he meant; in the past, he's hinted at revisiting libel laws.
On the broader questions of policy, Trump touted his meetings with CEOs, intended to produce more investment in the United States; bragged about withdrawing America from the Trans-Pacific Partnership trade agreement; and vowed to never join multilateral trade deals. He said that "these quagmire deals...are a disaster, and NAFTA is the worst," referring to the North American Free Trade Agreement, which he has promised to renegotiate. President Barack Obama vowed to do the same during the 2008 campaign, but it was quickly dropped when he took office the following year.
Trump also vowed to slash regulations—something his chief strategist, Steve Bannon, told the crowd on Thursday was "the deconstruction of the administrative state." The president said 75 percent of regulations could be eliminated because they are repetitive or wasteful, rather than, say, promoting health and safety—a statistic for which he offered no evidence.
A mention of Hillary Clinton brought the crowd to a state of unalloyed anger, as "Lock her up" chants filled the ballroom.
Trump and CPAC have a long and interesting relationship. In 2011, he addressed the forum and received a very good reaction—one of the factors that led him to consider running for president in 2012. He declined to enter the race that year and instead endorsed Mitt Romney, whom he later denounced, saying the former Massachusetts governor had "choked like a dog."
Trump also spoke at CPAC in 2015, shortly before his announced run for president, and received another warm welcome. His appearance before the forum on Friday marked the first time a Republican president had addressed the convention during his first year in office since 1981, when Ronald Reagan was in the Oval Office.