Conservatives Address Cancel Culture with New Media Platforms Targeting Younger Americans
While conservatives continue to denounce cancel culture and purported censorship by big tech and liberal Hollywood, they're also pressing on through the creation of more messaging platforms of their own.
That's the case with what's been dubbed TPUSA LIVE, a new alternative media hub from the conservative-oriented non-profit Turning Point USA (TPUSA) geared toward younger Americans.
The hub is based around three hours of live stream broadcast content, which launched this week and streams every weekday from 5 to 8 p.m. ET. It is designed to provide unfiltered opinions and reaction in video, audio and newsfeed format.
It was created to allow viewers to analyze, engage and interact with the likes of TPUSA contributors including founder Charlie Kirk, political columnist Benny Johnson, former Navy intelligence officer Jack Posobiec and comedian Alex Clark, among others. Jon Root serves as show's second hour host.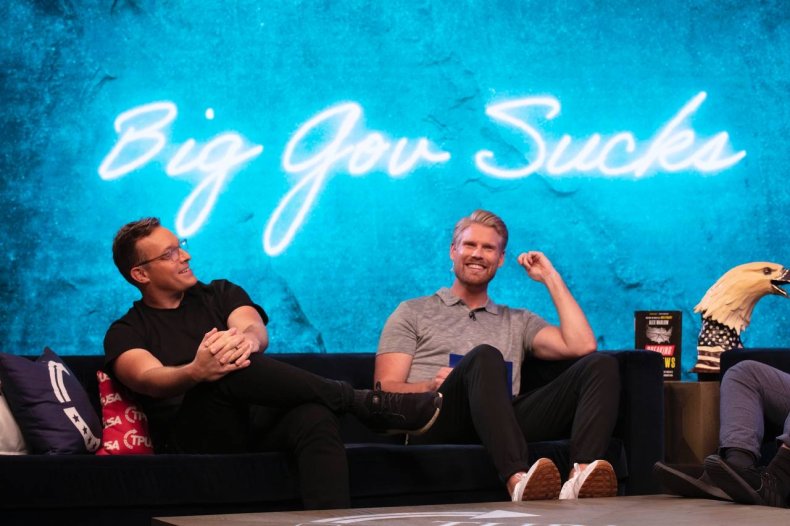 "If we are going to win young people to our ideas, if we are going to fight the cancel culture, we have to create our own platforms and content destinations," TPUSA Founder and President Charlie Kirk told Newsweek, describing TPUSA LIVE as "a very serious and very ambitious project to do just that."
But Kirk noted that the three hours of daily content "isn't all serious news and doom and gloom."
"Our hosts and contributors have a great time, there's lots of laughs and lots of substantive content at the same time," he said.
Each broadcast includes daily and weekly shows as well as live in-studio content featuring prominent conservative personalities discussing politics, sports and pop culture. A third hour includes the platform's contributors tackling the latest news on college campuses from students at TPUSA university chapters across the country.
So far, the team behind TPUSA LIVE is hopeful about the new venture's success with TPUSA spokesperson Andrew Kolvet noting 2 million views and podcast listens during the first week. Posobiec's daily video show for the conservative news site Human Events and Turning Point USA also reached number one on Apple's podcast charts, according to conservative Canadian online news magazine The Post Millennial. Posobiec is considered by some outside the conservative sphere as a far-right activist and controversial.
"It's a tremendous early sign of success that not only proves there's a desire for this type of content but also proves that top conservative talent are flocking to new platforms where they can get their voice heard," said Kolvet.
TPUSA LIVE is the latest initiative to launch intended to build a greater following of younger conservatives. It follows alternative-tech social media site GETTR, a Twitter-style platform with posts and trending topics that was started by former Trump senior advisor Jason Miller. That site, however, was plagued with privacy and security issues with some users noting its "extreme" content.
In terms of other conservative initiatives, former Wisconsin Governor Scott Walker in March launched the program called "The Long Game" in response to his belief that "free speech is under attack from Big Tech censorship, leftist radicalism and a culture of fear and intimidation."
Walker is president of the Young America's Foundation, one of the nation's largest organizations for college conservatives. He cited the program's goals to add 2,000 more YAF chapters at universities, technical schools and community colleges. It also aims to bring more conservative speakers to colleges across the country and to increase the organization's online presence.
Correction 09/19/21 5:52 PM ET: This article was updated to correct the spelling of Jon Root.