Conservatives Beg Elon Musk to Buy DirectTV After Newsmax Dropped
Conservatives are appealing to billionaire Twitter boss Elon Musk to purchase DirecTV after the television carrier dropped Newsmax.
The conservative news channel was no longer airing on DirecTV as of Wednesday, with the company explaining that the ouster was due to a contract dispute that involved "significantly higher costs." One America News Network, a far-right outlet that has openly declared its allegiance to former President Donald Trump, was dropped by DirecTV in April.
Trump raged against DirecTV and AT&T, which owns 70 percent of the company, following the decision to drop Newsmax. The former president called the move "disgusting," while blaming the "Radical Left" and demanding that CNN and MSNBC be dropped instead in a series of Truth Social posts on Wednesday and Thursday.
Others aired their grievances on Twitter, with some begging Musk to take control of the carrier and force the return of Newsmax. Musk was previously hailed by the right for purchasing Twitter and reinstating a wide range of conservatives who had been banned for violating the social media company's former terms of service.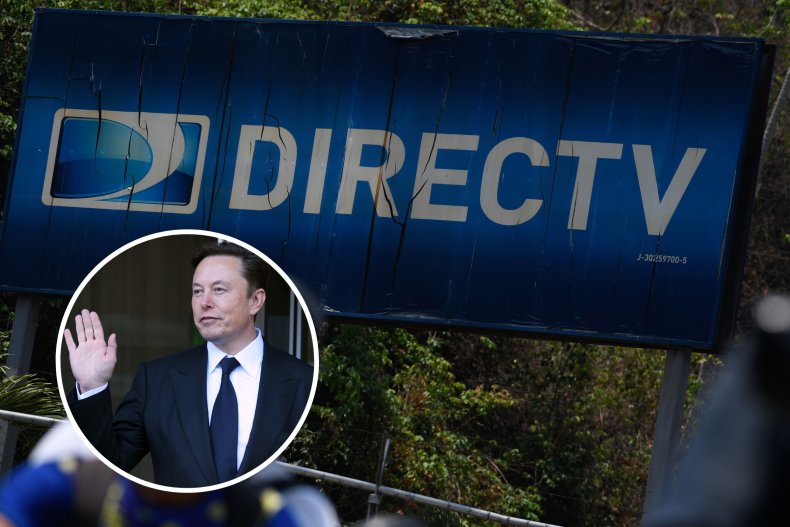 "@elonmusk should purchase woke AT&T/@DIRECTV to stop their censorship, and canceling of conservative networks like @NEWSMAX and @OANN!" tweeted Bernard Kerik, disgraced former New York City police commissioner who received a pardon from Trump in 2020 following multiple felony convictions related to tax fraud and making false statements.
"@elonmusk can you buy @DIRECTV next?" asked Kristina Wong, Pentagon correspondent for conservative news outlet Breitbart.
"Big Tech was caught red handed secretly censoring and shadow banning conservative voices," former Trump aide Hogan Gidley tweeted. "Now, @DIRECTV, owned by @ATT and @tpg are openly trying to shutdown entire conservative media outlets! Get out your checkbook @elonmusk."
"@elonmusk or @realDonaldTrump needs to purchase @NEWSMAX now that @DIRECTV has gone woke," tweeted user @BrianOx71736959.
"I think someone should start a gofundme page to help @ElonMusk buy ATT and DirecTv," @realOJWales tweeted.
"Elon Musk!" tweeted @panteratime87. "Please buy DIRECTV! Newsmax fans have just been assaulted!"
Musk has not publicly weighed in on DirecTV's decision to no longer carry Newsmax and it is not clear that he has any interest in purchasing the carrier. The company was previously acquired by AT&T for $67.1 billion in 2015.
The tech billionaire reportedly paid $44 billion to buy Twitter last year. He subsequently became the first person to ever lose $200 billion after Tesla stock value rapidly tanked in the weeks after buying the platform, according to Bloomberg.
Despite the significant loss, his net worth was still reportedly valued at $137 billion as of late last month.
Musk purchased Twitter while touting his support of "free speech." He went on to face backlash for banning journalists and critics from the platform while restoring the accounts of far-right figures like white nationalist Nick Fuentes, who has since been re-banned.
Newsweek has reached out to Musk for comment.
Update 1/26, 10:19 p.m. ET: This article has been updated to reflect that AT&T owns 70 percent of DirecTV. A previous version referred to AT&T as DirecTV's "parent company."