Conservatives Revel in Collapse of Joe Biden's Disinformation Board
Conservatives are celebrating after news that President Joe Biden's Disinformation Governance Board will be put on hold and the expert hired to head the board would resign.
The board's director, disinformation expert Nina Jankowicz, has resigned from the new position at the Department of Homeland Security and DHS will conduct a review of the board, during which its work will be paused.
Some Republicans and conservative personalities welcomed the move and argued that it represents the demise of the Disinformation Governance Board, which had already been subject to significant conservative criticism.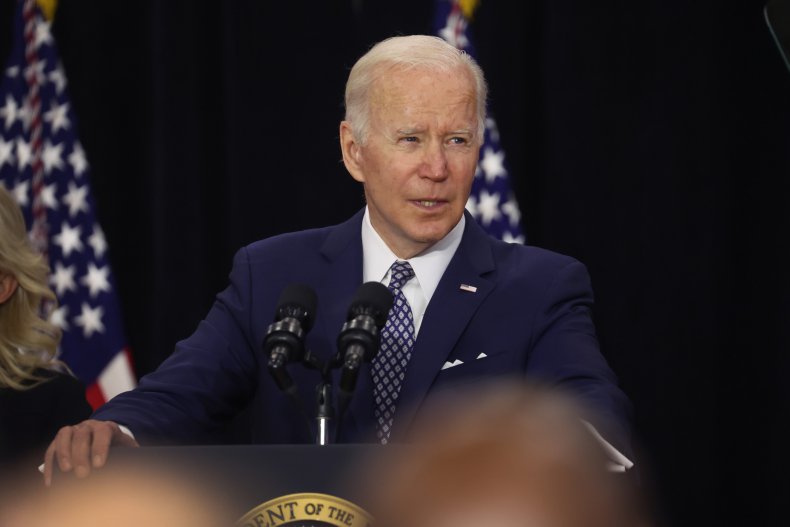 Republican Representatives John Katko of New York and Mike Turner of Ohio issued a joint statement to Fox News Digital on Wednesday welcoming the pause and harshly criticizing the board.
"The suspension of the DHS Disinformation Governance Board is by far the best decision that's been made when it comes to this Orwellian entity. From its initially botched rollout, the 'Ministry of Truth' lacked a defined mission or even direction. It was clear it was a political tool to be wielded by the party in control," Katko and Turner said.
Katko is ranking member of the House Committee on Homeland Security and Turner is ranking member of the House Permanent Select Committee on Intelligence.
Representative Lauren Boebert of Colorado said that the GOP had succeeded in pressuring the Biden administration to end the board.
"When we put pressure on this administration, they fold like a house of cards," Boebert tweeted. "The so-called Disinformation Governance Board is done. Hopefully Nina figures out another way to get famous. Watch out for that!"
Senator Tom Cotton of Arkansas also described the board as "Orwellian."
"I think the Democrats often believe that disinformation and misinformation are simply facts that reflect poorly on Joe Biden and the Democratic Party," Cotton said.
"It's good they finally came to their senses and paused this board," the senator said, adding that Congress should act to prevent something like the disinformation board being created in the future.
Fox News host Tucker Carlson described Jankowicz during his Wednesday show as "so embarrassing that even the Biden administration, which has an almost infinite capacity for embarrassment ... even they couldn't put up with her."
Podcast host Steven Crowder also took aim at Jankowicz, tweeting: "Good news for Nina 'Scary Poppins' Jankowicz! She can crawl back into her hole and make more cringe-inducing videos now that she's resigned from leading Biden's Disinformation Board/Ministry of Truth. She sucked and couldn't take the heat. TRUTH hurts sometimes! #MinistryOfTruth."
Crowder appeared to be referring to a TikTok video Jankowicz had made about former New York Mayor Rudy Giuliani, which had drawn criticism. She had also faced criticism from conservatives for her previous remarks about a controversial story about Hunter Biden's laptop and the heavily criticized Steele dossier about former President Donald Trump.
In a statement on Wednesday, a DHS spokesperson said the Disinformation Governance Board "has been grossly and intentionally mischaracterized: it was never about censorship or policing speech in any manner. It was designed to ensure we fulfill our mission to protect the homeland, while protecting core Constitutional rights.
"However, false attacks have become a significant distraction from the Department's vitally important work to combat disinformation that threatens the safety and security of the American people," the spokesperson said.
Newsweek has asked the White House for comment.