Democrats Are Not American—They Are 'Bolsheviks,' Conservatives Warn After Election Night Losses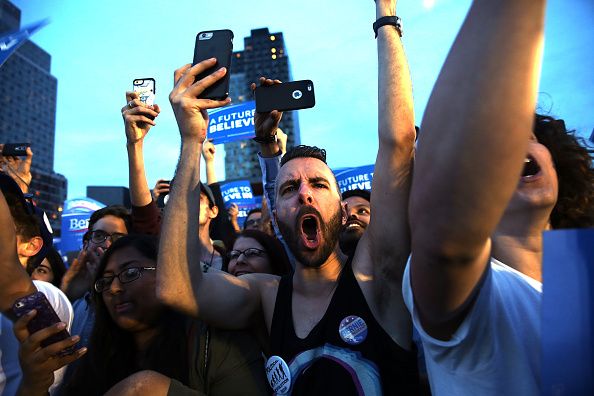 Tuesday night's elections were widely regarded to be a setback for Trumpism, but at least one blog appears to take things a just little harder than the others.
Deplorable Digest, a conservative blog with a vocal pro-Trump bent, wants Americans to know that a "radical Marxist group" has arrived on the national scene and that they "must be stopped" before it's too late.
"A radical Marxist group is poised to be the biggest threat to American culture since the communists planted missiles in Cuba," a post on Deplorable Digest warns about Democratic Socialists of America (DSA), a left-leaning grassroots organization that backed 15 candidates who were successful in yesterday's races. "They are a fundamental threat to all God-fearing, freedom-loving men and women and if we are not careful and combat them in the field of politics we might one day be fighting them in the streets." The blog goes on to say that Marxist DSA members will "take to Twitter and tweet about how wonderful the Bolshevik Revolution in Russia was."
"This isn't a joke," Deplorable Digest warns in earnest.
This isn't the first time that conservatives have freaked out about DSA, which has grown exponentially since Donald Trump's election. Conservatives erupted with apoplectic rage after Spenser Rapone, a 2016 West Point grad and DSA member, posted a photo of himself from his graduation ceremony showing off the words "communism will win" written inside of his cap. Deplorable Digest references Rapone in their post about election night. "Remember this kid?" the post says over a picture of Rapone.
DSA's membership reached more than 30,000 members in recent weeks, tripling in size since the 2016 election. The group has benefited strongly from brand recognition tied to Bernie Sanders, a self-described "Democratic Socialist" who has arguably become the most popular American politician following his upstart run against Hillary Clinton in 2016, based on numerous polls.
DSA isn't a political party—at least not yet. Right now, the group backs candidates that they believe support their egalitarian values, like universal health care. They then provide tenacious phone-banking and canvassing assistance to those candidates. One of the most impressive wins backed by DSA went to Lee Carter, a ginger-haired 30-year-old Marine veteran who beat an incumbent Republican to become House Majority Whip in the state of Virginia. The Richmond Times-Dispatch reported in October that Carter, a Democrat, received very little help from his own party. When he won with DSA's help, he and his supporters sang the socialist anthem "Solidarity Forever" together, according to a video posted on social media.
Deplorable Digest lists Carter among a group of politicians that God-fearing Americans should be—for whatever reason—extremely worried about. "Confirmed wins for Marxists," the blog notes, underlined in red. The Deplorable Digest story has been shared and mocked widely today in left-leaning social media circles for its sensational tone. DSA, it should be emphasized, backs candidates for office and not a violent overthrow of the American government.
Erin Neff, part of the citywide leadership committee for the New York City chapter of DSA, spoke to Newsweek and said she is not surprised at the reaction some conservatives have had to the rise of their group. But she noted that they should be less afraid of "fighting in the streets" and more concerned about blowing elections by ignoring the needs of working people.
"The time for socialism has come," Neff said. "If politicians are not going to help working class, well, then they should be afraid."
Regarding a statement by Deplorable Digest arguing that DSA has "no tolerance towards people that disagree with them" Neff laughed.
"Anyone who is a socialist has spent their lives communicating with people who disagree with them," Neff said. "DSA has been really effective at doing that, and it shows by our successes last night. People who were never socialist before are starting to think about this ideology for the first time."