Prominent conservative commentators have questioned the role of gender-affirming drugs in Monday's mass shooting at The Covenant School in Nashville, Tennessee, without providing any evidence.
Six people were killed when Audrey Hale, a 28-year-old who identified as transgender according to police, opened fire at their alma mater, before being shot dead by officers responding to the scene.
Conservatives focused their attention on Metropolitan Nashville Police Chief John Drake describing the attacker as transgender amidst a heated discussion across the United States about transgender rights. Over the past year, gender-affirming care has been banned in Mississippi, Iowa, Utah, South Dakota, and Tennessee. Legislation has also been proposed in Oklahoma, Virginia, and South Carolina which would block gender-affirming treatment for those aged under 21.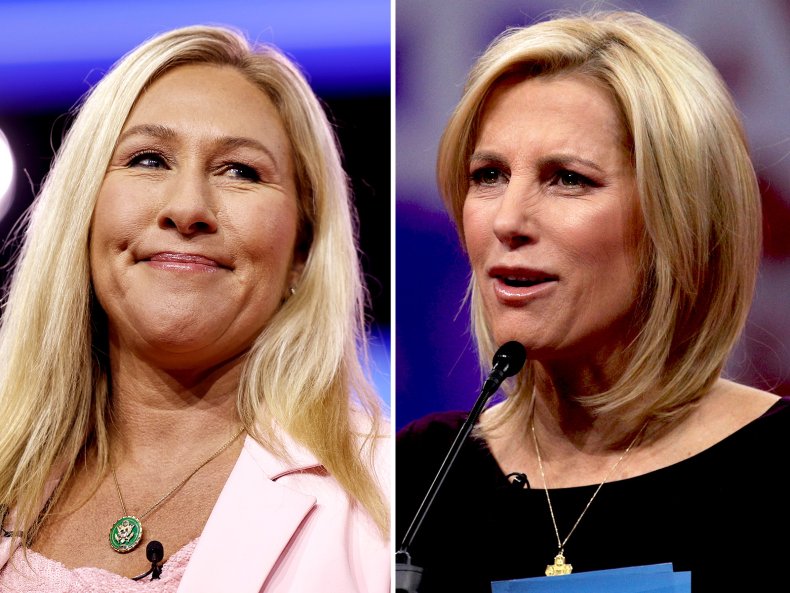 Posting on Twitter, House Republican Marjorie Taylor Greene said: "How much hormones like testosterone and medications for mental illness was the transgender Nashville school shooter taking? Everyone can stop blaming guns now."
Similarly, on her Fox News show, Laura Ingraham commented: "We also don't know the extent to which drug therapy of any sort, transgender-related or non-transgender related, also might have come into play...a lot of doctors will just throw out prescription medication at young people—we found this with some of the other killers and then we find out there could be psychotic effects of that as well but again we don't know this yet."
Authorities have not given any further details on Hale's gender identity or health, including about gender-affirming care.
Newsweek has contacted Representative Greene by telephone, and Ingraham by email via the Fox News press team, to ask for evidence of the suggested link between transgender health-related medication and the mass shooting.
The six killed were named by authorities as William Kinney, Hallie Scruggs, and Evelyn Dieckhaus, all nine-year-old students, along with school employees Cynthia Peak, 61, Mike Hill, 61, and Katherine Koonce, 60, the head of the school.
Police said the shooter was armed with three guns, including a semi-automatic rifle, and released footage showing them gaining entry to the school by shooting out glass panels on an entrance door.
President Biden described the shooting as "heartbreaking, a family's worst nightmare," and called on Congress to pass an assault weapons ban.
White House press secretary Karine Jean-Pierre said: "How many more children have to be murdered before Republicans in Congress will step up and act to pass the assault weapons ban, to close loopholes in our background check system or to require the safe storage of guns?
"Our children should be able to go to school feeling safe, feeling protected. People should be able to go to the grocery stores feeling safe."
The Democrats are calling for tighter gun control legislation, including background checks, whilst Republicans have opposed measures they believe undermine Americans' Second Amendment rights.
In response to the shooting, the National Rifle Association, which advocates for gun owners, said more security is needed in schools to "safeguard our children."