Conservatives Celebrate Lori Lightfoot's Loss in Chicago
Conservatives took to social media in celebration after Chicago Mayor Lori Lightfoot lost reelection Tuesday evening.
Lightfoot, a Democrat first elected in 2019, failed to win reelection to a second term, making her the first Chicago mayor to lose reelection in four decades. It follows criticism she received for failing to reform policing, despite backtracking on her initial defund the police stance, as lawlessness in the Midwest city soared.
Crime in Chicago has increased by nearly 20 percent over the past four years, according to a report by the city's police department, and surged by 41 percent between 2021 and 2022.
Former Chicago schools CEO Paul Vallas and current Cook County Commissioner Brandon Johnson, also both Democrats, secured the highest and second-highest number of votes, respectively, and will face off during an April runoff election after no candidates managed to earn 50 percent of the vote.
The mayor of America's third-most populous city, Lightfoot became a prominent figure in national politics, frequently drawing criticism from Republicans, who raised concerns about Chicago's crime rate following the COVID-19 pandemic during her administration. She also emerged as a vocal critic of former President Donald Trump, at times publicly squabbling with him.
Her defeat sparked taunts from Republicans, who gloated over the loss on Twitter.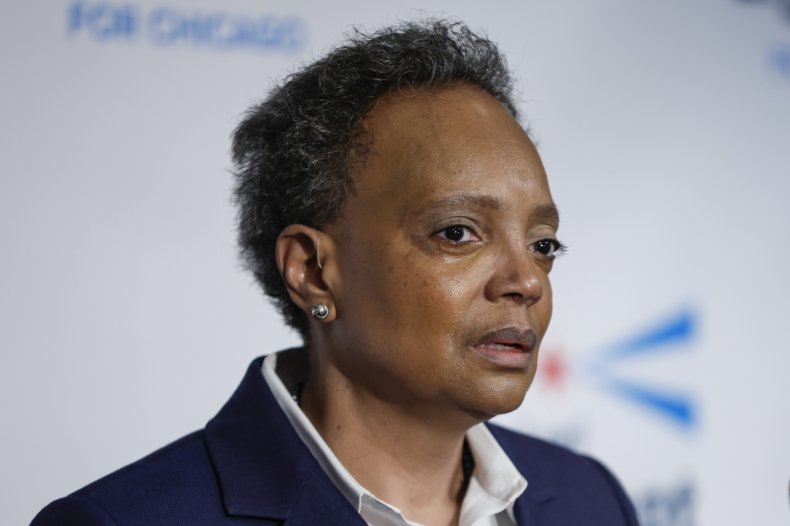 Representative Marjorie Taylor Greene, a Georgia Republican, tweeted: "Crime doesn't pay" in response to Lightfoot's loss.
Donald Trump Jr., eldest son of the ex-president, mocked Lightfoot over her loss.
"Chicago Mayor Lori Lightfoot Fails in Re-Election Bid Tuesday. I'm shocked to hear this, I was told everything has been going so well in Chicago," he tweeted.
Former White House Press Secretary Kayleigh McEnany, who traded barbs with Lightfoot while serving in the Trump administration, also celebrated Lightfoot's defeat.
"Perhaps she should have woken up when I referred to her as the 'derelict mayor of Chicago' from the White House podium for ignoring victims of crime in her city!" she tweeted. "Instead, she said 'Hey, Karen. Watch your mouth.'"
While Republicans rejoiced over Lightfoot's defeat, others defended her tenure as mayor. Quinton Lucas, mayor of Kansas City, Missouri, noted that the years following the COVID-19 pandemic were particularly difficult for mayors.
"The past four years were among the toughest ever to be a mayor. Mayor Lori Lightfoot handled them as well as anyone could in a complex place like Chicago. I'll look forward to working with Chicago's next mayor and will continue to wish Lori and her family the very best," he tweeted.
Despite conservative celebration, her replacement is certain to also be a Democrat. Vallas ran as a more centrist Democrat, who was sharply critical of Lightfoot's record on crime, while Johnson is running as a more progressive choice.
Lightfoot conceded just before 9 p.m. local time. In a tweet following her defeat, she wrote, "Serving as your mayor has been the honor of a lifetime, and I am so grateful to all of you who have stood beside me these last four years. We've made significant progress building a safer, more equitable city. I thank each and every one of you for believing in me."
Newsweek has reached out to Lightfoot's campaign for comment.
Update 03/01/2023: This story has been updated to provide greater context.