Conservatives 'Don't Deserve Your Civility'? A Story About Free Speech in My Small College Town | Opinion
I keep thinking about the first sentence in a recent report I read in The Washington Free Beacon last week: "A majority of Americans believe the First Amendment should be rewritten and are willing to crack down on free speech, as well as the press, according to a new poll."
I keep thinking about the second sentence, too. "More than 60 percent of Americans agree on restricting speech in some way, while a slim majority, 51 percent, want to see the First Amendment rewritten to 'reflect the cultural norms of today.'" Young people, the report added, were driving those numbers.
How did that happen? I wondered. Who's teaching our young people such things? They have to learn it somewhere.
An encounter at my favorite greasy spoon in Oxford, Mississippi, explains it all. I was with a friend eating a sandwich, talking about how free speech on the local college campus—Ole Miss—is under assault. We were sharing some disturbing dispatches from conservative friends who have kids at the school, including my pal's daughter. The most common being that they're hesitant to express their views for fear of backlash and retaliation from campus progressives—students and faculty alike.
Some have complained about teachers using their classes as weapons of activism and leftist indoctrination. Others complained about the dearth of young conservative professors in fields like journalism, law, sociology, history, education and the liberal arts in general.
As we were finishing our meal, an Ole Miss student approached our table and addressed us. "I wanted to tell you that I was very offended by your conversation, and in the future, you should keep it private," she said.
We were stunned. Because we thought we were engaged in a private conversation. Moreover, the opinions we expressed were utterly within the mainstream of conservative thought—and many mainstream Democrats would have been in agreement.
We were also stunned because the young woman felt comfortable scolding two strangers about 30 years her senior. And felt comfortable letting us know that our conversation was the kind that wasn't welcome in a restaurant. At a private table.
Soon, we were both laughing. Because as quickly as those words left her mouth, she disappeared. She wasn't interested in a rebuttal. She was happy to reprimand us and run.
We were also laughing because she'd proved our point about the intolerance of the radical progressives at Ole Miss.
And we knew of at least one professor who has openly supported this kind of skewed notion of free speech and civil discourse.
His name is J.T. Thomas. He got himself into the news not long after the Brett Kavanaugh hearings in 2018, and days after Senator Ted Cruz and his wife were verbally attacked by protesters at a restaurant in Washington, D.C., with the following tweet:
"Don't just interrupt a Senator's meal, y'all. Put your whole damn fingers in their salads. Take their apps and distribute them to the other diners. Bring boxes and take their food home with you on the way out. They don't deserve your civility."
It was an open call to intimidation, and right away there was a public outcry. How could a professor at a publicly funded university get away with cheering on such behavior?
The chancellor of Ole Miss at the time, Jeffrey Vitter, did something quite extraordinary for its cowardice: He condemned the tweet but didn't mention Thomas' name. The faculty rallied behind Thomas and condemned the chancellor. And did it in a very public way.
But I didn't see a single faculty member condemn the professor's words in print. Not one. The silence wasn't merely deafening. It was disturbing. And evidence that an ugly form of either group think or self-censorship must have taken over at Ole Miss. Surely, some of the professors at Ole Miss believed Thomas' words were worthy of condemnation or discipline? Why the silence? And what does that silence signal to the students themselves?
Thomas was also up for tenure, and there were more ugly tweets, one of which caught the attention of the Institute for Higher Learning, the board that makes tenure decisions in Mississippi. "MAGA teens are modern day Hitlerjugend. Got a uniform and everything," Thomas wrote about President Donald Trump's young supporters. Later, Thomas doubled down. "When I said MAGA teens are modern day Hitlerjugend, I meant it," he tweeted.
Calling young people—or anyone—a Nazi is clearly more than an insult: It's an accusation. A charge that can cause great reputational harm and not merely chill free speech, but freeze it. That's why so many leftists indiscriminately use "Nazi," as well as words like "racist" and "sexist." They know the power of those accusations, especially when directed at anyone white in the South. Those words shut down speech. They end conversations and dialogue.
That the word "Nazi" was an acronym for the Nationalist Socialist Workers Party doesn't seem to much matter to some liberals. Or that conservatives, by our nature, can't be Nazis because we're for the dispersal of power. We love the Constitution for precisely that reason. It makes it hard for power to consolidate in any one branch of government, let alone one ZIP code. It's leftists who want to centralize control of our lives in the hands of fewer and fewer government officials in Washington, D.C., not conservatives.
So what were the consequences for those ugly tweets? Earlier this fall, Thomas was granted tenure. There were some no votes, though, which sent the Ole Miss faculty into a frenzy. And today, Professor Thomas now has the added privilege of serving on the Academic Freedom and Faculty Responsibility committee.
All of what transpired in Oxford stands in utter disregard for the campus charter. The Ole Miss Creed lays out the values all students and faculty pledge to uphold. These are just the first two.
I believe in respect for the dignity of each person.

I believe in fairness and civility.
How could anyone argue that Thomas respects the dignity of folks with whom he disagrees? And, of course, he's written that they don't "deserve your civility."
No conservative I know wanted Thomas to be denied tenure because he's a liberal. The conduct he was cheering on should have been grounds for termination, or at least disciplinary action. Because—to use his words—he stuck his finger in the Ole Miss Creed.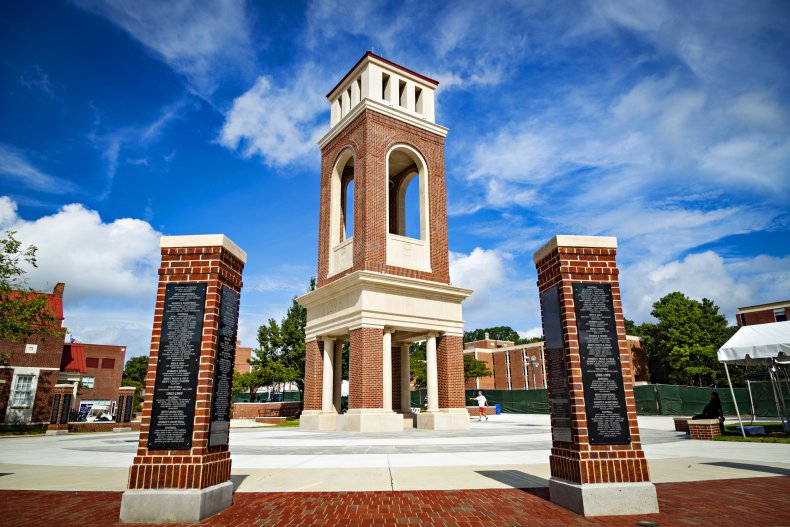 No conservative student who voted for Trump can ever feel comfortable in his class or should expect to be treated fairly. His tweets were assaults on free speech and the discourse it engenders.
The fact is, many leftists believe they get to decide who's worthy of civility and who isn't. Which is the essence of totalitarianism.
That's why that young lady who lectured me and my friend felt so righteous reprimanding us and so remorseless running away. She's being taught to do so by the adults on campus. She seems to believe that speech is free only for people who share her views. The rest of us should be brought into line. Or scolded out of existence.
Campus radicals—and their endless attacks on free speech with ideas like trigger warnings and microaggressions—are the reason the First Amendment has fallen into disrepute. The never-ending progressive assault on the Constitution, the Founding Fathers and the nation's founding principles have only hastened its disfavor.
Our public schools and universities are no longer ignoring American history. They're rewriting it. But the last word in this unfolding narrative will come from the taxpayers. We're the real stakeholders at Ole Miss. Students, faculty and administrators come and go. And over the past decade or more, they've pushed their political agenda so far to the left that a backlash from the people isn't far off.
Ole Miss is a public trust, not a left-wing indoctrination bootcamp. Sooner or later, the conservative taxpayers of our state will cry out, "Enough is enough." And call for real intellectual diversity on the campus. And a real inquiry into viewpoint discrimination in the hiring patterns of the liberal arts faculty.
We'll call for tolerance and civility at our flagship university. And demand that the words of the Ole Miss Creed apply to everyone.
Even radical progressive professors.
Lee Habeeb is vice president of content for Salem Radio Network and host of Our American Stories. He lives in Oxford, Mississippi, with his wife, Valerie, and his daughter, Reagan.
The views expressed in this article are the author's own.