Conservatives Fear Blame for Supreme Court's Obamacare Decision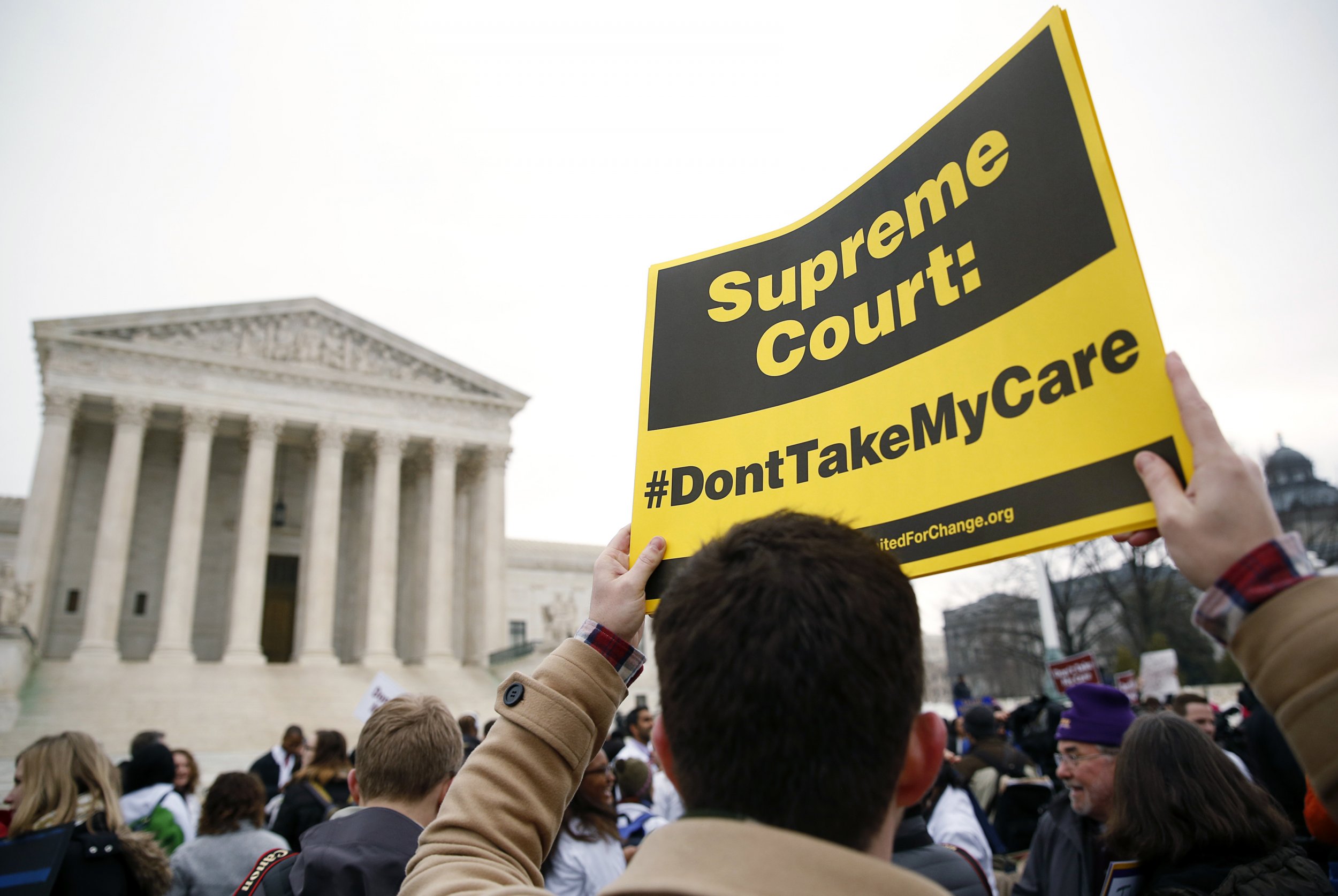 Later this month, the Supreme Court is set to decide on a case involving the legality of federal subsidies under the Affordable Care Act. While a ruling against President Barack Obama's signature legislation—popularly known as Obamacare—would be a nod to Republicans who have long argued the law is unconstitutional, it also has the party on edge.
If the Supreme Court rules against the Affordable Care Act in King v. Burwell, millions of Americans across 34 states could be at risk of losing their subsidies. Should that happen, Republicans fear that, as with the government shutdown, they'll bear the brunt of the blame.
"We shouldn't be afraid of victory," Representative Raul Labrador (R-Idaho) told a group of reporters June 16 on Capitol Hill. "We should embrace victory and show the American people how we can do it better."
But embracing a victory—and avoiding negative attention for supporting a ruling that puts millions of Americans at risk of losing their health care subsidies—won't come easy for Republicans without a succinct strategy on how they can make health care better.
But "amazingly," Labrador told reporters today, "we don't have a strategy."
The Campaign Against Obamacare
In 2014, Republicans gained majorities in both the House and the Senate, largely due to a promise to "repeal and replace" Obamacare. Now, having secured control of both chambers, some feel that—should the Supreme Court rule against Obamacare—it's time to cash in on that promise.
"The Supreme Court is going to give us that opportunity to make some of those changes," said Representative Diane Black (R-Tenn.). "Whatever we do should say, there is no more individual mandate, and no more employer mandate."
"We've been here for about 54 months and we've had no votes to replace [Obamacare]...nothing to point to," added Representative Tim Huelskamp (R-Kan.).
Instead, many conservatives—like Huelskamp, Black and Labrador—support a patient-centered, market-based approach to health care, like the one proposed by the Republican Study Committee earlier this month.
But given the likelihood of a presidential veto on any proposal that guts Obamas signature legislation, even conservatives admit this approach is more symbolic than realistic.
"To fix it in one application isn't going to work," said Representative Paul Gosar (R-Ariz.).
"You can't do this overnight," added Black.
A Unified Front
Should the Supreme Court strike down subsidies for millions of Americans who are enrolled in states with a federally run exchange—which reports say could affect as many as 9 million people—the Republican majorities would be in charge of figuring out how to "fix" the subsidy problem. Even the most conservative members said they support establishing some sort of safety net, although they had no clear consensus on how to do that.
"Whatever we do as we transition, we want to make sure that we catch people that do really need that care," said Black, a former emergency room nurse.
Some members favor a plan that would temporarily extend federal health care subsidies for 18 months, while others scoff at any proposal that allows Obamacare to continue.
"The guiding principles are there. The details I think will fall out at a later time," Black said.
Labrador blames the House leadership for failing to provide "direction" on how to approach the situation.
"It's amazing that we don't have a strategy right now as a party," he said. "We've known that this was coming.
"I think this is good for us as a party if we can show that the president illegally gave subsidies to certain individuals, which is what we have been saying all along.... But there seems to be a clear lack of direction of how to approach this."
Kelsey Harkness is a news producer at The Heritage Foundation's The Daily Signal, which is where this article first appeared.