Conservatives Lash Out at AOC Over $14,000 'Vanity Fair' Outfits
Representative Alexandria Ocasio-Cortez is facing backlash for the wardrobe she wore in her Vanity Fair cover shoot. Conservatives called out Ocasio-Cortez for the prices of the clothes used for the December issue of the magazine, despite the fact that oftentimes, these clothes are lent out by designers.
"AOC on the cover of Vanity Fair. The clothes are estimated to cost $14,000," read one tweet written by Sunanda Vashisht on Wednesday evening. "So happy that AOC is upholding the long established hypocritical tradition of Socialists who believe Socialism is for poor while they enjoy the fruits of Capitalism."
"To the triggered, one last time," Vashisht continued. "Here is the cost of AOC's wardrobe. She is a politician not a professional model who cannot have a choice on clothes for a photo shoot. Why not wear clothes working class wears? Fun fact: $2850 Loewe suit was 'gifted' to her and she happily accepted." Vashisht also included a picture of the prices for the outfits AOC wore, which included Christian Louboutin slingbacks and a $3,000 Carolina Herrera suit.
Republican nominee for Congress in Colorado, Lauren Boebert, also called out AOC for her outfit. "I wonder what brand of socialism allows you to get a $14,000 suit for Vogue photoshoots. See you soon, Alexandria. Looking forward to dismantling your socialist agenda in my finest Macy's clothes like normal working people."
Many came to the defense of AOC and Vanity Fair, noting that the clothes featured in magazine photoshoots are often borrowed from the designer, and aren't bought by the person modeling them. Hence, the list of designers and prices involved for folks looking to purchase what was worn.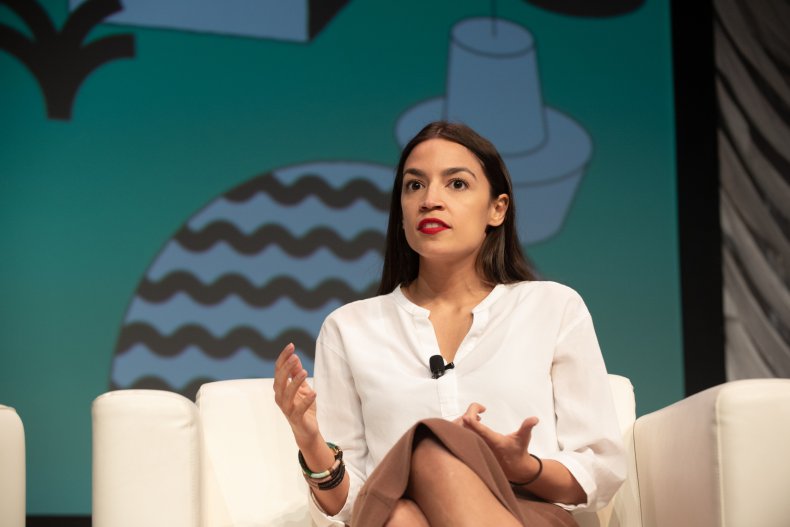 "Do you know how things like magazine photo shoots work?" one user commented. "You think she owns these clothes? On the other hand, she worked her way through college, ran for office on an admirable platform, got elected, and is now an incredibly influential progressive & a strong voice in Congress."
"Do you REALLY not know that these are NOT her clothes? Back to Square One," another used wrote.
"[Y]eah, people always wear their own clothes on magazine covers, sick burn," a third person chided. "She knows that AOC didn't buy the clothes for this shoot, right? Please tell me she knows that," another wrote.
"You do realize she didn't buy the clothes nor is she keeping the clothes. She wore fashion for a fashion magazine. What would have made you happy? Wearing paper towels?" someone asked.
"AOC doesn't get to keep the clothes from the Vanity Fair photoshoot," another user pointed out. "She could've worn Old Navy jeans and the GOP would still demonize her."
Newsweek reached out to representative Alexandria Ocasio-Cortez for comment and did not hear back at the time of publication.