Conservatives Line Up to Damn Paul Ryan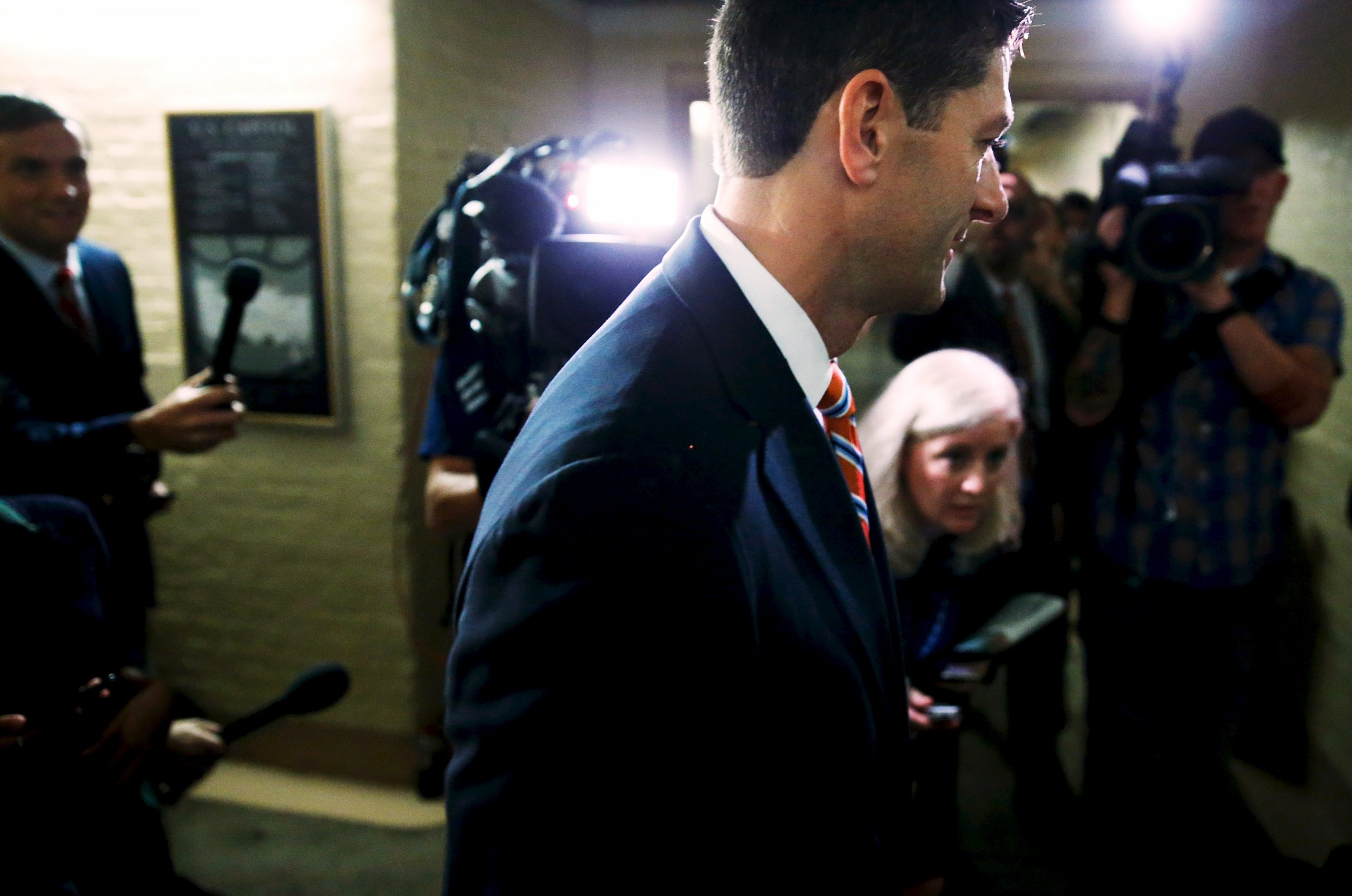 This article first appeared on The Daily Signal.
Senator Ron Johnson (R-Wis.) describes Representative Paul Ryan as "the one person" who can unify the Republican Party. And Representative Jim Jordan (R-Ohio) calls him "a great messenger."
But some conservatives say Ryan is an unacceptable choice for the next speaker of the House.
A hesitant job candidate, Ryan has generated both praise and criticism from the right. Supporters argue he's the logical choice to take up the speaker's gavel. Opponents maintain that current ties to the leadership disqualify him for the office.
Erick Erickson, the founding editor of RedState, told The Daily Signal that the Wisconsin lawmaker would likely proceed over "business as usual but with a different face" if made speaker. Vocal grass-roots critics like Erickson charge that Ryan failed to pass meaningful policy initiatives while pushing the agenda of the House leadership. Erickson says he believes that Ryan is tainted by his association with leadership.
"He's already the last of the young guns," Erickson says, referring to the National Republican Congressional Committee program begun by Ryan with former Representative Eric Cantor (R-Va.) and Representative Kevin McCarthy (R-Calif.) in 2008.
Some conservative critics have offered similarly sharp criticism, blasting Ryan on such issues as bailouts, immigration, the Employment Non-Discrimination Act and the Murray-Ryan budget plan.
This voting record disqualifies Ryan, according to Phyllis Schlafly. "Proven by his record, Chairman Ryan would be the same type of leader as outgoing Speaker Boehner," Schlafly wrote in a statement.
Paul Ryan isn't the pick for Daniel Horowitz, senior editor of Conservative Review. In an article published last week, Horowitz wrote:
Ryan has used his leverage and respect to sabotage conservatives on every last budget fight of our time. He forged the Murray-Ryan budget deal, which actually countermanded the few budget victories we've had over the past few years. He was a wet blanket over the effort to defund Planned Parenthood. There is nobody in the conference who feels stronger about the need to pre-emptively announce we will not "default" or "shut down the government" than Ryan.
Like current House Leadership, "Ryan strongly believes you cannot default on the debt," Horowitz said in an interview with The Daily Signal. He explains that his "biggest gripe is that Republicans are always pre-emptively surrendering."
Brent Bozell, chairman of the conservative group For America, had hoped things would be different. "Paul Ryan came to Washington with such promise and has been a huge disappointment," he told National Review. "At every turn he has done the bidding of John Boehner."
But others have a different take on Ryan's record.
John Hart, editor-in-chief of Opportunity Lives, a right-leaning news platform, tells The Daily Signal, "Paul Ryan is by far the most conservative member who could win." Hart concedes that Ryan's "not perfect" but stresses his viability and conservative credentials.
"No one has done more to advance conservative solutions on multiple fronts than Paul Ryan," he says.
Cesar Conda, a close friend of Ryan's and Senator Marco Rubio's former chief of staff, believes that criticism of the chairman is misplaced. "Paul is a full-spectrum conservative," Conda said in a statement to The Daily Signal, citing the congressman's record on matters ranging from abortion and guns to the national economy and military.
"[Paul Ryan] is an economic conservative who has a track record of cutting taxes and government spending," Conda said. "He has put forth what some call radical plans to repeal and replace Obamacare, modernize Medicare and revamp the tax code."
Establishment endorsements have fueled conservatives' fears. Departing Speaker John Boehner and remaining Majority Leader Kevin McCarthy have both reportedly called on Ryan to take the job. Former presidential candidate Mitt Romney and Republican National Committee Chairman Reince Priebus have also reportedly lobbied Ryan to take the position.
In a statement released last Thursday, Ryan declined to run. Since then, he has reconsidered and continues to ride the fence over the weeklong recess, according to Reuters.
On Friday, Representative Jason Chaffetz, who had announced he was running for speaker, told reporters he welcomes the idea of Ryan as speaker, adding that he "would not run against Paul Ryan." While Representative Daniel Webster (R-Fla.) has the backing of the House Freedom Caucus, some in the group have shown a willingness to hear Ryan out if he runs for speaker.
On Fox News Sunday, Freedom Caucus Chairman Jim Jordan (R-Ohio) praised Ryan as "a good man" and said that "if he'll come in front of our group and talk to us, I think our group would be favorable towards him."
A member of that caucus, Representative Tim Huelskamp, tells The Daily Signal that he and his colleagues are prepared "to interview anyone." The Kansas Republican says he's interested to see if Ryan would "want to deliver on" the House leadership's 2010 Contract With America "as one of the young guns."
But Huelskamp cautions that Ryan "is closely tied to leadership. And when people got kicked off of committees, he said nothing."
Earlier this year, House Republican leadership punished several members for their outlier votes.
On Sunday, Chris Wallace, host of Fox News Sunday, suggested that conservative lawmakers opposing Ryan might face trouble down the road. "There's a lot of pressure being put on by the establishment and business groups, saying [to] some of those Freedom Caucus members, If you're not going to play ball and you're not going to get involved, you're going to get a primary opponent."
Philip Wegmann is the congressional correspondent for The Daily Signal. Contact him @PhilipWegmann.