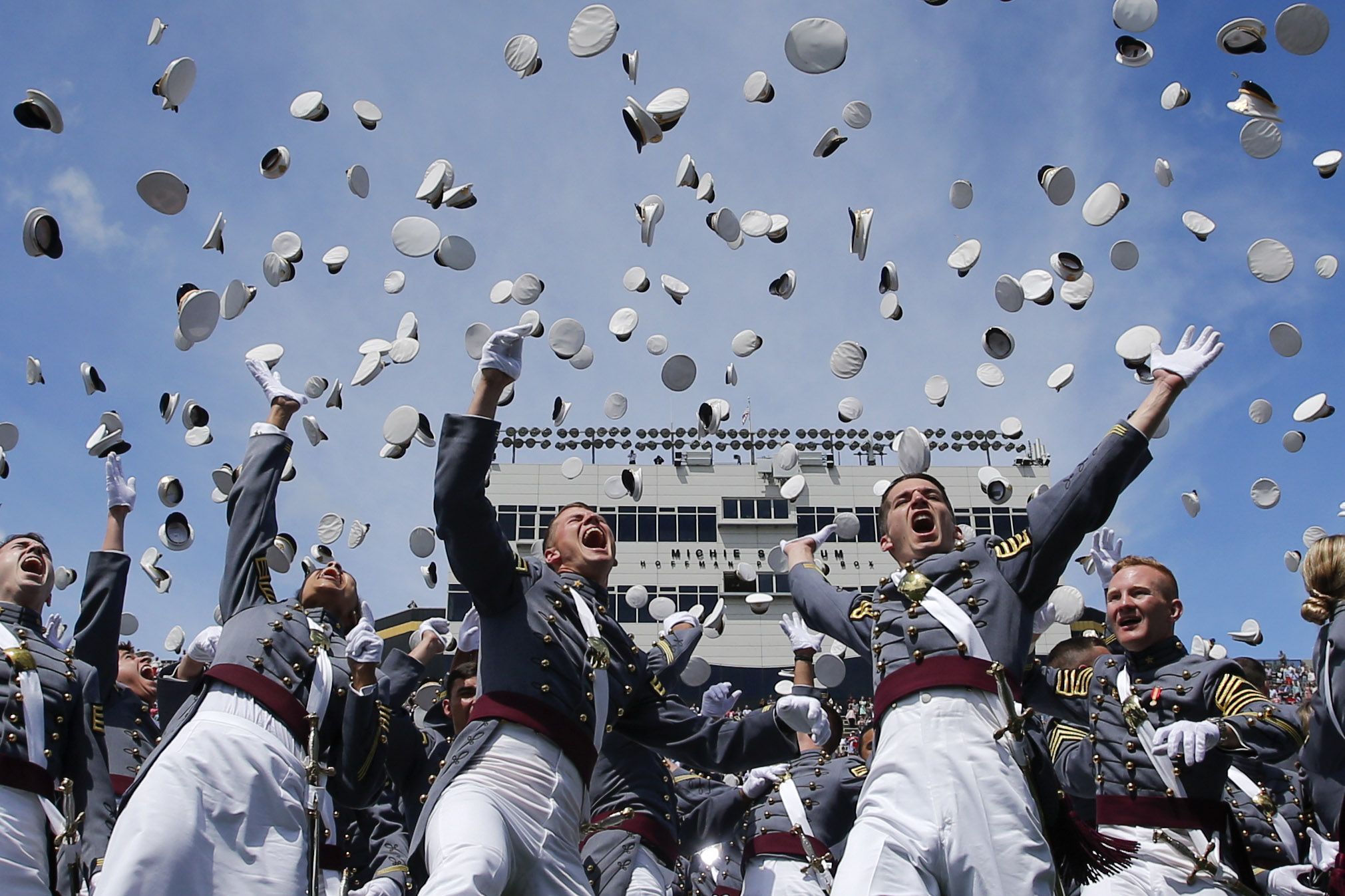 Unless you've been living without TV or internet access for the last week, you may have noticed that a national discussion on race and politics has re-entered the NFL (as well as the president's mouth), and that culture warriors from both the left and right are again lobbing verbal and social media grenades over the protest movement first started by quarterback Colin Kaepernick in August 2016.
Within that culture war, smaller battles have taken root, and perhaps no better example of that exists than the case of Spenser Rapone, a 2016 West Point grad and current second lieutenant in the U.S. Army. Rapone on Tuesday tweeted the hashtag #VeteransForKaepernick with a photo of himself from his graduation ceremony, holding up his left fist while in uniform.
Sounds like the kind of thing that would rile up the right, yes? It went further. In the photo, Rapone is holding out his cap, and the words "COMMUNISM WILL WIN" are seen written on the lining with what looks like a Sharpie.
Conservatives erupted with rage, and the dust up—which has forced West Point to issue a statement condemning the tweet, saying that "Rapone's actions in no way reflect the values of the U.S. Military Academy or the U.S. Army"—helps to sum up just how polarized and surreal online politics have become in the age of President Donald Trump.
Right-leaning social media users started poring over Rapone's social media history, looking for further evidence of his leftist politics, and much was found, including memes supporting revolutionary political theorists Karl Marx and Vladimir Lenin. (It's hardly uncommon to find tributes to Marx and Lenin in left-leaning social media circles, but to people on the other side of the debate, their faces often elicit shock.)
Rapone, sensing the growing tension around the post, decided to poke the proverbial bear by tweeting a second picture from his graduation, one in which he's opening his uniform to reveal the image of Marxist revolutionary Che Guevara emblazoned on a T-shirt.
Far-right conspiracy theorist Alex Jones ran an article about Rapone on one of his websites, and the people used the comments section to call for leftists to be killed.
"Communists, socialists, Antifa, BLM, NFL kneelers, and Kaepernick. Anti-Americans," a user named 'Globalists_vs_locals' writes.
Another user named 'Seth' responds by saying, "yes kill them all."
Another article about Rapone by conservative blogger Jim Hoft on his website The Gateway Pundit has already racked up more than 700 comments, some of them also calling for Rapone to be killed.
"He should be shot for sedition," a commenter named Toro writes. "If he gets deployed, his teammates should push him into fire."
The statement issued by West Point is gentler than the criticism Rapone received online, but indicates that he could be facing a punishment of some kind for issuing the tweet.
"As figures of public trust, members of the military must exhibit exemplary conduct, and are prohibited from engaging in certain expressions of political speech in uniform," the statement reads. "Second Lieutenant Rapone's chain of command is aware of his actions and is looking into the matter."
For his part, Rapone has not responded to the controversy, but he is not joking when it comes to his political views. The West Point graduate is a member of democratic socialists of America (DSA), a group that boasts an impressive rise in membership since Trump's election, and now claims to be the largest socialist organization in the U.S. Socialists have responded to conservatives by retweeting the image posted by Rapone, and calling him brave and an "inspiration."
DSA has regional and issue-based subsections and chapters, and Rapone is a member of DSA's Veterans Working Group, which "seeks to provide a conduit for veterans and adjacent communities to connect together to fight for our shared goals: enacting a democratic socialist society committed to racial, economic, social, environmental, gender, religious and disability rights justice," according to a spokesperson.
The spokesperson also offered support to Rapone in a statement.
"Spenser Rapone is our comrade and we fully support, defend, and encourage him to take whatever steps he sees necessary to express his political beliefs and continue to organize towards a socialist future," the statement said.