Conservatives Should Join Workers' Fight Against Big Tech Hypocrisy | Opinion
Big tech was a ubiquitous presence in our lives even before COVID. More than a year into the pandemic—and still largely under lockdown—we have only become more reliant on Silicon Valley to keep us up and running. As local businesses were forced to temporarily close, then permanently shutter, because of draconian COVID restrictions, perhaps no single corporation has benefited more than Amazon—and no single person has benefited more than its founder Jeff Bezos, who is worth approximately $200 billion.
With its newly amassed power, and following President Donald Trump's 2020 electoral defeat, Amazon has been emboldened to become a leader of woke capitalism. The company has banned books by conservative authors from its digital shelves, removed social-media companies from its servers and delisted philanthropies committed to life and liberty from its charitable program.
But lo and behold, Amazon began appealing to conservative sensibilities in an effort to bust a proposed unionization effort in Alabama. After months of defending mail-in voting from criticism by President Donald Trump, the tech giant and its founder took a hard pivot when the practice began to threaten its interests.
Throughout the 2020 presidential race, the Bezos-owned Washington Post reflexively wrote off concerns about mail-in voting. Last year, Amazon even set up a group called the Package Coalition, which had the professed mission "to preserve an affordable, reliable and profitable postal package delivery system." Its implicit mission: to rebut President Trump's criticism of the taxpayer-funded United States Postal Service. When the New York Times covered the formation of the coalition, it reported that the alliance's "seven-figure advertising blitz" was intended to oppose President Trump's demand that USPS ratchet up its package delivery rates to avoid bankruptcy amid the coronavirus crisis.
But now, with Amazon's bottom line threatened by unionization, the corporation is singing a very different tune. Now, mail-in voting is anathema. To make it harder, if not impossible, for Alabama-based workers to reach the required threshold to unionize, Amazon is requiring in-person voting.
Amazon cares only about solidifying its monopolistic market position. If realizing that goal means crushing small businesses and eliminating online competitors, too bad. And if it involves outright hypocrisy, so be it. At one moment, Amazon backs the publicly subsidized USPS to keep shipping costs below market values. The next, it wants to keep labor costs low by blocking unionization by taking away mail-in voting.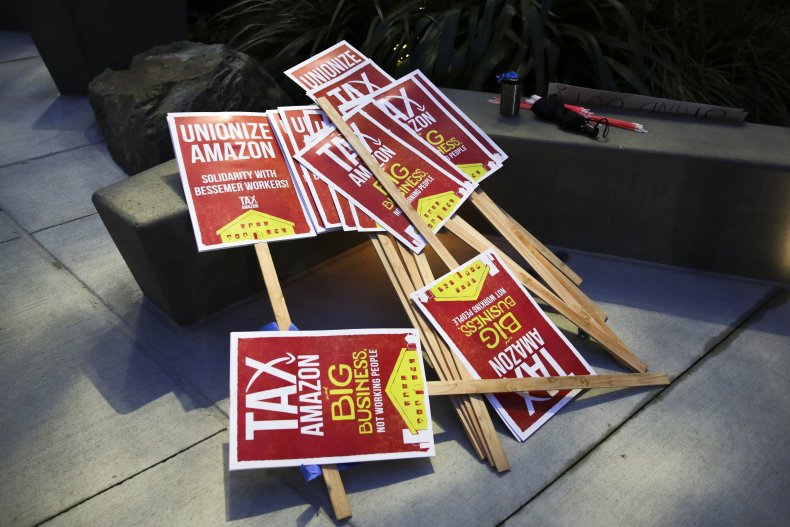 Sen. Marco Rubio (R-Fla.) has laudably stressed that, in struggles between working Americans and companies that wage war on the working class, conservatives should unequivocally stand with workers. "Adversarial relations between labor and management are wrong," he recently wrote. "They are wrong for both workers and our nation's economic competitiveness. But the days of conservatives being taken for granted by the business community are over."
Due to the incredible influence of the Chamber of Commerce and other corporate outfits, the Republican Party has for decades dogmatically demonized unions. This opposition must end. The core values of the American working class are—and for a long time have been—the same ones cherished by most who self-identify as conservative: honor, discipline, self-reliance, industriousness and patriotism.
Given that similarity, it's unsurprising that 40 percent of union households voted for President Trump in 2020. Rather than an isolated case, this represents a trend. As the GOP presidential candidate in 2012, Mitt Romney captured 30 percent of union members, while Trump won 38 percent in 2016.
There is an ideological chasm between Main Street union members and union leadership. In just one typical example, the D.C.-based American Federation of Government Employees—the country's largest federal employee union—gave 96 percent of its 2020 political donations to Democrats.
This is a political landscape primed for cultivation. If the GOP wants to make an audacious play at further expanding its base, it could back a conservative candidate for president of AFL-CIO in the union's next election.
Principled conservatives should no longer allow ossified party tenets of yesteryear to hinder a political realignment that fully prioritizes the American working class. Party leaders who once told unemployed steelworkers to "learn to code" need to join workers in holding the coders accountable. And, in seeking positive change for our nation, all Americans should relentlessly call out the hypocrisy of remorseless behemoths like Amazon.
Alexei Woltornist is Co-Founder of ATHOS, a strategic-messaging firm and literary agency. He was formerly lead spokesman for the U.S. Department of Justice's investigations of Big Tech.
The views expressed in this article are the writer's own.