Conservatives Slam Joe Manchin After He Calls Biden's Remarks 'Disgusting'
Senator Joe Manchin faced backlash from conservatives after he called President Joe Biden's call to close down coal plants "disgusting."
Biden, during a speech in California Friday, said his administration plans to shut down coal plants across the United States. He instead said he would opt to invest in wind and solar energy, seen as greener alternatives to coal.
"No one is building new coal plants because they can't rely on it, even if they have all the coal guaranteed for the rest of their existence of the plant," Biden said. "So it's going to become a wind generation."
His comments sparked strong rebuke from Manchin—a moderate West Virginia Democrat whose ties to and campaign donations from the oil and gas industry has long faced questions from more progressive members of his party—just days before the midterm elections.
"President Biden's comments are not only outrageous and divorced from reality, they ignore the severe economic pain the American people are feeling because of rising energy costs," Manchin said in a lengthy statement posted to Twitter. "Comments like these are the reason the American people are losing trust in President Biden and instead believes he does not understand the need to have an all in energy policy that would keep our nation totally energy independent and secure."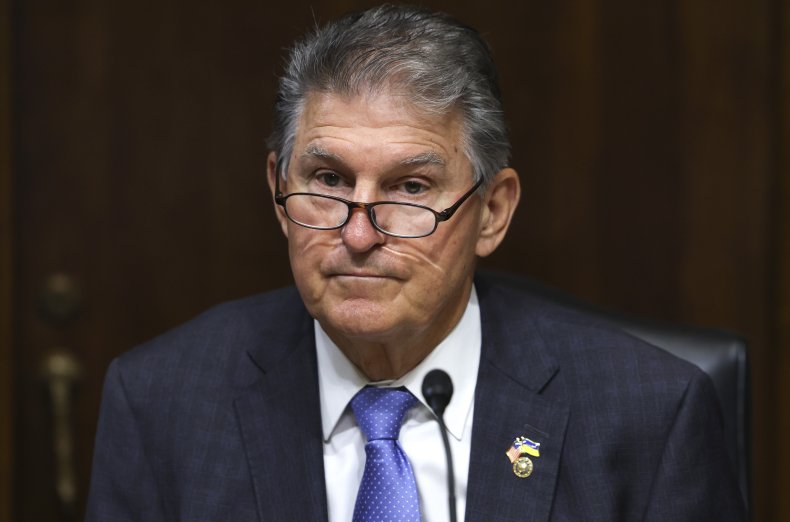 Conservatives slammed his remarks, pointing out that Manchin voted in support of the Inflation Reduction Act, which included new investments in renewable energy in an effort to combat climate change while also driving down the inflation that has added financial pressure to millions of Americans.
Conservative commentator Laura Ingraham tweeted: "Well, sorry, Sen Manchin, but you single-handedly gave this president MORE, not less, power to gut our fossil fuels with the idiotic climate bill! You helped create this monster."
New York Post commentator Miranda Devine tweeted: "Hope West Virginians aren't fooled by Manchin's faux outrage. He knew what Biden was when he caved in and voted for the so-called "inflation reduction act" which was the green new deal in disguise. What's the point now of huffing and puffing."
"No sympathy for Manchin - who caved on Inflation Reduction Act and much more," GOP strategist Blair Brandt tweeted.
The spat comes as Democrats seek to hold onto their majorities in the Senate and House of Representatives in the midterm elections on Tuesday. Key races in West Virginia's neighbors of Pennsylvania and Ohio, both of which also have historic ties to coal, could determine control of the Senate—and debate over energy policy has shaped these races.
Manchin is not up for reelection on Tuesday but will again face West Virginia voters in 2024 in what experts say would be an uphill battle for the centrist Senator. Despite electing Manchin, West Virginia is one of the most conservative states. Manchin won reelection during 2018's "blue wave" by just more than three percentage points.
Manchin has presented himself as a Democratic guardrail on the Biden administration, opposing key elements of the president's agenda and facing ire from progressives. For instance, he shot down Biden's signature Build Back Better legislation, elements of which were later passed in the Inflation Reduction Act.
Press secretary Karine Jean-Pierre responded to Manchin later Saturday, writing that "President Biden knows that the men and women of coal country built this nation."
"The President's remarks yesterday have been twisted to suggest a meaning that was not intended; he regrets it if anyone hearing these remarks took offense," she wrote. "The President was commenting on a fact of economics and technology: as it has been from its earliest days as an energy superpower, America is once again in the midst of an energy transition. Our goal as a nation is to combat climate change and increase our energy security by producing clean and efficient American energy."
Newsweek reached out to Manchin's office for comment.