Right-wing Conspiracy Theorists Blame Anti-Gun Rallies and Teen Activism on George Soros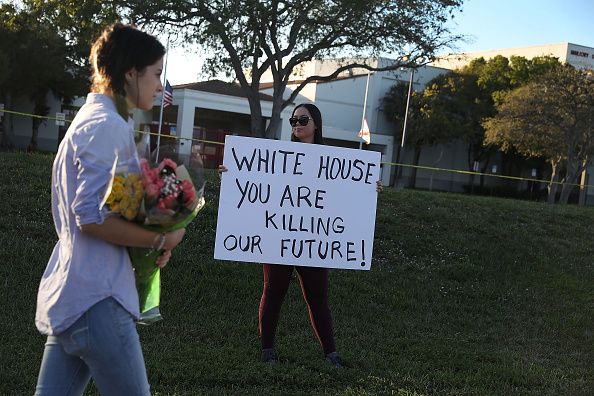 Liberal billionaire philanthropist George Soros is paying to mobilize 17-year-olds against gun violence, conservative political commentator and former Republican congressman Jack Kingston claimed in an interview with CNN Tuesday morning.
Kingston was on the program to discuss a controversial tweet in which he claimed it is implausible that high school students who survived a brutal massacre last week were capable of organizing nationwide rallies for gun control on their own. During the show, Kingston argued that the teenagers are being manipulated by left-wing anti-gun activists funded by Soros.
CNN journalist Alisyn Camerota, who visited Florida last week in the wake of the shooting, quickly refuted Kingston's accusations.
"Jack, I'm sorry, I have to correct you," Camerota said. "I was down there. I talked to these kids.
"Jack, these kids were wildly motivated…. They hadn't been indoctrinated by some left-wing group. They were motivated from what they saw and what they endured during that ordeal," Camerota continued.
Seventeen people were killed last Wednesday when a gunman opened fire in the Marjory Stoneman Douglas High School in Parkland, Florida. Since then, the students who survived the shooting have been speaking out, leading some to become the targets of those who believe they are part of a liberal conspiracy to take away Second Amendment rights.
David Hogg, a Florida student who has been critical of politicians, has been attacked personally by right-wing activists who say he was coached by his father to criticize President Donald Trump.
Soros, an 86-year-old hedge fund manager who funds charities and liberal causes around the world, including LGTB rights and democracy building, has become a global boogeyman for right-wing politicians and pundits. His Open Society Foundations are transparent about their support for social justice.
Right-wing sites like Breitbart and The Washington Times repeatedly claim that Soros is behind anti-Trump movements like the Women's March. In 2016, an image spread across the internet claiming that Soros wanted to "bring down the United States" by funding "black hate groups" like Black Lives Matter.
The quote attributed to Soros was fake, according to fact-checking site Snopes.