Proud Boys, Laura Loomer Join Gathering of Conspiracy Theorists, Celebrity Trolls, in Florida to Stop Votes Being Counted
Far-right agitators and conspiracy theorists are protesting outside the Broward County Board of Elections, claiming that Democrats are trying to steal Florida's senate race, The Daily Beast reported.
Florida declared a recount for its senate, governor and agricultural commissioner races on Saturday, as discord mounted over allegations of fraud.
As the vote count continued on Friday, a conglomeration of right-wing figures gathered to protest the Broward County tally.
Members of the Proud Boys, a far-right group that describes itself as "Western chauvinists" and has violently clashed with Antifa, were in attendance.
The Daily Beast reported that "right-wing activist Laura Loomer, a former James O'Keefe associate who has made her name by yelling at prominent Democrats in a stunt that she calls 'Loomering,'" was heading to Broward County.
"I'll #Loomer the whole state of Florida if that's what it takes," she posted.
Pro-Trump activist Ali Alexander said he would be enlisting homeless people and supporters of the QAnon conspiracy theory to protest, according to Right Wing Watch.
GOP political provocateur Roger Stone, who has been branded a "dirty trickster," also headed to the demonstrations.
Democratic gubernatorial candidate Andrew Gillum conceded the race to Ron DeSantis on Tuesday night. It later became clear that many ballots had not been counted. Approximately 33,600 votes -- a .41 percent margin -- separated DeSantis and Gillum.
Florida law requires a machine recount for statewide races within .5 percent.
Republican Senate candidate Rick Scott claimed victory over Democratic incumbent Bill Nelson on election night. But his lead has been dwindling as more votes are tallied.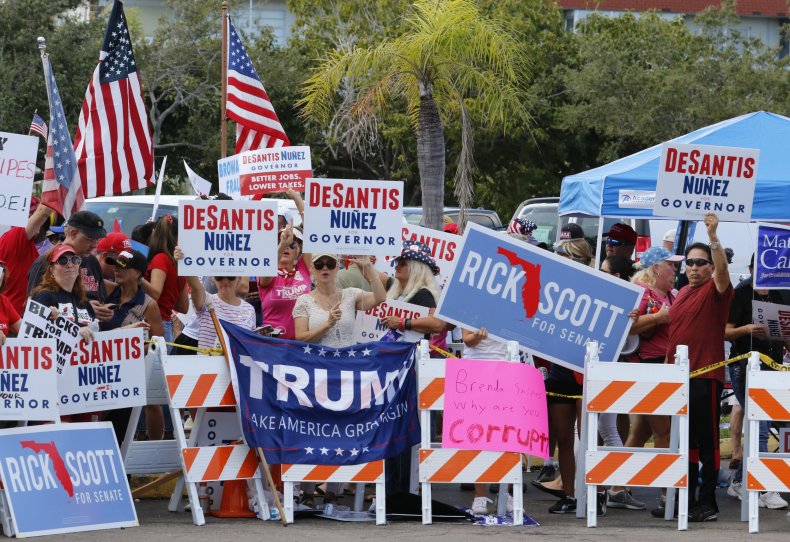 He has claimed that elections officials are trying to "steal" the election. President Trump has further fueled allegations of electoral fraud by saying that officials are "finding votes out of nowhere."
Conservative attention has focused on Brenda Snipes, the Broward County Supervisor of Elections. Snipes broke the law after the 2016 election by destroying election ballots earlier than is legally permissible.
Snipes again caused controversy this year by mixing in more than one dozen rejected ballots with valid ones, according to the Miami Herald.
Other irregularities have raised concerns.
"Unusually, the votes tabulated in Broward County so far exhibit a high rate of something called 'undervoting,' or not voting in all the races on the ballot," FiveThirtyEight reported.
"More Broward County residents voted for the down-ballot constitutional offices of chief financial officer and state agriculture commissioner than U.S. Senate — an extremely high-profile election in which $181 million was spent. Generally, the higher the elected office, the less likely voters are to skip it on their ballots."