For First Time, FBI Finds Conspiracy-Backed Crimes Drive Domestic Terror: Report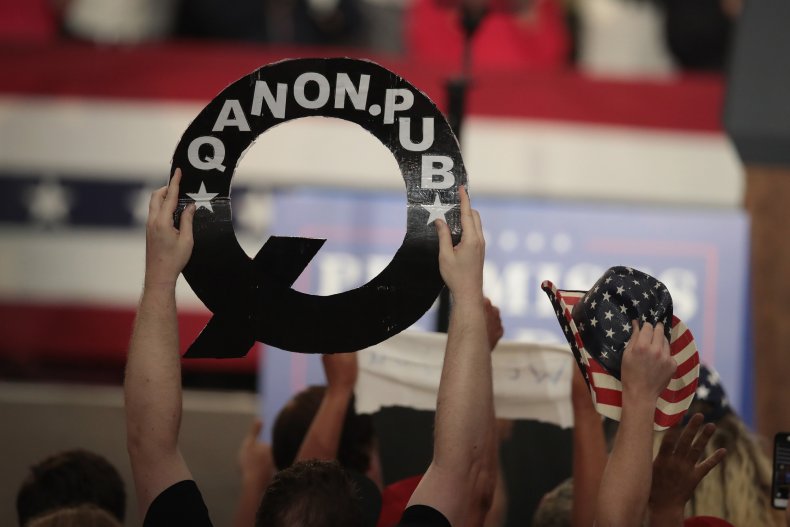 The Federal Bureau of Investigation (FBI) has for the first time designated fringe conspiracy theories as a factor in domestic terrorism, according to a copy of an internal FBI threat assessment obtained by Yahoo! News.
"The FBI assesses anti-government, identity based, and fringe political conspiracy theories very likely motivate some domestic extremists, wholly or in part, to commit criminal and sometimes violent activity," the report concludes. "The FBI further assesses in some cases these conspiracy theories very likely encourage the targeting of specific people, places, and organizations, thereby increasing the likelihood of violence against these targets. These assessments are made with high confidence, based on information from other law enforcement agencies, open source information, court documents, human sources with varying degrees of access and corroboration, and FBI investigations."
The document was marked from the FBI's Phoenix field office and dated May 30, 2019. The law enforcement agency reiterated their inability to target suspects based solely on First Amendment free speech, drawing a distinction between unlawful monitoring of opinion versus investigation of conspiracy-driven plans for violence.
The report identified several specific instances of conspiracy-based domestic extremism, some of which have not received previous press coverage. These examples span a wide range of conspiracy-driven thinking, from anti-government ideologies to white identity extremism.
The report discussed the Pittsburgh shooter, who targeted Jewish worshippers at the Tree of Life Synagogue and interacted with a meme that referenced the Zionist Occupation Government conspiracy theory. The shooter posted this meme on his social media feed shortly before he killed 11 people in the Squirrel Hill neighborhood of Pittsburgh in 2018.
The FBI report specifically mentions several instances of crimes driven by Trump-adjacent conspiracy theories, including the December 2016 incident where a North Carolina man fired a rifle in the Comet Ping Pong pizza restaurant in Washington, D.C., in order to investigate the conspiracy known as "Pizzagate."
"Although conspiracy theory-driven crime and violence is not a new phenomenon, today's information environment has changed the way conspiracy theories develop, spread, and evolve," the report assesses. "The advent of the Internet and social media has enabled promoters of conspiracy theories to produce and share greater volumes of material via online platforms that larger audience of consumers can quickly and easily access."