Construction Worker's Head Impaled by 5-Foot Steel Bar
A builder has survived after a construction site accident left his head skewered by a 5-foot steel bar this week.
The unnamed workman from the city of Dali, which is in China's southwestern province of Yunnan, reportedly suffered the horrific injury when he fell from a height on Monday.
The protruding reinforced steel bar, measuring 1.5 meters (5 feet), entered the right side of the victim's neck and exited his left cheek, according to a statement released online by the Dali fire department.
A team of six firefighters was dispatched to the People's Hospital of Dali Bai Autonomous Prefecture at the request of the facility's emergency room, the bulletin said.
They arrived at around 7 p.m. local time to find the patient conscious but seriously injured and bleeding heavily, with the reinforced steel bar having been kept in his head as he was taken to the hospital for treatment.
Members of the fire department were asked to assist with shearing off protruding sections of the metal bar before the victim could be taken into surgery.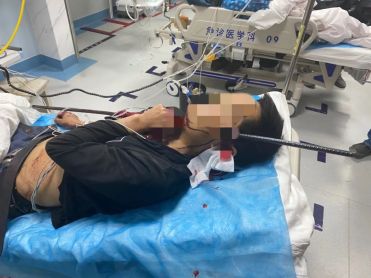 Images released by the rescuers showed them attempting the operation with a large hydraulic cutter, which the department said was difficult to maneuver and also risked causing secondary injuries to the patient. Firefighters opted for a smaller cutter instead.
Pictures from the crowded emergency room show a fireman in a medical mask and safety goggles carefully cutting the iron bar from below the patient's chin. Another rescuer can be seen steadying the rebar while a doctor holds the worker's head.
"In the end, we used a small rebar cutter and slowly severed the ends of the steel bar. It took us about 30 minutes," an unnamed firefighter told Zhengzhou-based news service Zhengguan.
According to the hospital, the patient was not operated on locally and was later taken to Yunnan's provincial capital Kunming for further treatment.
"The patient and his family requested a transfer to Kunming," spokesperson for the local People's Hospital told Zhengguan.
She added: "The hospital was ready to operate on him, but it was the patient who wanted to be moved."
The decision was likely based on the understanding that larger public hospital in Kunming would have more resources and experience to treat his injuries, which have been commonplace in second- and third-tier Chinese cities and counties where safety standards are not strictly observed.
There had been no update on the worker's condition at the time of writing.