'Creepy, Funny, Disturbing' Twist in 'The Consultant' Made Nat Wolff Scream
The Consultant debuts on Amazon Prime Video on Friday and one of its stars thinks the "creepy, funny, disturbing and surprising twist" in the first episode of the show will make audiences scream—just like he did.
Starring Oscar-winner Christoph Waltz, who is also the executive producer, The Consultant is a dark comedy workplace thriller, with all eight episodes available to watch on the streaming service.
Based on Bentley Little's book of the same name, The Consultant has been adapted for TV by Tony Basgallop. It features Nat Wolff (Paper Towns), Brittany O'Grady (The White Lotus), and Aimee Carrero (The Menu) as unsuspecting people dragged into the whirlwind created by Waltz's titular character Regus Patoff.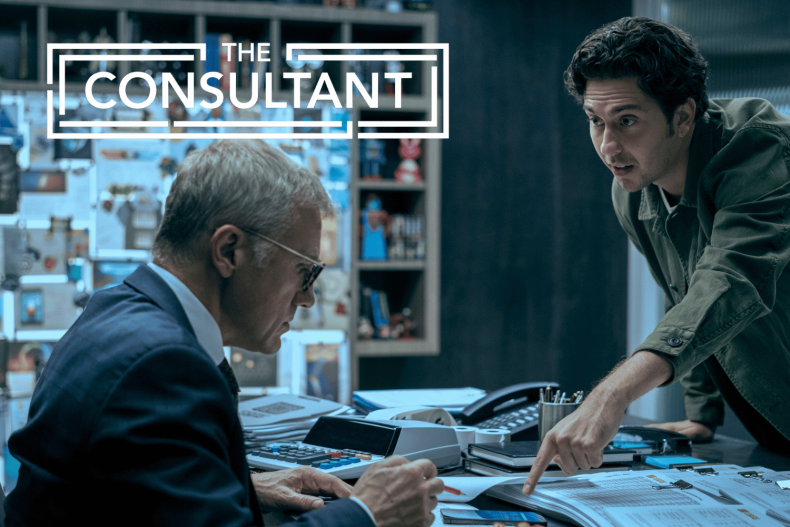 Newsweek spoke to the cast and creator who shared their reactions to the shocking events that unfold throughout the season.
"I Screamed Out"
In the early stages of The Consultant, a sudden death within a mobile games company means a mysterious consultant arrives to take over. Episode 1, "Creator," sets up its premise and informs audiences what kind of show The Consultant is going to be with some shocking turn of events.
"I was reading the script and I loved the tone and the atmosphere," Wolff told Newsweek, discussing what made him sign up for the project. "But then the twist at the end of the pilot—I screamed out in the middle of my in my apartment, because there was something so creepy, funny, disturbing, and surprising. It was exactly my sensibility as a viewer, so I thought I got to be a part of this."
Wolff plays games developer Craig, a disgruntled employee at CompWare who is weary of the surprise entry of his new boss Patoff.
Carrero, who plays Patti, Craig's fiancée, agreed that the show is unlike anything else. "It's so unusual. It's not a thing you read all the time. It's really dark. It's sort of unhinged but in a great way," she told Newsweek.
Anyone who sits down to watch Episode 1 of The Consultant will instantly recognize the "unhinged" events that the actors allude to.
Texting Christoph Waltz
Since becoming a mainstay in Hollywood movies over the past 15 years, Waltz has rarely appeared on TV shows. He made an exception for The Consultant, which was a huge selling point for some of the cast, particularly Wolff.
"I've been a huge fan of his forever," he told Newsweek. "There's something about the quality of his voice that puts me to sleep—not in real life—but I used to watch YouTube videos of him when I was 17. I would fall asleep to the same video of him talking to Charlie Rose. I probably watched it a thousand times."
"When I found out I was gonna be working, I was like, 'I hope I don't just fall asleep as soon as we start acting together,'" Wolff joked.
O'Grady plays another CompWare employee, the self-appointed creative liaison who works closely with Patoff. O'Grady thinks she didn't play it cool when coming face-to-face with Waltz.
"I remember the first time meeting him. He can stare at you for a while, and I was sweating so much the first day and then I sweat throughout the whole production. I really did. I was so nervous," she said.
O'Grady admitted her nerves never really subsided and even filtered through into text exchanges with the two-time Academy Award winner.
"I text him like four months later, like, 'hello, Christoph. I hope this text message finds you well,'" O'Grady said, recalling the formal tone of the message.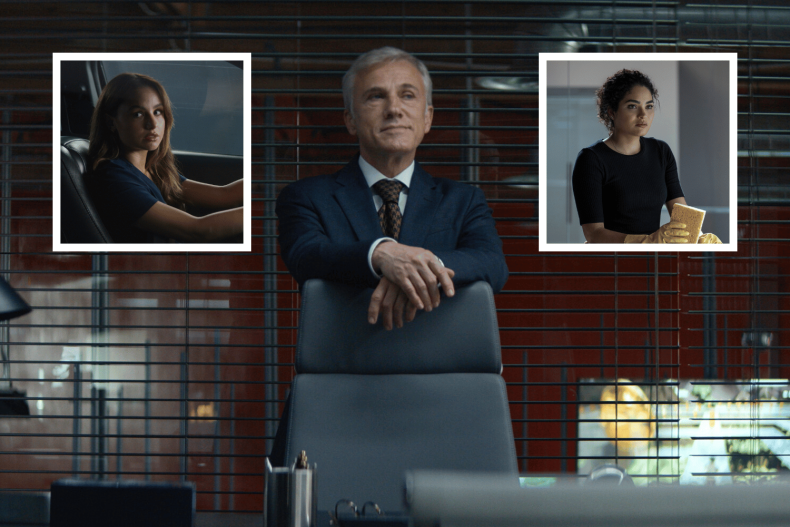 Wolff fared a little better when messaging Waltz. "One thing about Christoph is he goes 'x x' at the end of every single text, which is very European," he said.
"One of the things that makes him such a good bad guy is that he's actually one of the most decent gentle people I've ever gotten to work with." Wolff continued, "I've gotten to work with a lot of great older actors and I think he took on the most paternal role of any of them that I've ever worked with.
"There's something that is so uniquely childlike and open and present that makes him a perfect person to put into a villain role because he's so magnetic."
On the subject of being one of the more senior workers on set, Waltz stressed the importance of interacting with his younger co-stars. "As you sort of turn into an old dog, you learn to trust. And that's why it's so important to talk to the people and work with the right people."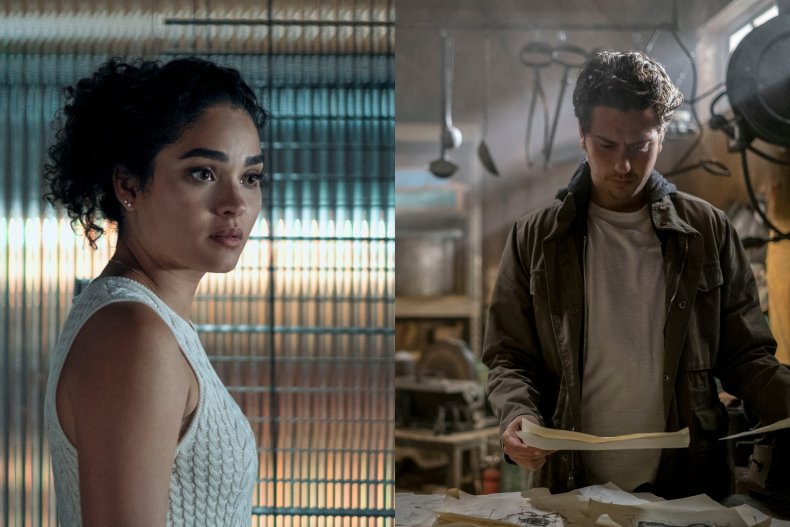 When it came to playing Patoff, a mysterious consultant character first created in Little's novel, Waltz thinks he didn't add too much to the already meaty role.
"For me as an actor, my toolbox is pretty big. I can always work out an escape—but for the part, the character can't escape me anymore, and that is why experience helps. I know what an actor can do, I know what I can do. But the important thing is that you trust the writing because I'm not inventing anything. I just kind of help the role suffer me," Waltz said.
Future Seasons of The Consultant
While there is only one book, and currently, only one season of The Consultant, creator and showrunner Basgallop would love to make a Season 2.
"Very much so. Patoff is a character I want to move forward with. Someone I want to keep writing for because I enjoy it so much," Basgallop told Newsweek. "The main thing I took from the book was the premise. Just the part of arriving into an office and everyone just going, 'Who the hell is this guy? What do we do? Is he an authority?'"
All eight episodes of The Consultant are available to watch on Prime Video now.