Consumer Reports Releases List of Best Cars, SUVs for Teens
The cost of new and used vehicles has risen during the pandemic, though recent high used car prices have begun to level out according to Cox Automotive. New cars continue to be sold with thousands of dollars of premiums attached.
The rise in price has made many newer models, chock full of safety and with a high level of predicted reliability, economically unreachable for families with teen drivers.
That reality has caused the number of vehicles recommended for teen drivers by Consumer Reports and the Insurance Institute for Highway Safety (IIHS) to decrease in 2022. Just 49 models were recommended this year compared to 61 last year. Twenty-one new models are recommended, down from 29.
The used vehicles recommended are priced from $6,000 to $19,000. New vehicle pricing ranges from a base price of $21,200 to $38,900.
"As the pandemic has altered both the way people travel and the way they spend, demand for reliable used cars is notably high — meaning it may be more challenging to make your budget meet your needs," said Jennifer Stockburger, director of operations at Consumer Reports' Auto Test Center. "This list is designed to help you stretch your dollars further."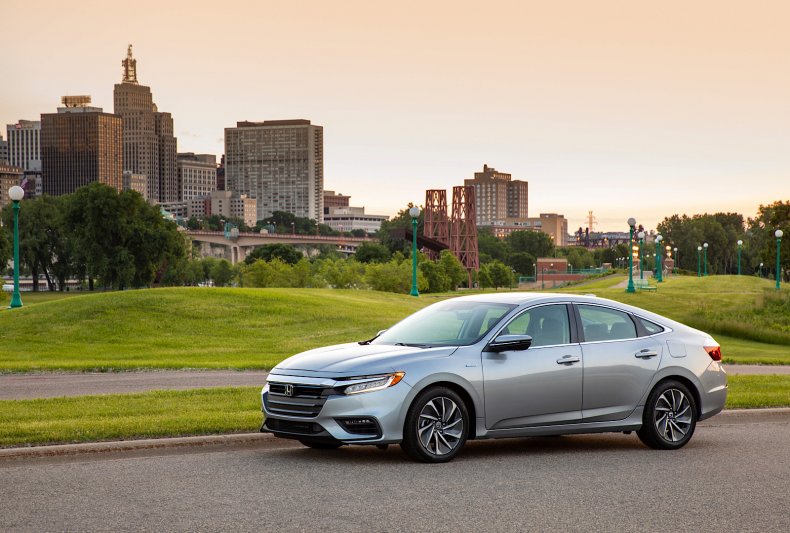 The science and education group and membership organization have divided the vehicles into two groups, Best Choices and Good Choices.
There is overlap between the groups in terms of features. They all have standard electronic stability control, which actively works to keep a vehicle connected to the ground; above-average reliability based on Consumer Reports' member survey; dry braking distances of less than 145 feet from 60 miles per hour (mph); Good or Acceptable ratings in IIHS crashworthiness testing and four- or five-star National Highway Traffic Safety Administration (NHTSA) ratings.
All new models are winners of 2022 IIHS Top Safety Pick or Top Safety Pick+ awards, a designation that signifies that the vehicle has met the highest levels of crash test safety IIHS tests for in multiple types of testing.
There are some caveats to the list. Only 2022 model year vehicles that have vehicle-to-vehicle automatic emergency braking standard are included. If headlights rated as Good or Acceptable by IIHS that don't come as standard, recommendations specify qualifying trim levels and options.
Used Car Best Choices for Teens:
2013 or newer (built after August 2012) Subaru Legacy
2013 or newer (built after August 2012) Subaru Outback
2014-2015 Ford C-Max Hybrid
2014 or newer Mazda Mazda3 sedan or hatchback
2014 Chevrolet Volt
2014-2019 Mazda 6
2014 or newer (built after October 2013) Mazda CX-5
2014 or newer Toyota Highlander
2015-2018 Toyota Sienna
2015 or newer Honda CR-V
2015-2017 Toyota Prius V
2015 or newer Lincoln MKZ
2015 (built after May 2015), 2020 Ford Edge
2015 or newer Nissan Murano
2015 or newer Lexus NX
2015, 2018-2020 Subaru Impreza sedan or wagon
2015, 2017 Volkswagen Passat
2015 or newer Toyota Avalon
2015-2018 Toyota Sienna
2016 Hyundai Genesis
2016-2019 Audi A6
2017 Volvo XC60
2017 Kia Sedona
2017, 2020 or newer Honda Odyssey
2017 Chevrolet Equinox
2017 GMC Terrain
2017-2019 (built after March 2016) Hyundai Santa Fe
2017 Kia Sedona
2017, 2020 or newer Honda Odyssey
2018 or newer Subaru Crosstrek
2018 Volvo S60
2018, 2021 Hyundai Kona
2019 Mazda CX-3
2019 or newer Toyota Corolla hatchback
2019 or newer Honda Insight
Used Car Good Choices for Teens:
2011-2013 (built after December 2010) Mazda Mazda3 sedan or hatchback
2011 or newer Toyota Prius
2011 Ford Taurus
2011 Hyundai Genesis
2011-2014 Toyota Avalon
2012-2015, 2019 or newer Honda Civic sedan
2012-2013 Lexus CT200h
2012-2014 Toyota Prius V
2012 or newer Toyota Camry
2012 or newer Honda Accord sedan
2013 or newer Honda Accord coupe
2013 Chevrolet Volt
2014 or newer Toyota Corolla sedan
2014-2020 Nissan Rogue
2015, 2018 Ford Fusion
2016 Volkswagen Jetta
2016 BMW 3 Series sedan
2017, 2020 Nissan Altima
Recommended New Vehicles for Teens:
Mazda Mazda3 sedan or hatchback
Honda Insight
Subaru Legacy
Kia K5
Subaru Outback
Lexus IS
Chevrolet Trailblazer
Mazda CX-30
Hyundai Tucson
Mazda CX-5
Ford Bronco Sport
Buick Encore GX (Essence trim)
Toyota RAV4 (XLE, XLE Premium, SE, XSE, Adventure, Limited or TRD trims)
Honda CR-V (Hybrid EX, Hybrid EX-L, Touring or Hybrid Touring trims)
Lexus UX (with Triple Beam LED Headlamps with auto-leveling)
Hyundai Santa Fe (built after July 2021)
Hyundai Palisade
Nissan Murano
Mazda CX-9
Toyota Highlander
Honda Odyssey