Large-Scale Contact Tracing Needed to Prevent Ongoing Spread of Coronavirus, Study Suggests
Large-scale contact tracing is needed to prevent the ongoing spread of the novel coronavirus, according to the authors of a study detailing how a Chinese city benefited from the approach.
Contact tracing involves warning people if they have encountered the coronavirus so they can self-isolate in an attempt to stop the disease from being passed on. The authors of the paper published in the journal The Lancet Infectious Diseases looked at data collected by the Shenzhen Center for Disease Control and Prevention (CDC) on 391 COVID-19 cases and 1,286 of their close contacts who were tested for the coronavirus between Jan 14 to Feb 12. A person qualified as a close contact if they lived in the same apartment, shared a meal, travelled, or socially interacted with a person with COVID-19.
They found identifying and isolating potential COVID-19 patients appeared to help to reduce the spread of the coronavirus in a Chinese city. The team wrote: "We provide a key piece of evidence supporting intensive contact tracing and highlighting that children might be an important target for interventions aimed at reducing transmission, even if they do not get sick."
Co-author Dr. Ting Ma of the Harbin Institute of Technology at Shenzhen, China commented in a statement: "The experience of COVID-19 in the city of Shenzhen may demonstrate the huge scale of testing and contact tracing that's needed to reduce the virus spreading.
"Some of the strict control measures enforced here, such as isolating people outside their homes, might be unlikely to be replicated elsewhere, but we urge governments to consider our findings in the global response to COVID-19."
Dr. Ma said: "To achieve similar results, other countries might be able to combine near-universal testing and intensive contact tracing with social distancing and partial lockdowns. Although no lockdown measures were introduced in Shenzhen until the end of our study period, Wuhan's lockdown could have significantly restricted the spread of coronavirus to Shenzhen."
The findings echo those of a report published by Harvard on how the U.S. can restart its economy, which stated contact tracing is one of several measures officials could use, alongside widespread testing, and isolating the sick. The U.S. is currently the country with the most known COVID-19 cases, as the graph by Statista shows below. More than 3 million people across the world have been diagnosed with COVID-19, according to Johns Hopkins University. A total of 217,555 have died, and 935,646 are known to have survived.
On its website, the U.S. Centers for Disease Control and Prevention advises health departments to immediately start the practice, describing it as "a core disease control measure employed by local and state health department personnel for decades" and "a key strategy for preventing further spread of COVID-19."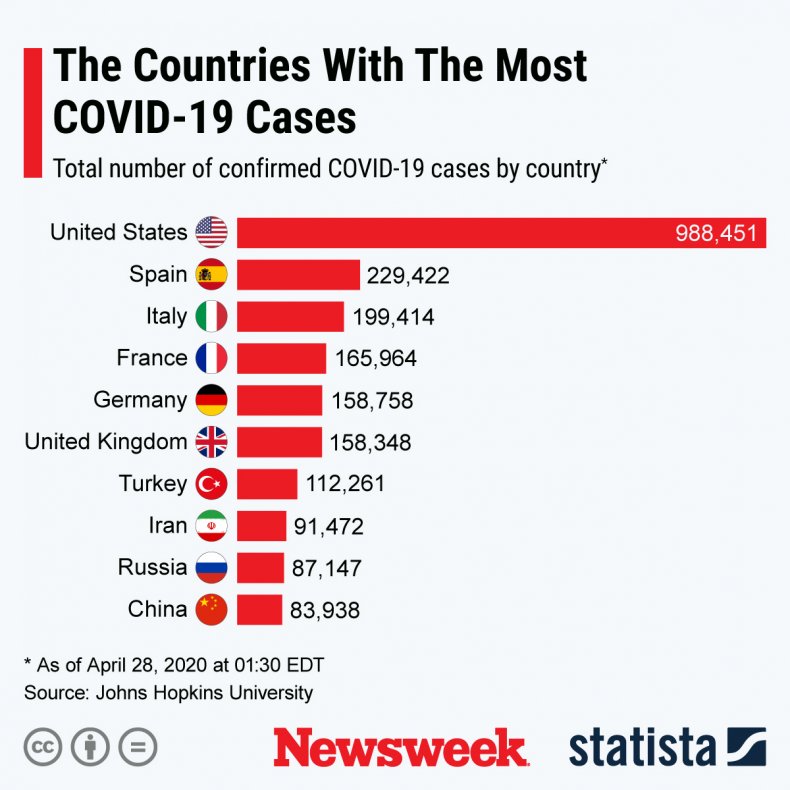 According to The Lancet Infectious Diseases study, Shenzhen CDC documented its first case of COVID-19 on January 8, and then started monitoring people arriving from Hubei province, where the coronavirus is thought to have emerged from its capital Wuhan. After two weeks, the surveillance program grew to include those arriving from Hubei who didn't have any COVID-19 symptoms, as well as local hospital patients, and individuals who took part in fever screenings in certain neighborhoods and at local clinics. People thought to have the coronavirus and their close contacts were tested.
Those found to have symptoms were isolated and treated at dedicated hospitals, whether or not they tested positive for SARS-CoV-2. Individuals without symptoms who tested positive, meanwhile, were quarantined at special facilities.
People deemed to be close contacts to the sick, as well as those who had traveled from Hubei who tested negative for the coronavirus, were quarantined either at home or a central facility and monitored for the signs of disease for 14 days.
Close contacts were required to have a SARS-CoV-2 test, and were only released when their tests came back negative.
To shed light on how the coronavirus was transmitted in the city during this period, the team compared data on cases identified through symptom surveillance and contact tracing.
Of the total 391 cases the team assessed, there was information on how they were detected in 379 cases while 292, or 77 percent, were picked up through symptom screening programs. These included checking for signs of illness at airports and train stations, for fever in a community, as well as monitoring people who had recently traveled to Hubei, and testing hospital patients.
The data revealed that symptom surveillance identified COVID-19 patients later after they started feeling sick when compared with contact tracing, at 5-and-a-half days versus 3.2 days, respectively. Those in the surveillance group also had to isolate for longer, at 4-and-a-half days on average compared with 2.7 in those found in contact tracing.
The researchers found those who lived with or had traveled with someone sick with COVID-19 were at higher risk of infection than other close contacts.
The team said: "In Shenzhen, SARS-CoV-2 transmission most probably occurred between very close contacts, such as individuals sharing a household."
The study also showed that the transmission rates of the close contacts was low. This could be because of "heightened surveillance combined with case isolation," authors said.
However, they argued the fact it's unclear how many people infected with coronavirus who had not yet developed symptoms were missed by surveillance "must temper any hopes of stopping the COVID-19 pandemic by these measures."
There was several limitations to the study, according to the researchers, including that "as in any active outbreak response" the data was collected by multiple teams using protocols that changed as the situation developed. In addition, it is impossible to find every person an individual may have been in contact with.
Epidemiologist Dr Cécile Viboud from the U.S. National Institutes of Health who did not work on the study wrote in an accompanying opinion article: "As we look towards post-lockdown strategies, we should examine the experience of countries that have successfully controlled SARS-CoV-2 transmission or have low mortality (eg, China, Singapore, Taiwan, South Korea, Germany, and Iceland)."
She said successful approaches appear to include "ample testing and contact tracing, supplemented by moderate forms of social distancing."
However, she pointed out "Contact tracing on the scale that is needed for the SARS-CoV-2 response is labour intensive, and imperfect if done manually. Hence new technology-based approaches are greatly needed to assist in identification of contacts, especially if case detection is aggressive.
"Building on the SARS-CoV-2 experience in Shenzhen and other settings, we contend that enhanced case finding and contact tracing should be part of the long-term response to this pandemic. This can get us most of the way towards control."
Centers for Disease Control and Prevention Advice on Using Face Coverings to Slow Spread of COVID-19
CDC recommends wearing a cloth face covering in public where social distancing measures are difficult to maintain.
A simple cloth face covering can help slow the spread of the virus by those infected and by those who do not exhibit symptoms.
Cloth face coverings can be fashioned from household items. Guides are offered by the CDC. (https://www.cdc.gov/coronavirus/2019-ncov/prevent-getting-sick/diy-cloth-face-coverings.html)
Cloth face coverings should be washed regularly. A washing machine will suffice.
Practice safe removal of face coverings by not touching eyes, nose, and mouth, and wash hands immediately after removing the covering.
World Health Organization advice for avoiding spread of coronavirus disease (COVID-19)
Hygiene advice
Clean hands frequently with soap and water, or alcohol-based hand rub.
Wash hands after coughing or sneezing; when caring for the sick; before, during and after food preparation; before eating; after using the toilet; when hands are visibly dirty; and after handling animals or waste.
Maintain at least 1 meter (3 feet) distance from anyone who is coughing or sneezing.
Avoid touching your hands, nose and mouth. Do not spit in public.
Cover your mouth and nose with a tissue or bent elbow when coughing or sneezing. Discard the tissue immediately and clean your hands.
Medical advice
Avoid close contact with others if you have any symptoms.
Stay at home if you feel unwell, even with mild symptoms such as headache and runny nose, to avoid potential spread of the disease to medical facilities and other people.
If you develop serious symptoms (fever, cough, difficulty breathing) seek medical care early and contact local health authorities in advance.
Note any recent contact with others and travel details to provide to authorities who can trace and prevent spread of the disease.
Stay up to date on COVID-19 developments issued by health authorities and follow their guidance.
Mask and glove usage
Healthy individuals only need to wear a mask if taking care of a sick person.
Wear a mask if you are coughing or sneezing.
Masks are effective when used in combination with frequent hand cleaning.
Do not touch the mask while wearing it. Clean hands if you touch the mask.
Learn how to properly put on, remove and dispose of masks. Clean hands after disposing of the mask.
Do not reuse single-use masks.
Regularly washing bare hands is more effective against catching COVID-19 than wearing rubber gloves.
The COVID-19 virus can still be picked up on rubber gloves and transmitted by touching your face.