China's real estate sector continues to suffer as two of the sector's larger firms Greenland Holdings and E-house saw their credit ratings downgraded by S&P Global, a rating agency, according to Reuters.
This comes on the tails of a missed third round of interest payments by the country's second-largest property developer and one of the most indebted companies in the world, the Evergrande Group.
Some experts warn that an Evergrande collapse could soon be on the horizon, joining it could be two more companies—Fantasia and Modern Land. The former's credit rating was recently downgraded to default or near default status, and the latter has asked for an extension as it stands unable to pay its debts.
With some economists estimating the property sector to account for as high as 28 percent of China's GDP, the industry's importance within the country plays a more central role than in many other parts of the world.
Given the sector's significance, Logan Wright, director of China markets research at Rhodium Group and an adjunct fellow with the Center for Strategic and International Studies, warned that the problem could be hard for Beijing to offset, meaning the issue could spill outside its regulatory powers.
"Contagion is already spreading within China's financial markets, as more developers are facing funding pressures," Wright told Newsweek. "It's one thing to say that the problem is controllable, it's another to control it. At some point, waiting too long to respond to this market turmoil can become a policy mistake."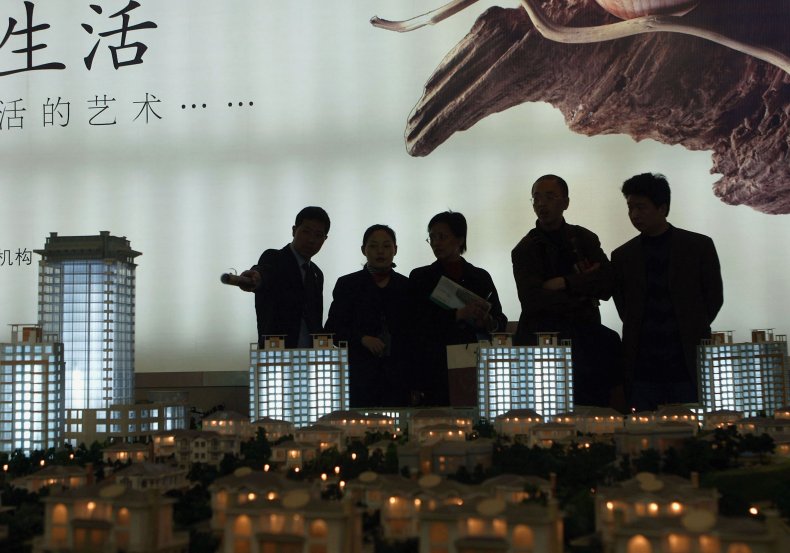 Wright said the stakes are high for Beijing. President Xi Jinping has recently moved to curb the influence of western-style Capitalism in China and directed local governments to prepare for the fallout of an Evergrande collapse. However, as Beijing's stance has become more apparent, problems within the sector have only emerged further.
"Credit stress has been building within China's financial system for some time," he told Newsweek. "But the recent focus on the problems in the property sector have amplified that pressure by reducing property sales nationwide, which is likely adding to the financial stress on other developers and contributing to defaults."
While in the past Beijing placed restrictions on the number of formal lending developers that were working around these regulations by borrowing from "shadow banks or informal institutions," Wright said.
In early 2020 however, the country introduced a new system designed to curb lending and boost regulatory oversight, Wright wrote in a September 2020 report. It started grouping developers into different categories based on their debt-to-asset ratios, net gearing (a measure of financial leverage), and their cash-to-debt ratio. Most of the top 30 developers failed to meet these three thresholds which slowed their ability to grow by taking out additional loans.
Under these regulations, Wright predicted that credit momentum would slow and construction activity would decline. As Evergrande faces a number of unfinished projects, it has faced challenges bringing in enough cash to pay its debts. Time will tell how China's response may ease the scope of this problem.