Contaminated Blackberries Linked to Hepatitis A Outbreak As Multiple People Fall Sick
Fresh blackberries sold at Fresh Thyme grocery stores in 11 states have been linked to an outbreak of hepatitis A, according to federal authorities.
The United States Food and Drug Administration (FDA) advised consumers Tuesday that they should not eat any blackberries purchased between September 9 and September 30 from Fresh Thyme Farmers Market stores in the states of Iowa, Illinois, Indiana, Kentucky, Missouri, Minnesota, Nebraska, Ohio, Pennsylvania and Wisconsin. These berries should not be eaten and should be tossed in the trash, including if they were frozen with the intent of consuming them at a later date.
The FDA is currently investigating the outbreak along with the Centers for Disease Control and Prevention (CDC), which reported 14 cases of hepatitis A across five states. On Wednesday, the FDA announced that the onset date of the most recent case was November 15. According to the CDC, eight of the 14 people known to be infected were hospitalized. No deaths related to this specific outbreak were reported.
According to the FDA, people should speak to their doctors if they purchased fresh blackberries from Fresh Thyme Farmers Markets in the 11 states between September 9 and 30, consumed those berries within the past two weeks and have not received the hepatitis A vaccination.
On its website, the FDA said it would "work with [its] federal and state partners to obtain additional information during the traceback investigation" and will keep the public up to date on the status of the investigation.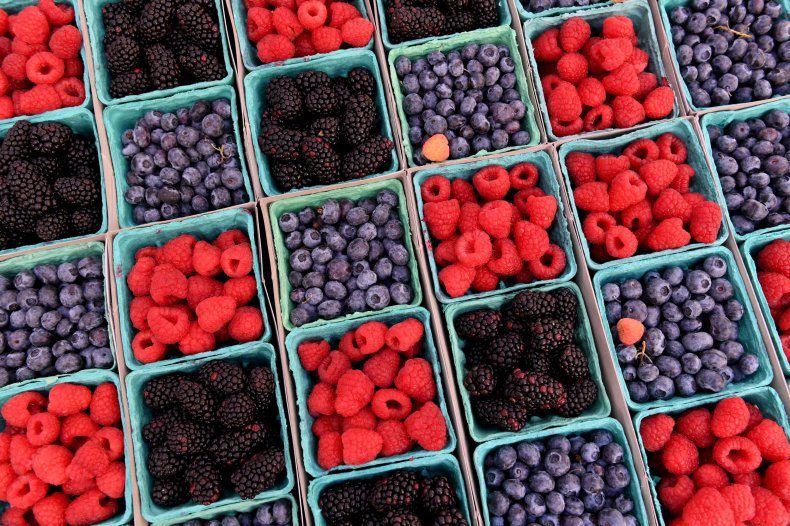 According to the CDC, hepatitis A is a liver disease caused by a viral infection typically spread sexually or through contaminated water or food. It is contagious and can cause a variety of symptoms in adults, including stomach pain, nausea, low appetite and fatigue. These symptoms typically go away within two months after a person was infected, but the disease can cause liver failure and ultimately be fatal if left untreated.
This is not the first time this year that berries have been linked to an outbreak of hepatitis A. Over the summer, as reported by Healthline, frozen berries sold in Kroger stores across 25 states, and other berries produced by Townsend Farms, Inc. and sold in Hawaii and Southern California were also related to outbreaks of the infection.
Reported cases of hepatitis A in the U.S. have dropped almost 95 percent since the vaccine against the infection was introduced in 1995.