Contractors Working on Family's Patio Discover the Human Remains of Five People
On Wednesday, a contractor working on a family's home project made a discovery more fit for a horror movie than a construction gig.
Robbie Kearney, a 32-year-old builder working in Heytesbury, Wiltshire, South West England, was hired by homeowners Matthew and Amelia Jackson to dig a soakaway hole for their patio drainage.
While digging, Kearney stumbled across a few piles of bones that were eventually revealed not to be the leftovers of someone's KFC meal but instead human remains.
"I found a few bones, which I assumed were animal bones, and went down a bit further and found some more bones," Kearney told local news outlet the Wiltshire Times. "Then I went a bit deeper and found a skull. That's when I realized they were human remains."
Kearney was understandably shocked to discover the human skull, something he's never come across before, he told the Wiltshire Times. Kearney, along with colleague Paul Tapper, immediately put a halt to their digging work and informed the Jacksons, who then called the police.
Mr. Jackson told the local outlet that the discovery "has certainly created some interest in the village."
On Thursday, the police brought forensic officers and a Wiltshire archaeologist to the site, who determined there were not only one by five sets of remains. The bones are believed to have belonged to three adults, one juvenile and one child and one has been identified as female, the newspaper reports.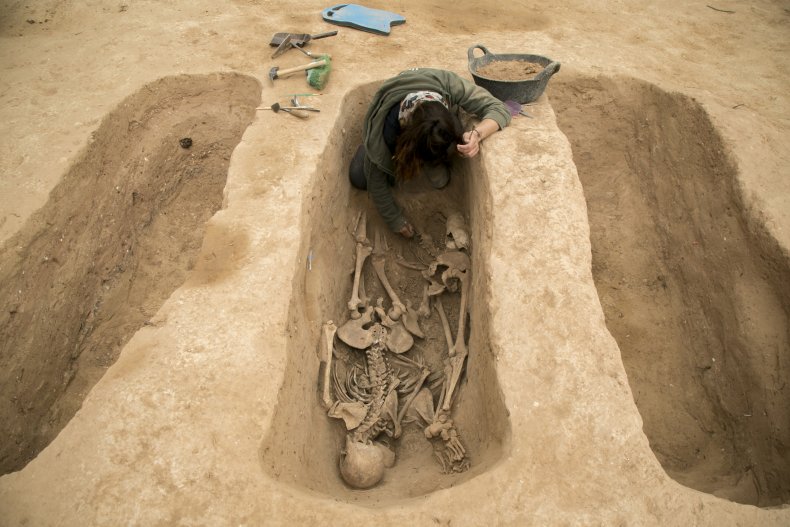 "The remains have been sent away for carbon dating and it may be a while before we get the results," Jackson added. "It's all quite interesting. They mentioned the early medieval period, possibly the 5th century."
Sam Fox, director at Wiltshire Council, told the paper that their archaeology team has established that the bones "are likely to be the disturbed remains of a number of graves from the early medieval period."
"From what our team has identified so far, these look like Christian graves representing people of different ages and of both genders, so they may represent the place where there had been an earlier church in Saxon or later times," Fox said.
A Wiltshire Police spokesman said that they are yet to complete the scientific dating of the bones and the inquiries are still on, reported WT. It may take weeks for the remains to be carbon-dated and affirmatively placed on a historic timeline.
"At this stage, there is no evidence to suggest we are dealing with a crime scene," said a Wiltshire Police spokesman. Local historian Joe Charlesworth gave the Wiltshire Times his own guess at the reasoning behind the mass grave, saying he believes it could have once been part of a plague pit.
As for similarly exciting archeological finds, last month, archeologists uncovered 62 skeletons in Mora de Ebro, Spain. The site was found to be a mass grave of republican soldiers killed during the Battle of the Ebro during the Spanish Civil War. In 2017, four skeletons were excavated in Valladolid, Spain dating back to the 1936 to 1939 civil war.