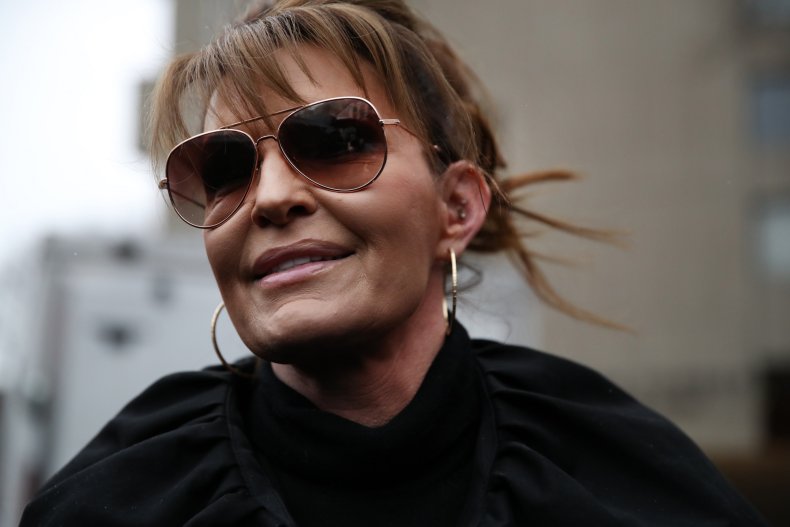 Controversial Republican Sarah Palin, the former Alaska governor and 2008 vice presidential candidate, has announced her return to politics as a candidate for Congress.
Palin announced on Friday that she hopes to replace the long-serving Republican Alaska Representative Don Young, who died last month at the age of 88, in a special election for the state's lone House seat. She has not run for public office since losing the 2008 election alongside that year's GOP presidential nominee John McCain.
"Public service is a calling, and I would be honored to represent the men and women of Alaska in Congress, just as Rep. Young did for 49 years," Palin said in a statement. "I realize that I have very big shoes to fill, and I plan to honor Rep. Young's legacy by offering myself up in the name of service to the state he loved and fought for."
"America is at a tipping point," she added. "As I've watched the far left destroy the country, I knew I had to step up and join the fight. The people of the great State of Alaska, like others all over the country, are struggling with out-of-control inflation, empty shelves, and gas prices that are among the highest in the world."
Palin went on to say that it was a "critical time in our nation's history," while touting herself as a leader who would "combat the left's socialist, big-government, America-last agenda."
Although Palin has not run for office in more than a decade, she has remained active in Republican politics by speaking at conservative events and making frequent media appearances to provide political commentary. She has also remained a controversial figure, most recently provoking backlash for referring to small fuel-efficient cars during a Fox News appearance as "rice rockets," an outdated, racially charged slang term for vehicles made in Japan.
Palin could be a candidate in two elections for the same seat this year. The first will be held to determine who will finish the remainder of Young's term, with a special primary set for June 11 and a special election on August 16. The regular election to determine who will serve during the term that begins in January 2023, for which Palin has not yet announced her candidacy, will take place in November.
In the special election, Palin will be facing off against a crowded field that includes more than 40 candidates, including a North Pole, Alaska, man now legally known as "Santa Claus" after changing his name from Thomas O'Connor. Claus is of an undeclared political party, according to the Alaska Division of Elections website.
Republican candidates include Nick Begich III, the grandson of Young's predecessor, U.S. Representative Nick Begich, and the nephew of former U.S. Senator Mark Begich, both Democrats.
The Republican primary winner could face off against candidates including Democratic Anchorage Assembly member Christopher Constant and independent candidate Al Gross, an orthopedic surgeon who ran for U.S. Senate in 2020.
Young was first elected to Congress in a 1973 special election, going on to serve for 49 years. He was the chamber's oldest member at the time of his death and had been planning to run for another term. Earlier this week, his first Democratic opponent, 89-year-old Emil Notti, told the Anchorage Daily News that he was considering running in the special election to replace his former rival.
Notti, who lost to Young by less than 2,000 votes in 1973, told the newspaper that he was considering becoming a candidate only "to keep watch out for the Alaska interests, whatever might come up in that short period of time." Notti did ultimately file as a candidate before the 5 p.m. Friday deadline.
Newsweek reached out to the Alaska Republican Party for comment.