Controversial New York Skyscraper Has More Than 1500 'Defects', Condo Board Alleges
The condo board of the 432 Park Avenue skyscraper has sued building developers CIM Group and Macklowe Properties for $250 million, plus punitive damages. The board's engineering consultant reportedly found than 1,500 construction and design defects in the building, "many of which are described as life safety issues," according to Fortune.
The board claims that flooding, stuck elevators, and "horrible and obtrusive noise and vibration" in the building are due to design flaws. They also claim that the building's sponsor, 56th and Park Owner LLC, didn't give consideration to the skyscraper's "remarkable height" when designing the building, Fortune reported.
Although the elevators were designed to slow down when the building gets battered by wind, the elevators go even slower than intended, causing them to shut down frequently, the board said.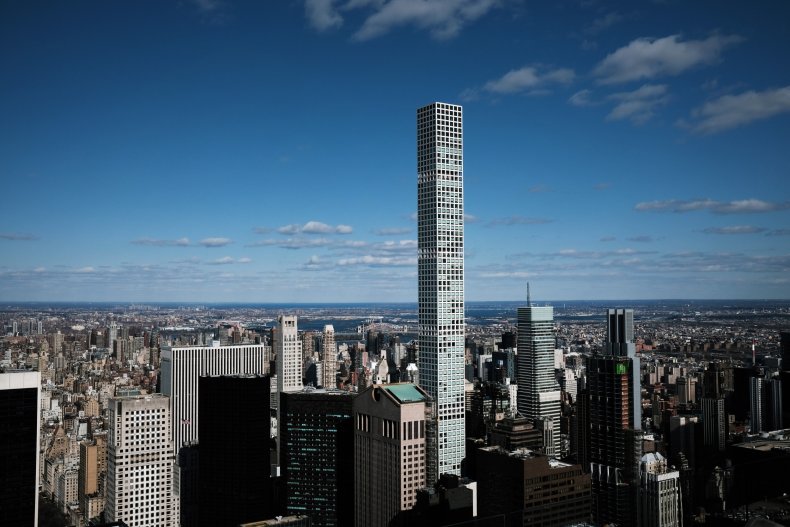 According to the lawsuit filed Thursday, there was an electrical explosion in June, which marks the second time in three years that an explosion like this occurred.
Jonathan Adelsberg, a partner at Herrick Feinstein law firm, told The New York Times that finding faults in the building is "almost like peeling an onion. This is a work in progress in ascertaining what's wrong."
The building's sponsor defended itself in a statement, saying, "virtually all new construction has maintenance and close-out items during the building's initial period of occupancy. [The sponsor] has been and remains committed to working collaboratively with the HOA to resolve these matters."
The 432 Park Avenue Skyscraper is 1,396 feet tall and towers over Central Park. The behemoth building has had its share of problems in the past. In February, The New York Times reported that the building had "millions of dollars of water damage from plumbing and mechanical issues; frequent elevator malfunctions; and walls that creak like the galley of a ship."
The skyscraper has also been criticized for blocking sunlight to Central Park. In 2015, before the tower was erected, The Washington Post reported that it would "transform New York far below, further darkening city streets and casting long shadows that will sweep across Central Park."
Renee Cafaro, a local board member studying the shadows in Central Park told the newspaper at the time that, "Laws can be changed. Even trees and traffic patterns can be changed. But once you have buildings of that caliber and that height and that massing, there's nothing we can do to save the park anymore."