A sign advertising "White Pride Radio" and "Alt-Right TV" will remain up near the edge of Harrison, Arkansas, despite thousands signing a petition last year for it to be removed.
The sign, which is one of the first things drivers see when they enter Harrison from northbound U.S. 65, promotes the website of WhitePrideRadio.com and AltRightTV.com. It has been up for seven years but garnered substantial backlash in 2020—with more than 8,400 people signing a Change.org petition to take it down.
Now, more than a year later, more than 212,000 people have signed that petition after it drew national attention. But due to the billboard being placed on private land and the First Amendment guarantees of the Constitution, the sign will remain where it has stood for years.
"I feel like it brings more of a negative impact to Harrison because people here are not like that, it's a lot more of a positive community," Harrison resident Megan Mondy told local NBC/ABC News affiliate KAIT 8. "I understand why it stays up, but I still feel like it shouldn't be."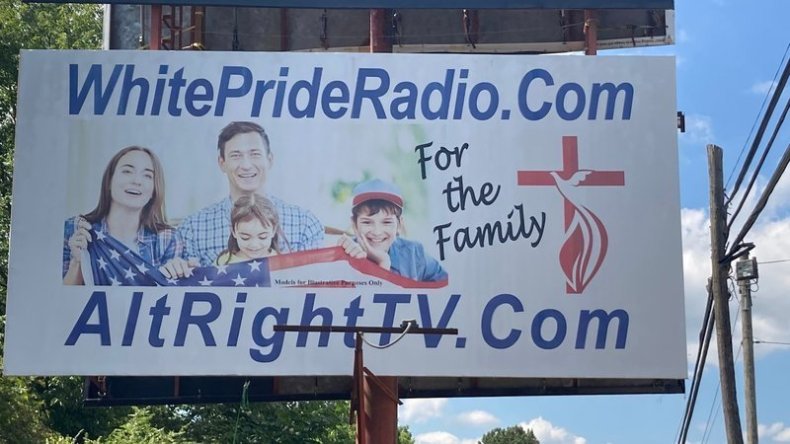 The Harrison Community Task Force on Race Relations was formed in 2003 and has advocated for removing similarly offensive signs in the area. Many of those efforts were successful, but the "White Pride" billboard was erected on private land by lawyer Jason Robb. The attorney's brother, Thomas Robb, is the director of the white supremacist Knights of the Ku Klux Klan, according to KAIT 8.
"First impressions are powerful and this is the first impression to our visitors, often confirming their preconception of Harrison as a racist community," the Change.org petition against the billboard says. "We ask you to participate in promoting inclusion by signing your name."
Other copies of the same advertisement have been removed.
"There have been other billboards in the past. This is actually the last standing one, and it's disgusting," Elizabeth Darden, a task force volunteer, told Arkansas' KARK-TV last year. "It's off-putting, and not a true representation of the majority here," she said.
Kelsey Bardwell, the attorney representing the task force, told the news station last year that the sign was not the "message our community wants to convey."
"It's tarnishing our town's name and preventing businesses from wanting to invest here, preventing employees from wanting to come and work here," Bardwell said.
Newsweek reached out to the Harrison Community Task Force on Race Relations for further comment but did not receive a response in time for publication.