The Controversies Surrounding Netflix's 'Dahmer' Show So Far
The latest dramatization of Jeffrey Dahmer's murders, Netflix's Dahmer—Monster: The Jeffrey Dahmer Story, has triggered a spate of controversies along with staggering viewership.
In the two weeks since its debut, the series has already become one of Netflix's most popular shows of the year, approaching half a billion viewing hours. In its first week, Dahmer beat the record set by Squid Game for the most-watched new Netflix series, according to IndieWire.
It's the second on-screen re-telling to tackle Dahmer, who killed at least 17 men and boys between 1978 and 1991, in just the past five years. The biographical drama My Friend Dahmer came out in 2017. In 2002, another film called Dahmer told the same story.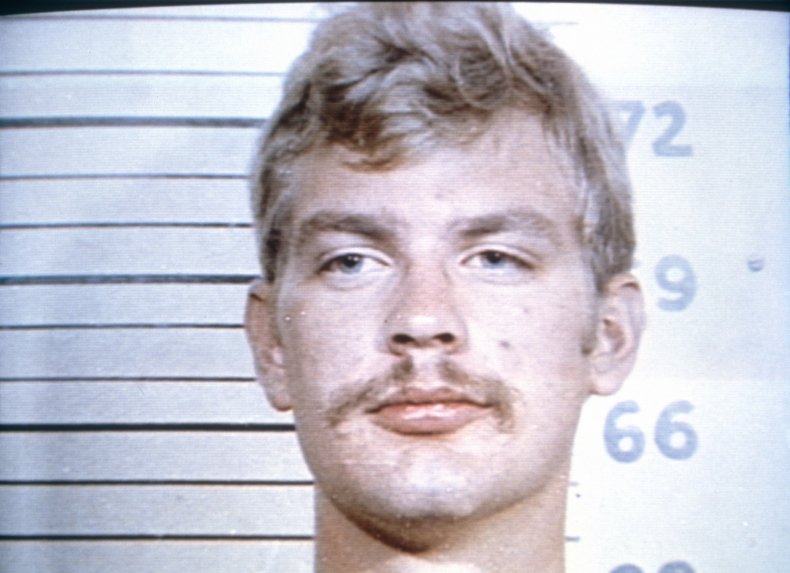 But Netflix's dramatization of Dahmer's murders has drawn a unique storm of critiques, growing as quickly as its popularity. Here are the scandals that have swirled around the new series.
Retraumatizing the Families of Victims
Fans of the show have praised the accuracy of certain scenes. A clip that went viral on Twitter showed Netflix's re-enactment of Rita Isbell confronting Dahmer after he killed her brother, placed side-by-side with the real court footage from 1992.
However, Isbell herself told Insider that she was deeply disturbed by watching an actress who looked just like her perform her most wrenching moments. Netflix never contacted her about the show, she said.
Isbell's cousin, Eric Perry, reacted to the viral footage on Twitter.
"I'm not telling anyone what to watch, I know true crime media is huge [right now], but if you're actually curious about the victims, my family (the Isbell's) are pissed about this show," he said. "It's retraumatizing over and over again, and for what? How many movies/shows/documentaries do we need?"
Grief counselor Dr. Gerard Lawson told Newsweek that shows like Dahmer can set back the grieving process for living relatives, who must re-visit and even re-live the "worst episodes of these families' lives."
Desensitization to the Serial Killer
The show has also been criticized for desensitizing audiences to Dahmer's heinous crimes. In one disturbing TikTok trend, viewers described how "unbothered" and "unfazed" they were by Dahmer. Critics of true crime argue that as the genre has grown, so has the comfort of audiences with scenes of horrific violence that killed real people, whose families are still alive.
"If you find the depiction [of] heinous targeted murders of LGBT and [B]lack/brown people 'not disturbing enough' then something is wrong with you," said a tweet by YouTuber Not Even Emily.
Worse than desensitizing viewers, the series has been accused of even romanticizing Dahmer and lending him sex appeal. Several social media users have gone viral for expressing they "feel bad" for the serial killer, while others have called Dahmer "hot" and said he "could have lured" them into his home.
In a signal that the Dahmer show has increased his fandom, the killer's prison glasses are being auctioned for $150,000, collector Taylor James of Cult Collectibles told TMZ this week.
Criticism From TV Crew Members
Crew members who worked on the Dahmer show have also alleged poor treatment during its production. Production assistant Kim Alsup tweeted that she was "treated horribly" on set and addressed by the name of the one other Black person on set.
Alsup told the Los Angeles Times that she has yet to watch the series because of her experience.
"I just feel like it's going to bring back too many memories of working on it," she said. "I don't want to have these PTSD types of situations."
LGBTQ Community
Further backlash sprang from an LGBTQ label marking the show on Netflix. Dahmer preyed on members of the LGBTQ community in Milwaukee, Wisconsin, and some critics have accused law enforcement of failing to properly investigate his victims' deaths because of the stigma surrounding their sexuality.
After criticisms on social media, Netflix has removed the LGBTQ tag from Dahmer.
Newsweek reached out to Netflix for comment.